Who doesn't love the Farmhouse interior design style?
Or it's many renditions over the years, including the uber popular Modern Farmhouse style, made popular by the TV show, Fixer Upper.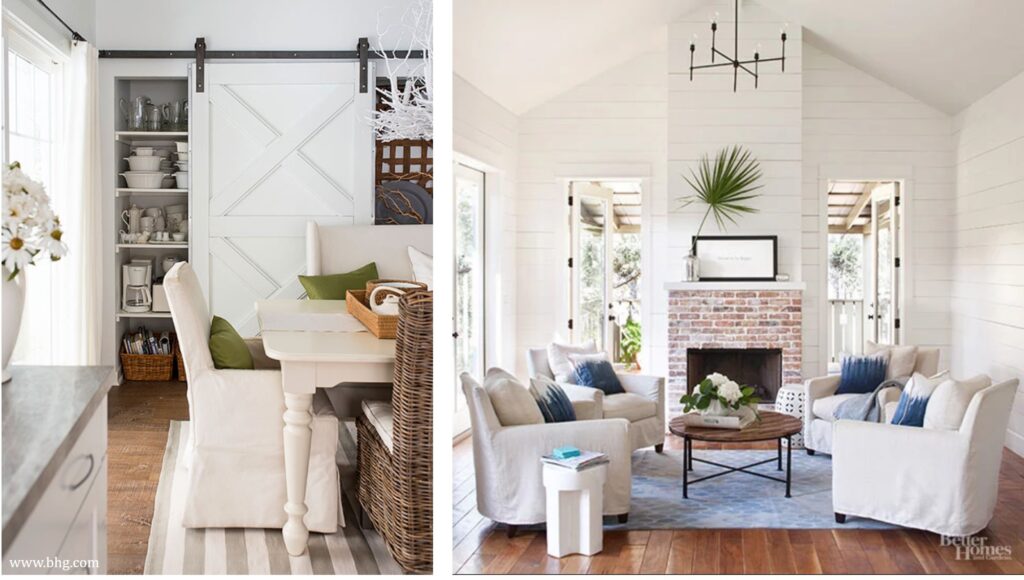 Ok, so maybe it's not for your home, but who can't appreciate the light, clean color palette, the relaxed, comfortable furniture characteristic of this style, and the plethora of natural elements such as reclaimed wood, rough iron, and weathered brick that speak to so many of us? I know I can.
Modern Farmhouse has been, arguably, one of the hottest, most popular styles, at least in the U.S., for the last several years. We have seen this style explode and we were seeing Modern Farmhouse furnishings nearly everywhere, including massive retailers like Target, which tells you exactly how mainstream this aesthetic has become!
But just like with anything, consumers have begun growing weary of this style. However, we weren't ready to let go of Farmhouse all together – we just needed a new, exciting, and unique interpretation of the beloved classic Farmhouse style…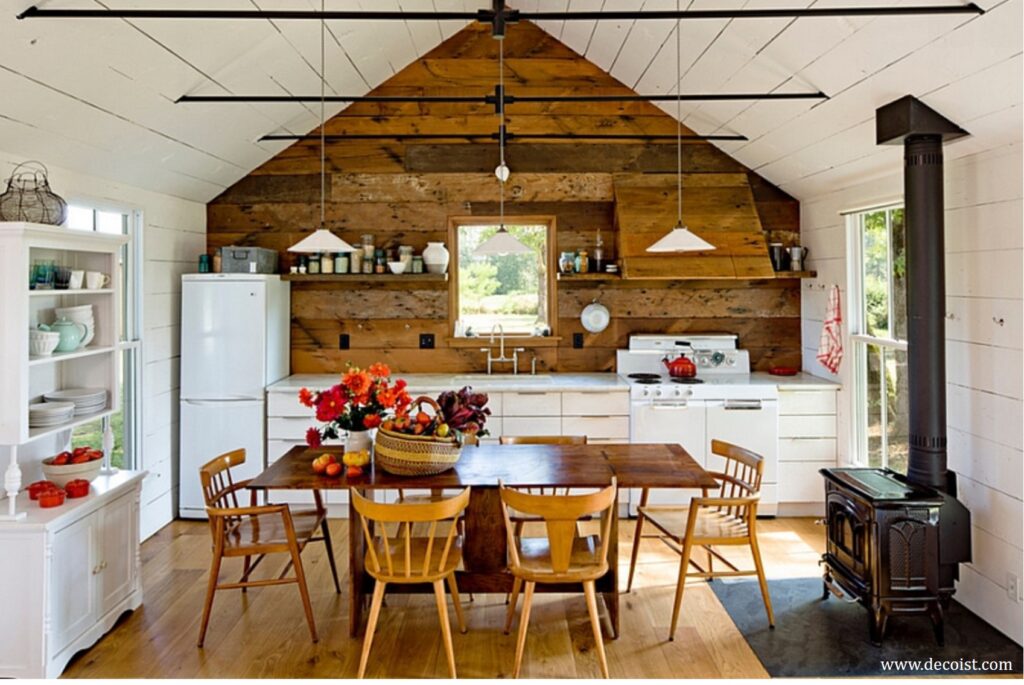 And the design world answered! Drawing from many of the elements we love from classic Farmhouse, we got a brand new style…a darker, edgier, and just a bit more roughed up style. Think of it as Farmhouse's bad boy cousin, but with a sensitive side…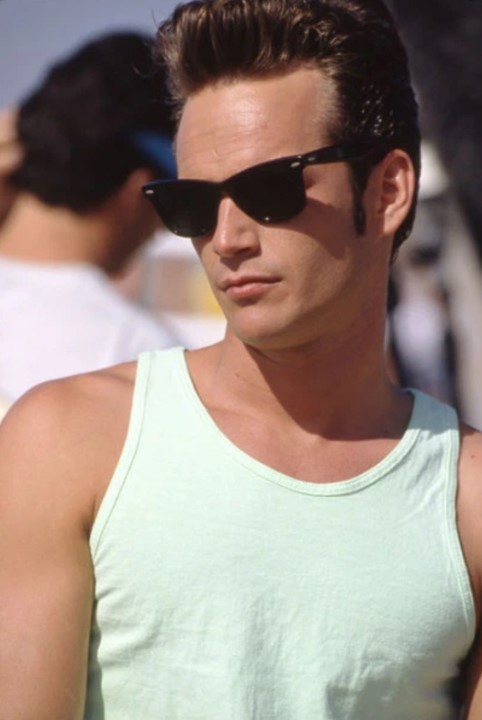 (R.I.P. Luke Perry!)
Say "hello" to the Urban Farmhouse Style! Urban Farmhouse is a mix of Urban Modern and classic Farmhouse styles – both of these styles happen to share industrial elements which you'll see a lot more of in this new style. And if you've taken my styles course, "How to Work with Interior Design Styles like a Pro", you know that the Industrial and Urban Modern styles are what I like to call "Design Cousins". So mixing the very cool Urban Modern style with the enduring Farmhouse style was, in my opinion, simply inevitable.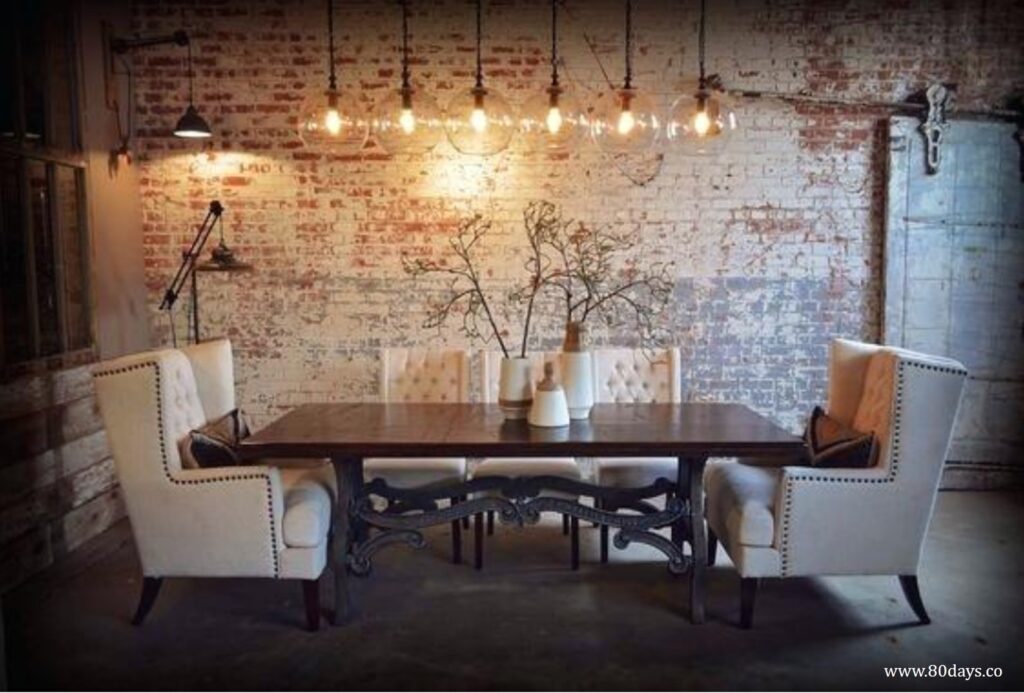 So let's break this style down, and see if perhaps, it's the right style for you.

2 Furniture Approaches
First to the furniture – Urban Farmhouse is about using 2 types of furniture – either mixing both Farmhouse and Urban Modern pieces together like we see here…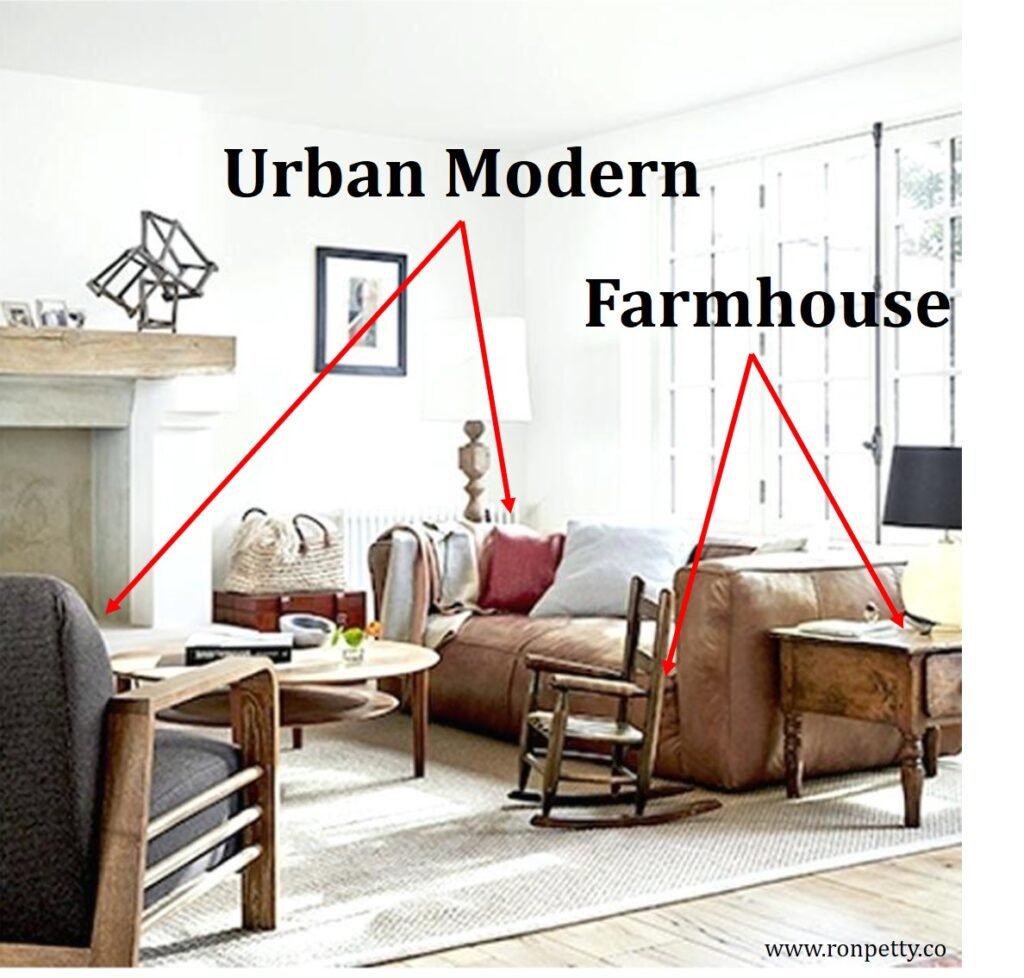 Or using pieces that already mix these elements – just take a look at this dining table which uses the classic wood top like we'd see in Farmhouse, but with a clearly industrial base like we'd see in the Urban Modern and Industrial styles.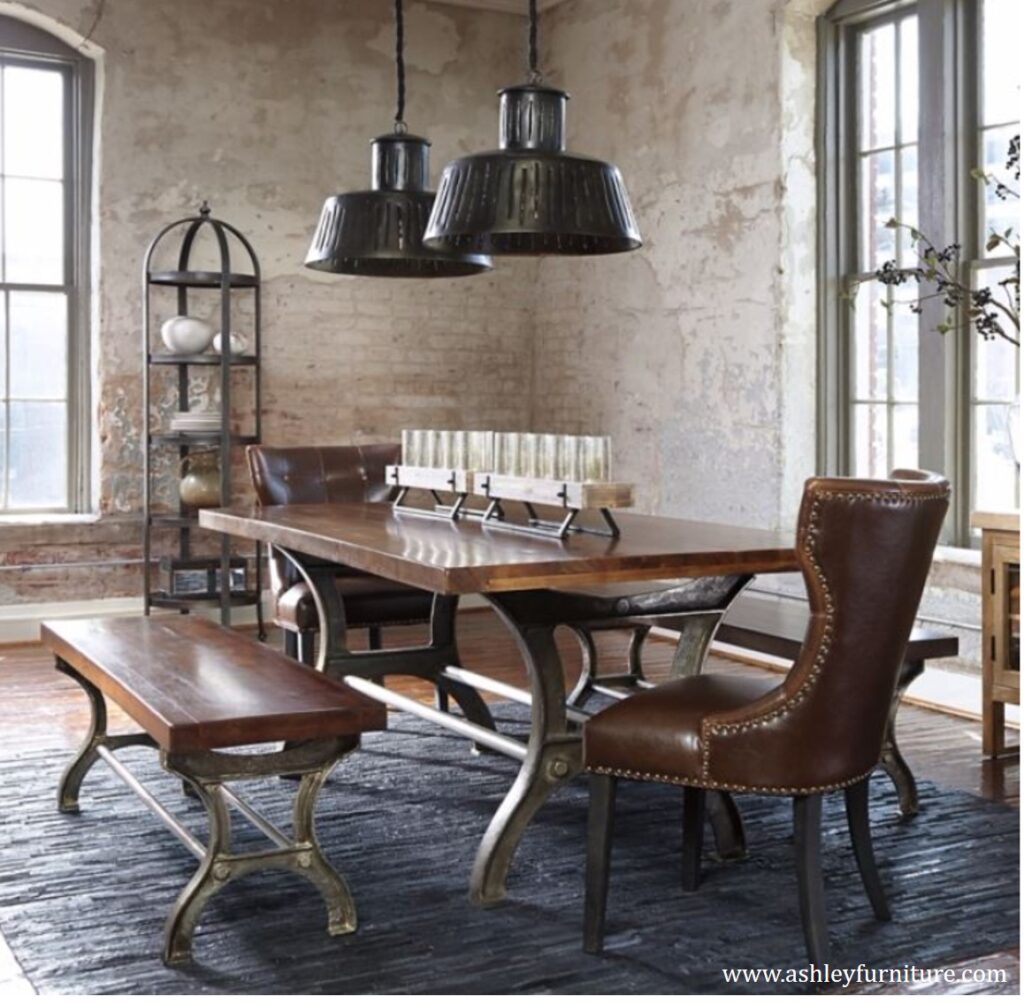 Mix Your Materials
As far as materials, just like with both Farmhouse and Urban Modern, we see reclaimed woods, distressed brick, leather, and metals of all types mixed with softer fabrics like linen, cotton, and more elegant materials like faux fur, the latter which you generally wouldn't see in the classic Farmhouse style – this is more in line with the Urban Modern style.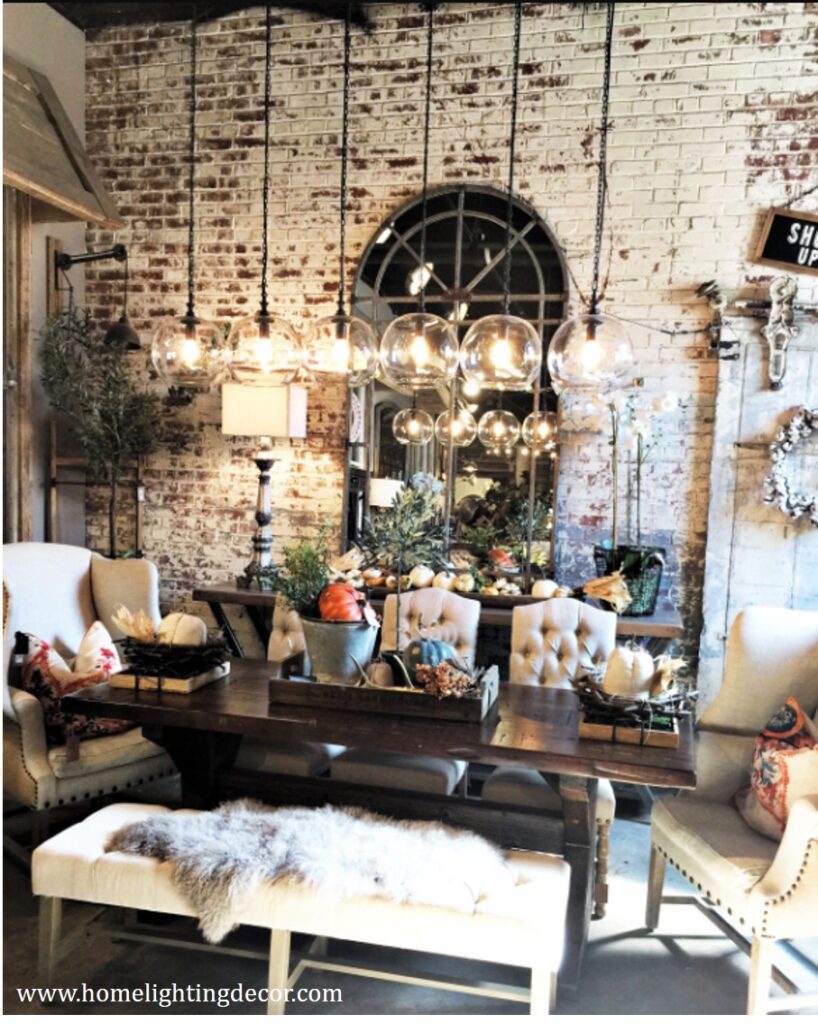 Darken Up Your Color Scheme
From a color scheme perspective, Urban Farmhouse has a darker color palette than Modern Farmhouse – let's contrast these 2 kitchens. Modern Farmhouse generally uses lighter color palettes – a lot of white, light gray, beige, light blue, yellow, etc., whereas Urban Farmhouse is bringing in the Urban Modern/Industrial edge by incorporating darker colors like black, deep grays, various shades of brown, deep red, and navy blue.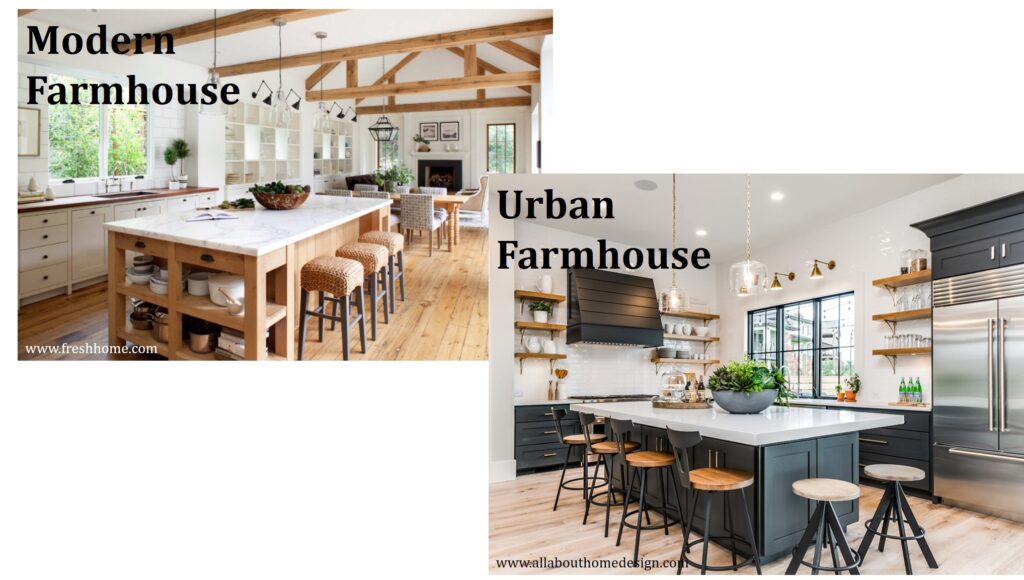 Limit the Patterns
This style is fairly free of patterns, but if you want to use some patterns, use geometric patterns like you would see in the Urban Modern style.

For Windows, Simplicity is Best
For window coverings, either leave your windows bare, or use simple drapes or roller shades for privacy – these are all common choices for your windows in the Urban Modern style.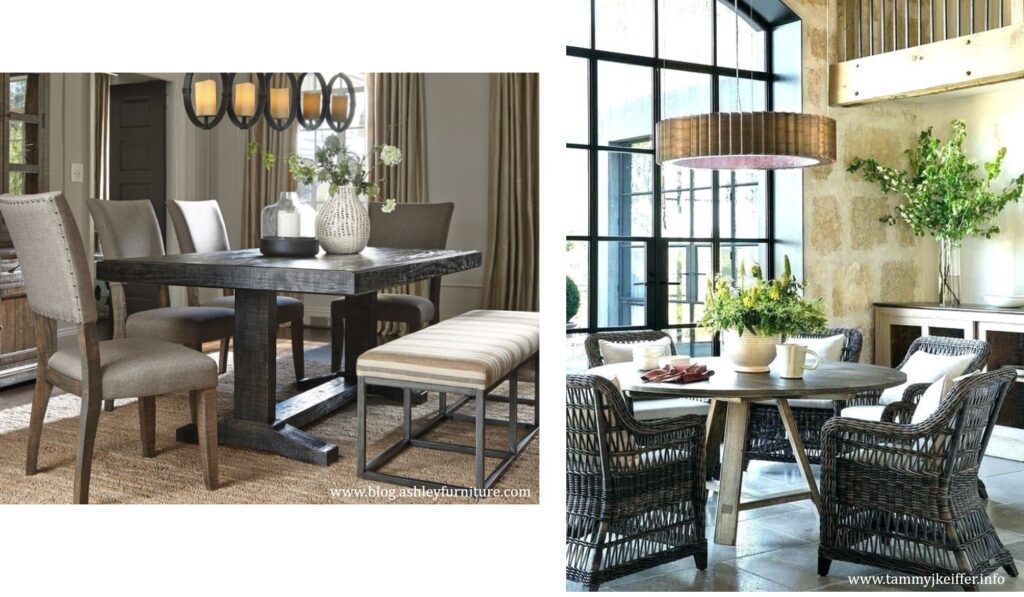 Keep Your Flooring/Rugs Natural
Now let's talk flooring and rugs. For flooring, concrete or wood floors are the way to go. Feel free to leave your floors bare, of if you use rugs like I do in practically every room, use only natural fiber rugs like jute, sisal or cotton. These flooring and rug choices are common to both Farmhouse and Urban Modern.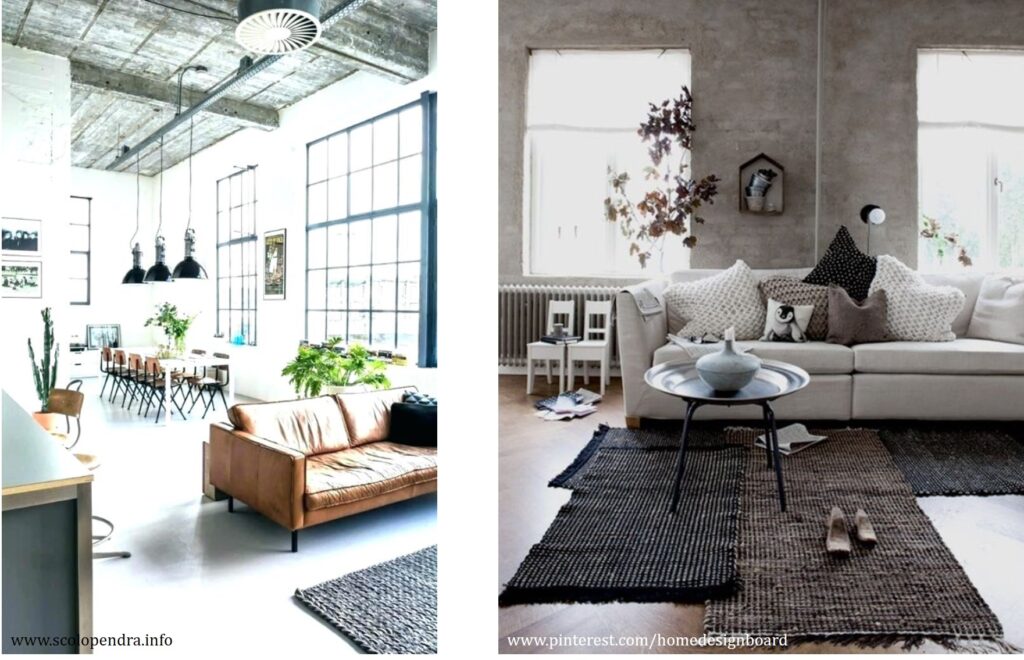 A cowhide rug is a great choice as well, which you will find in both Urban Modern and Farmhouse style homes. I am a huge fan of cowhide rugs – they are not only stylish, but also surprisingly easy to clean, making them a great choice for many areas of the home, including a breakfast nook or dining room.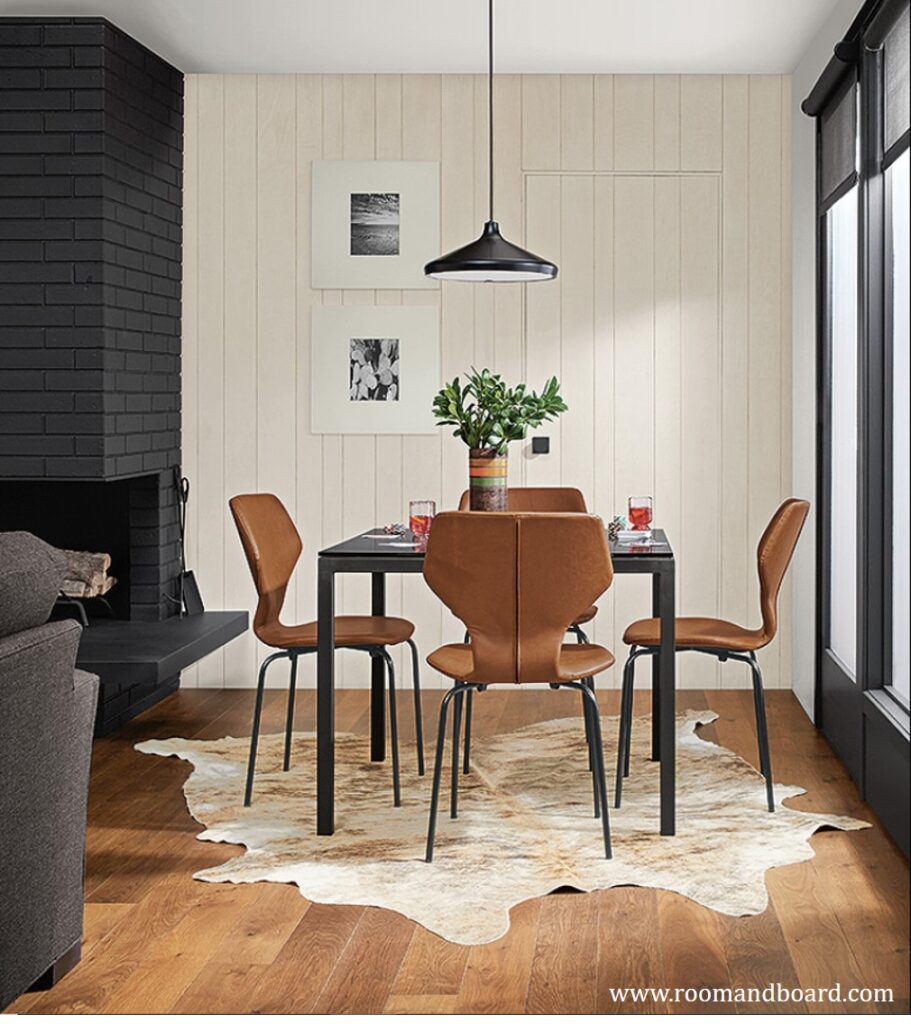 Industrial Lighting all the Way
For lighting, industrial style fixtures, preferably with exposed Edison bulbs, are definitely the way to go. While we do use industrial light fixtures in Modern Farmhouse, you'll want to skip the crystal chandeliers that you would also see in Modern Farmhouse when styling your Urban Farmhouse home. But if you are looking for something a little more feminine, a rustic metal and wood empire chandelier would work just fine.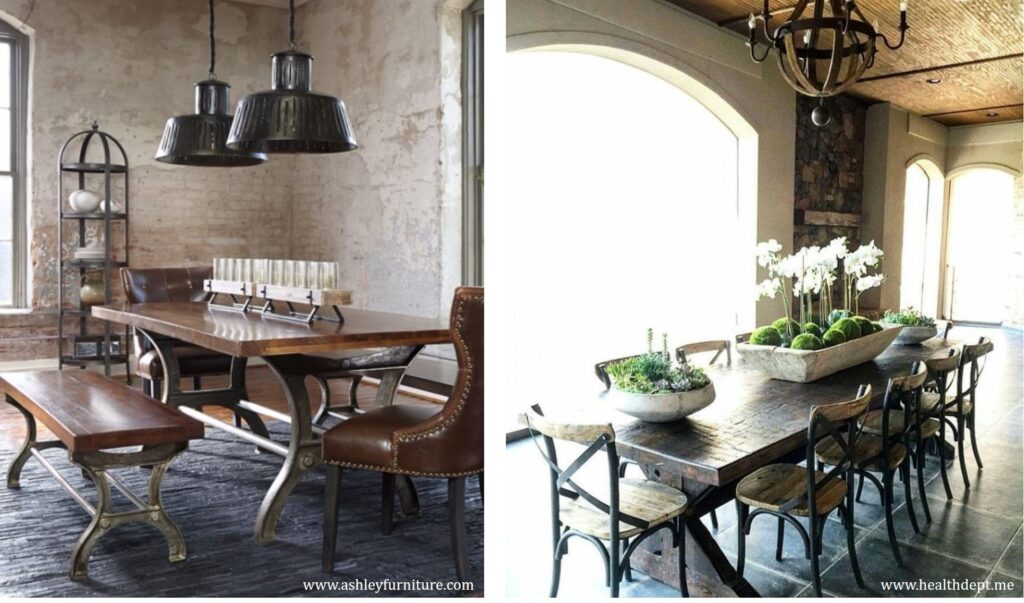 Speaking of industrial, feel free to use any industrial elements in your Urban Farmhouse home.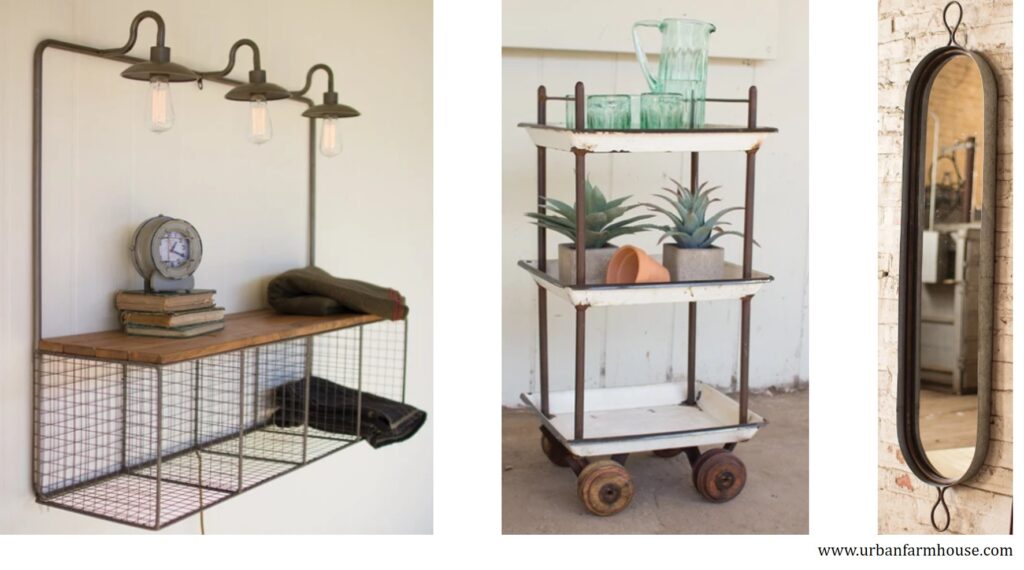 Go Urban Modern with your Artwork
For artwork, forget the cute animal prints and inspirational sayings that are common to Farmhouse – instead go with black and white photography which looks great against a brick wall. Abstract artwork, like we see in Urban Modern spaces, also works really in this style.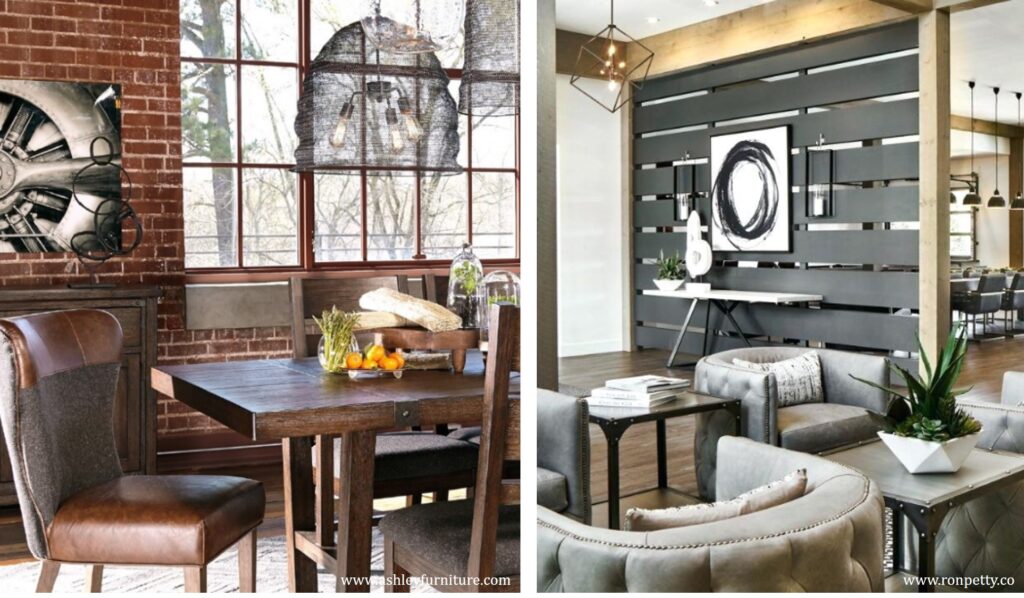 If you really love animals in your artwork, then use black and white photographs or more abstract pieces like we see here – the abstract nature of this piece naturally gives it an edgier, updated vibe.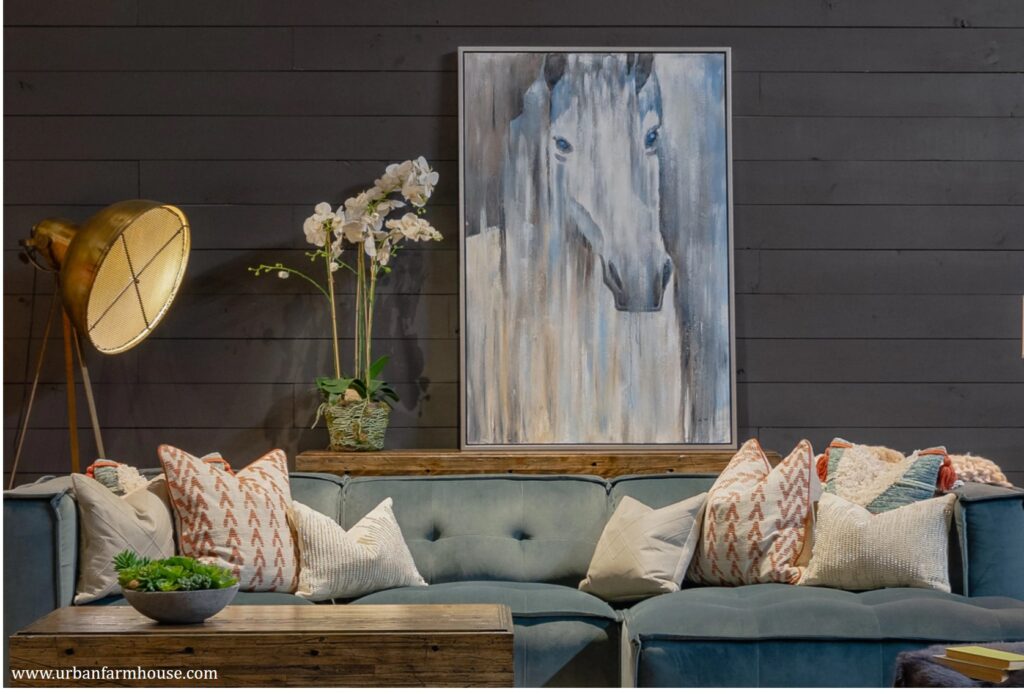 Reclaimed, Salvaged Items are Essential to this Style
For accessories, just like with Farmhouse and Urban Modern, use any salvaged and reclaimed items, plants, and iron candle holders – over-sized ones are great. For this style, I would keep your accessories to a minimum and use larger scale pieces whenever possible.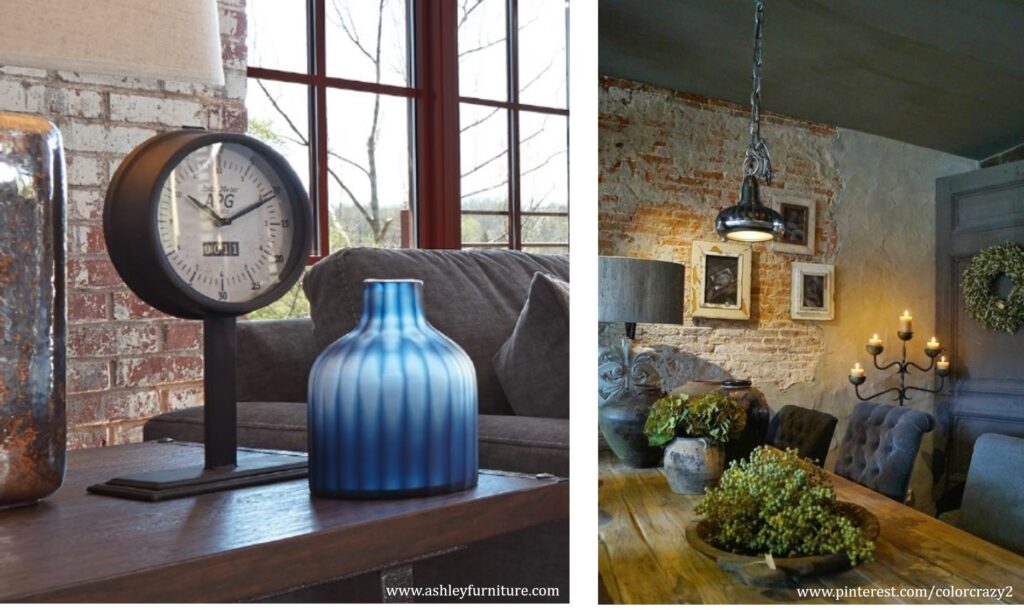 Going back to plants, while many plants would work in this style, succulents are ideal.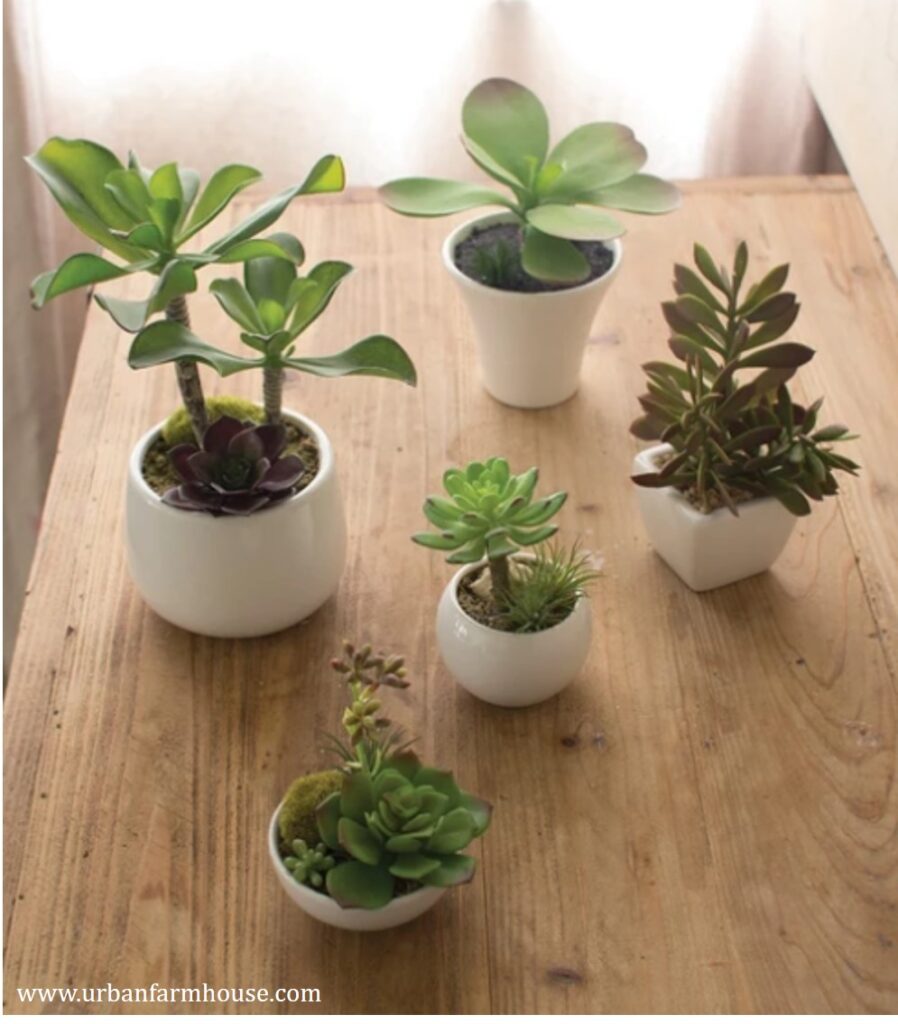 So, to recap, Urban Farmhouse uses furniture, materials, flooring, lighting, and accessories from both Farmhouse and Urban Modern styles. However, its color palette, pattern choices, window coverings, and artwork are more in line with the Urban Modern style.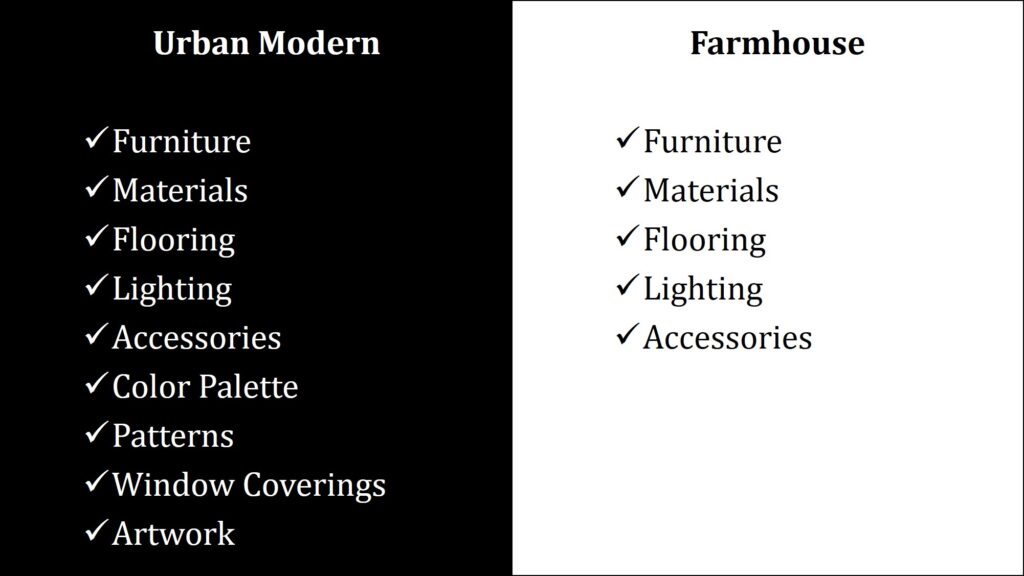 Where Can I Buy Urban Farmhouse Furnishings?
Some retailers where I am currently seeing furnishings that would fit right in with the Urban Farmhouse style include urbanfarmhouse.com, Room and Board, Ashley Furniture, West Elm and Restoration Hardware, and of course, mega retailers like wayfair.com and Joss and Main are great go-to places as well.
I hope you enjoyed learning about this cool new style, and if you end up using this style in your own home, I'd love to see pictures – please upload them in the comments below!
Happy Decorating!