I am so excited to talk about the interior design trends that I saw at Las Vegas Market in August this year!
For those of you not in the design trade, Las Vegas Market (LVM) is one of the biggest interior design trade shows of the year and it's the perfect place to see what today's hottest trends are in the world of interior design, which translates to what we'll be seeing in the months ahead from designers and retailers.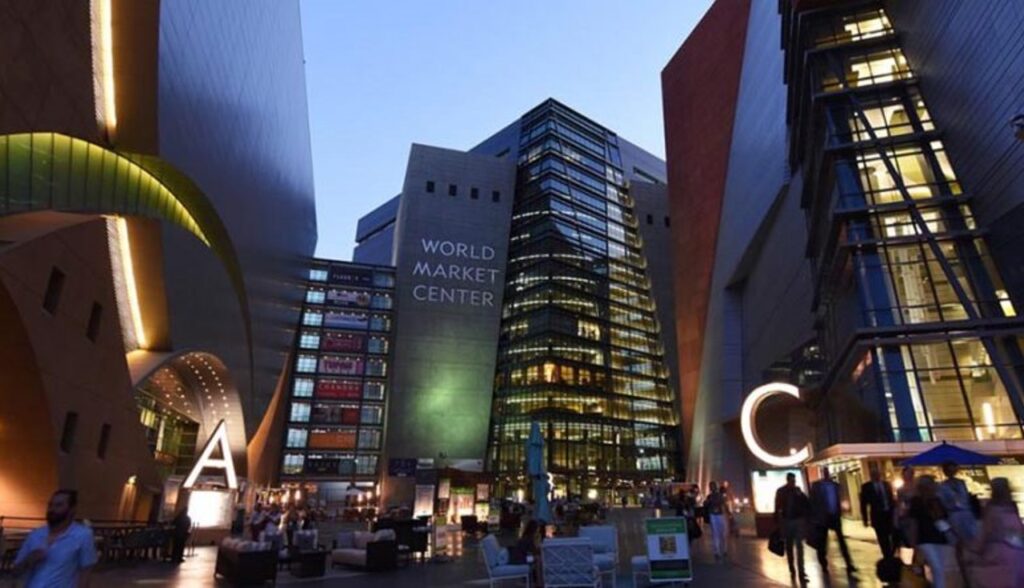 Now before I get into the details, just remember everyone – trends are great fun to look at and they can certainly inspire new designs, but trends obviously come and go. So always, always design your home in the way that you love, whether that happens to be on trend of not.


LVM Trend #1 – Black and White
I absolutely love black and white interiors – it's such a classic, sophisticated color scheme that is perpetually in style, and boy were these colors dominating at this year's market. I could not get enough!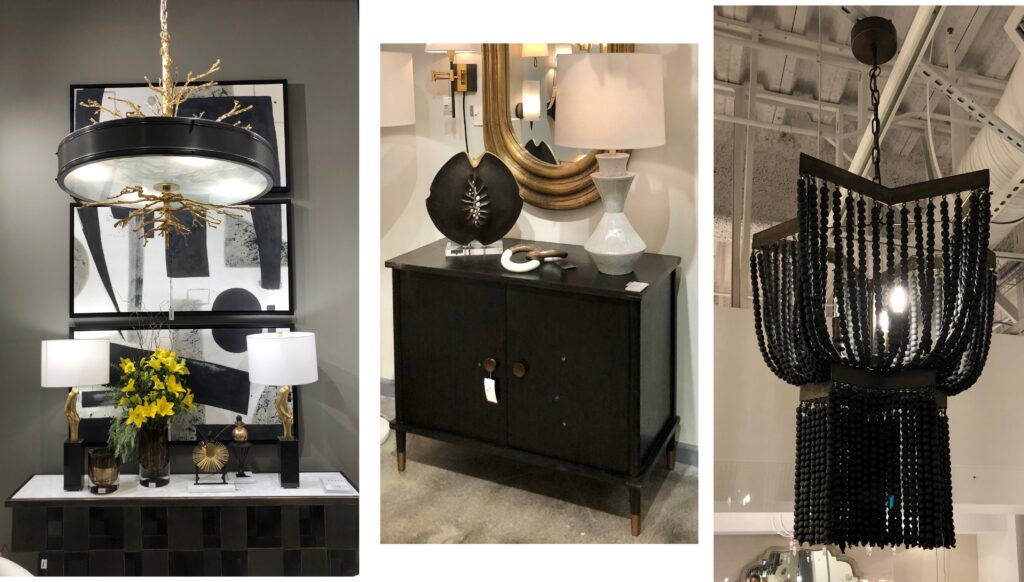 We saw everything from gorgeous casegood pieces and seating to lighting and accessories. Black and white, as well as black and cream, really were everywhere this year.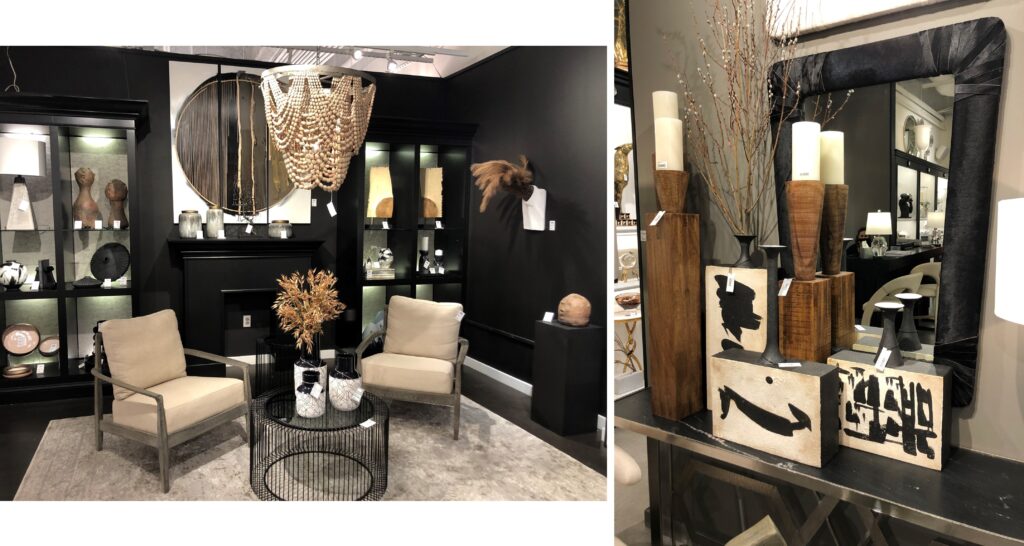 LVM Trend #2 – A Return to Classic
While there was still a lot of contemporary and modern furniture to be found, this year, we saw a big focus on classic or classic-inspired pieces with simple silhouettes and more traditional patterns, which of course, pair well with the dominant colors we were seeing.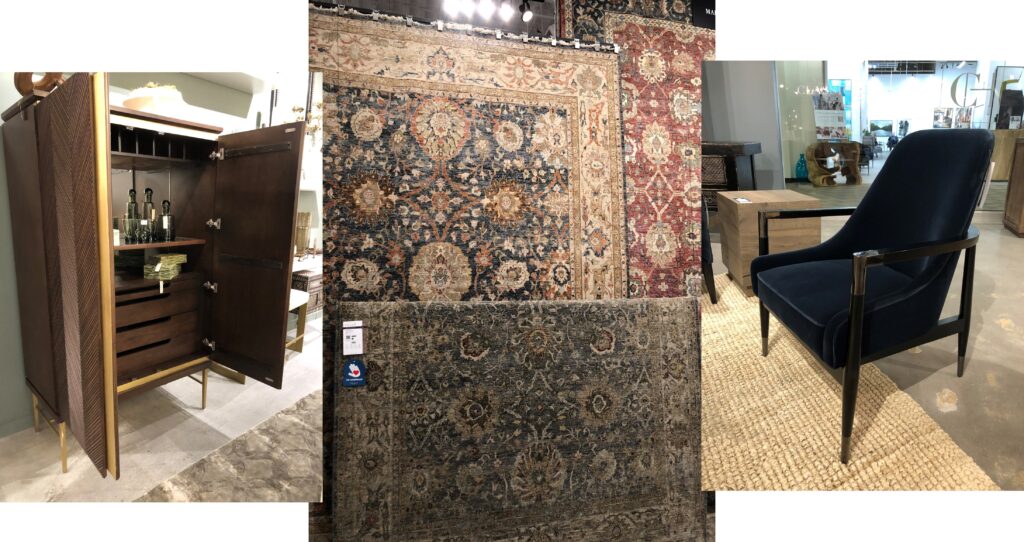 Cane furniture, which hearkens back to a more traditional time, has made a comeback in recent years and continued to make a big showing at this year's market.

LVM Trend #3 – Quirky
I personally love incorporating quirky pieces, particularly artwork, where I can into my designs and I loved many of the quirky artwork pieces I saw this year.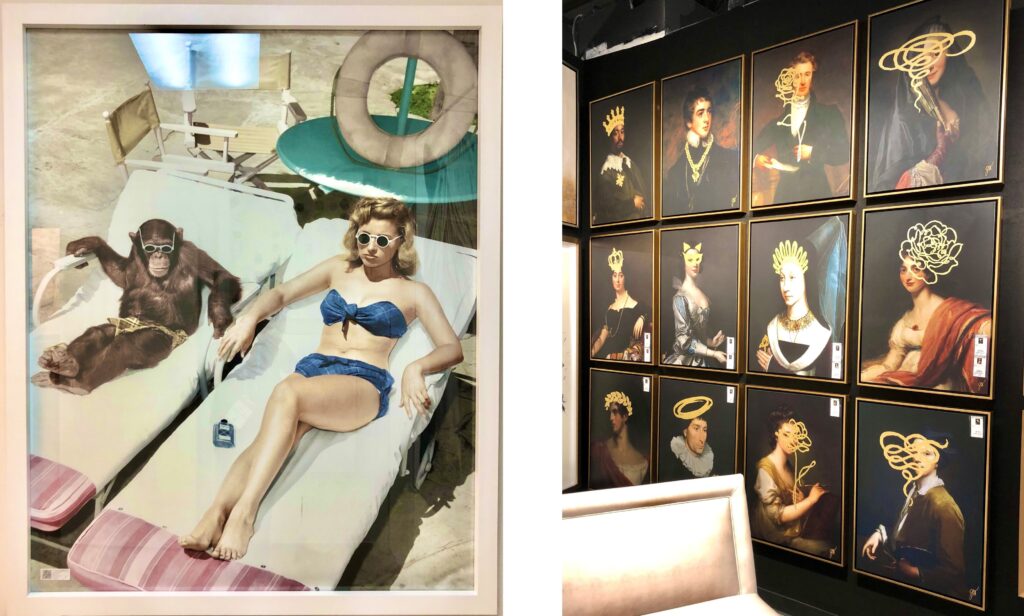 Many of the manufacturers also had some really fun, light hearted pieces, some that actually made me laugh out loud – like these end tables and book set!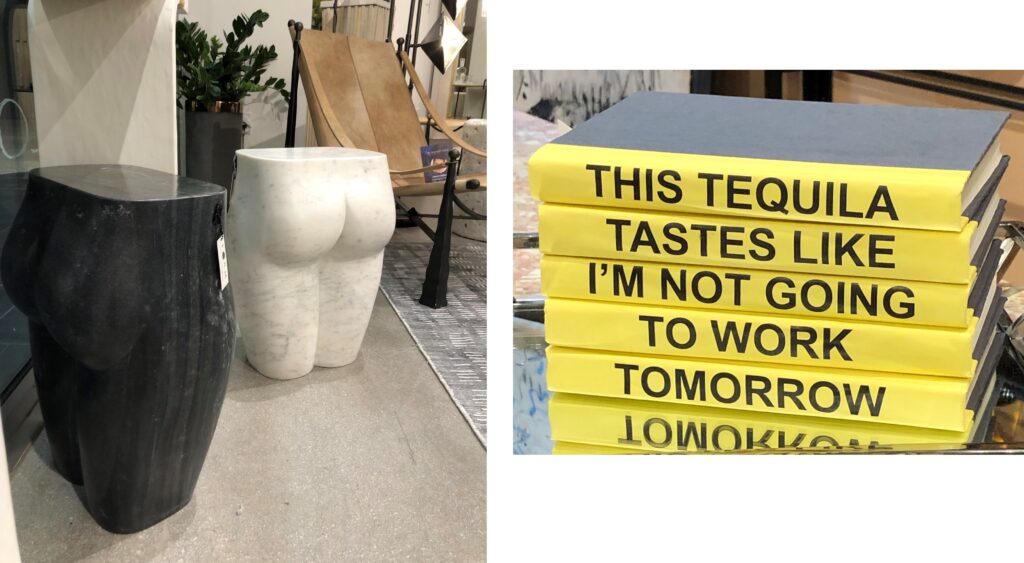 I also loved the playful ways that we saw human sculptures being used in wall décor, accessories, and furniture pieces. This waterfall desk on the right side was definitely my favorite piece.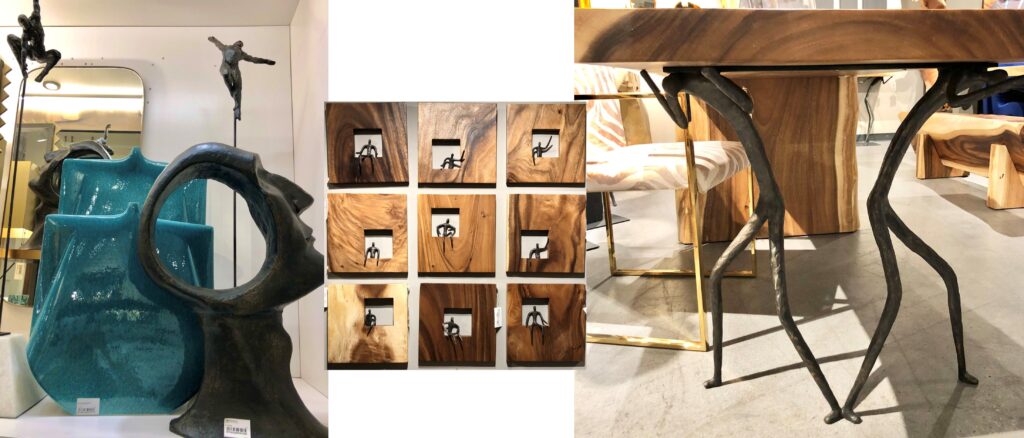 LVM Trend #4 – Natural
Now let's talk about the natural trend, which we've all been seeing for a while now. By natural, I mean a focus on using natural materials in beautiful and unique ways. This year, their were so many incredible wood tables – here are some of my favorites…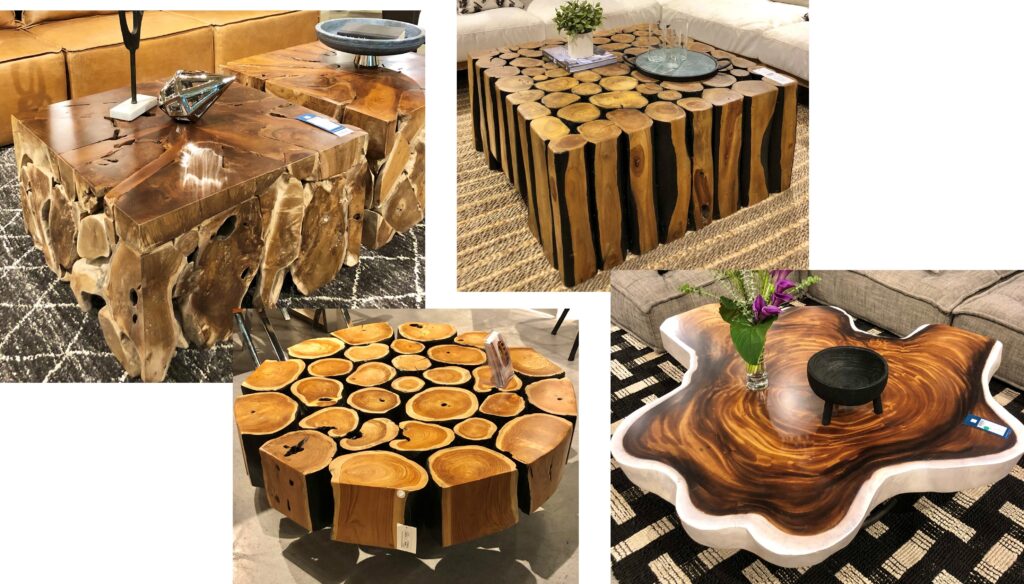 I also fell in love with this gorgeous amethyst table – talk about a piece that sparks conversation!

And these oversized rattan pendants were stunning! Hard to capture them perfectly in a picture, but trust me when I say that they would make an ideal focal point.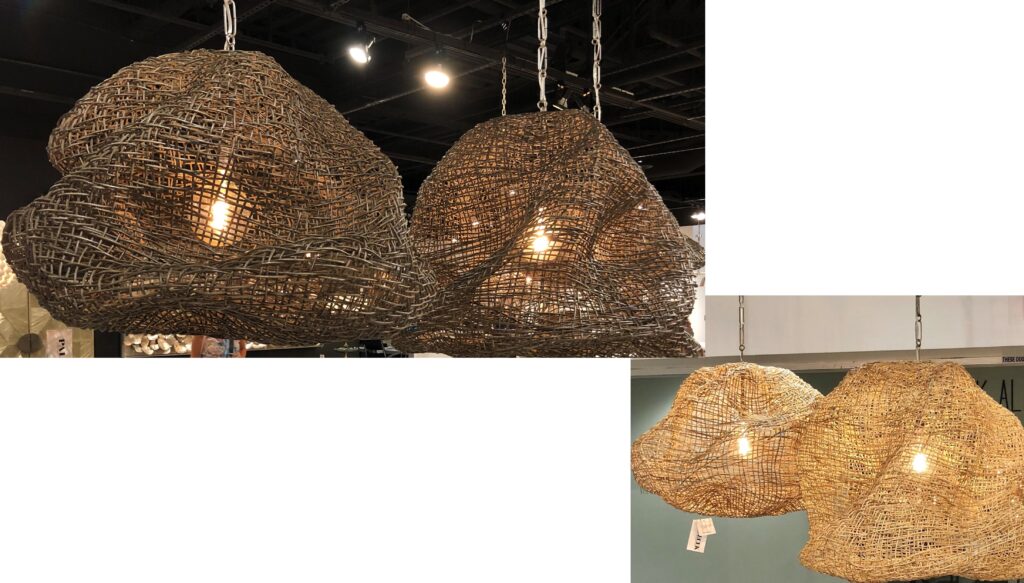 To round out the highlight on natural materials this year, framed textiles continued to dominate at many of the showrooms we visited. While last year the focus was on tribal patterns, this year, we saw a larger variety of different style textiles being used in this way.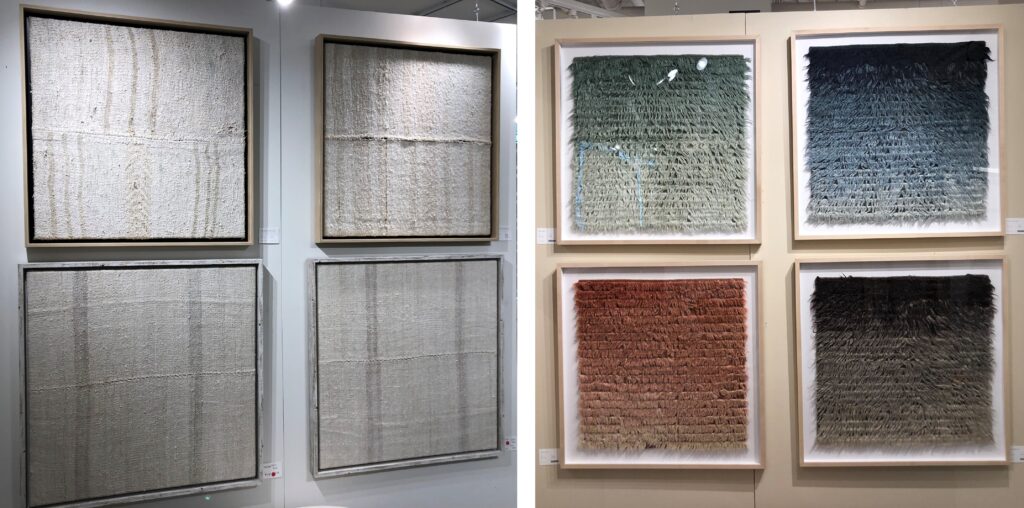 LVM Trend #5 – Organic
Even when the primary materials being used wasn't wood, stone or natural textiles, there was so many pieces that were nature inspired with organic shapes. For example, we saw a number of light fixtures that were inspired by trees and branches, wall mirrors that were made to look like slices of tree trunks, and wall mirrors inspired by honeycomb.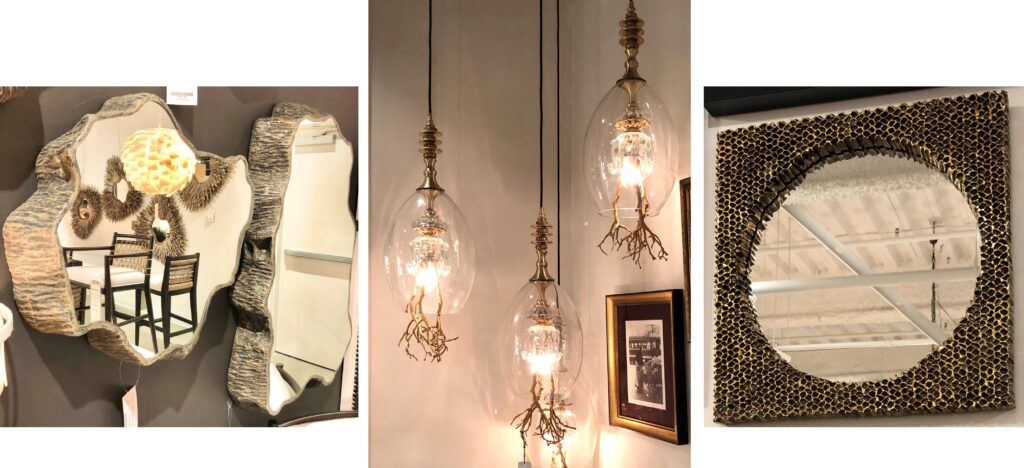 I also want to mention the increased eco-friendly focus we are seeing at market. Feizy was just one of the manufacturers making some good strides in this area with their line of eco-friendly rugs. I love this trend and it's really only going to continue.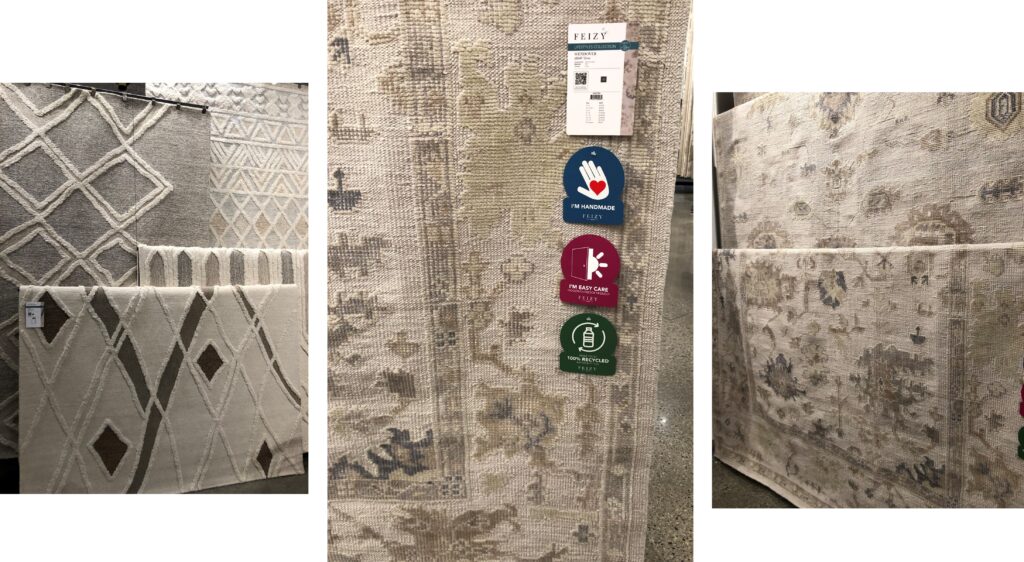 LVM Trend #6 – Bold Lighting and Artwork
While LED lighting has been around for a while not, this year LED lighting showed up in a big way at Market. Lighting manufacturers have really created some beautiful, bold pieces that are sure to inspire.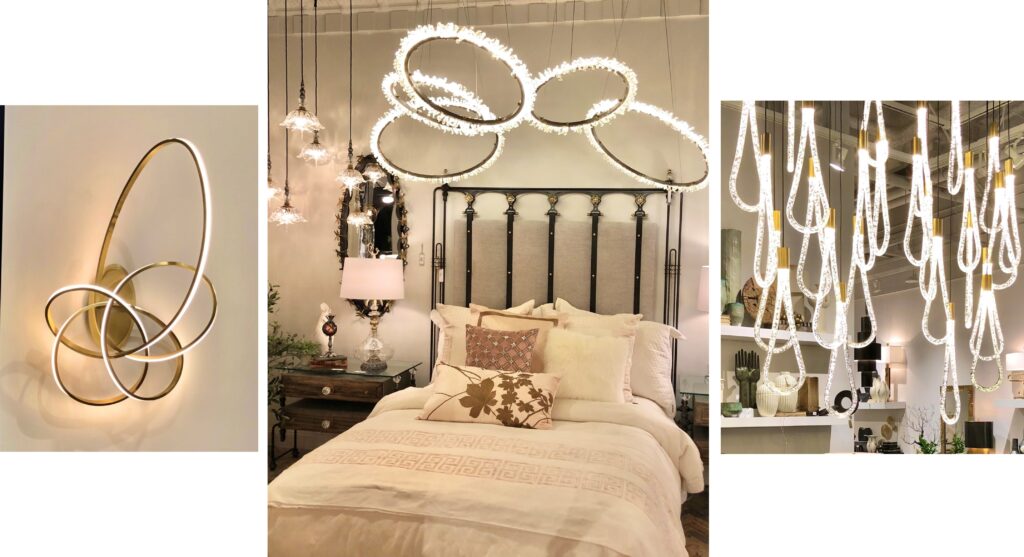 Apart from LED fixtures, there were also plenty of other bold lighting fixtures to be admired – this multi-light pendant and Mid-Mod lighted screen were fantastic!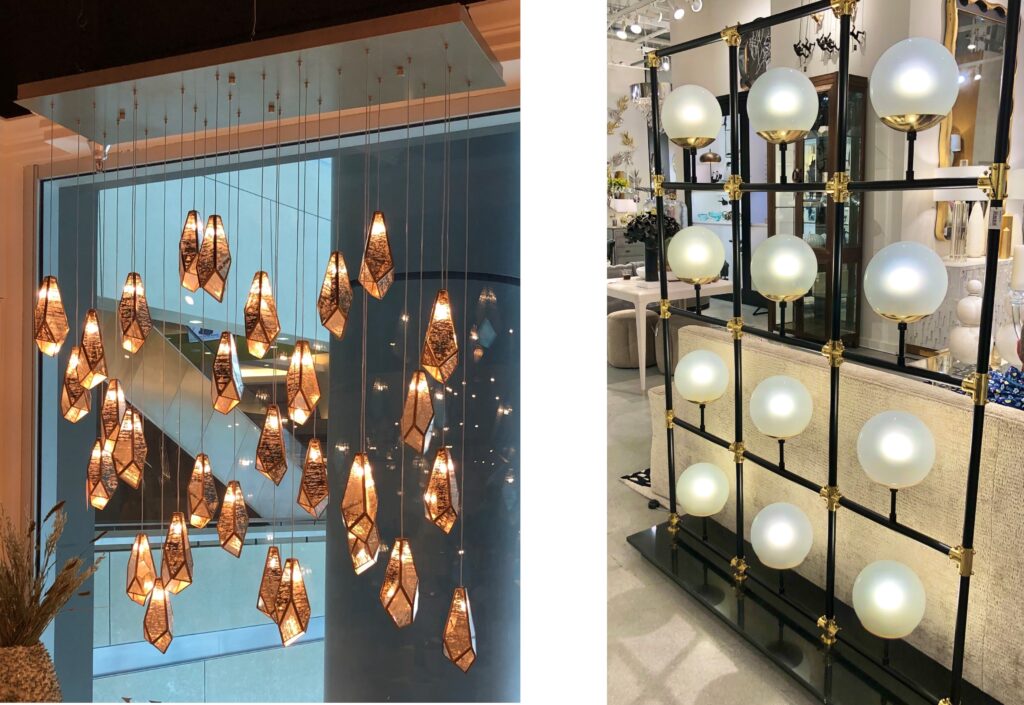 Finally, let's talk about the bold artwork that was dominant this year. Women as subjects seemed to be a theme, and I loved the bold ways in which they were depicted. Some show stopping pieces for sure!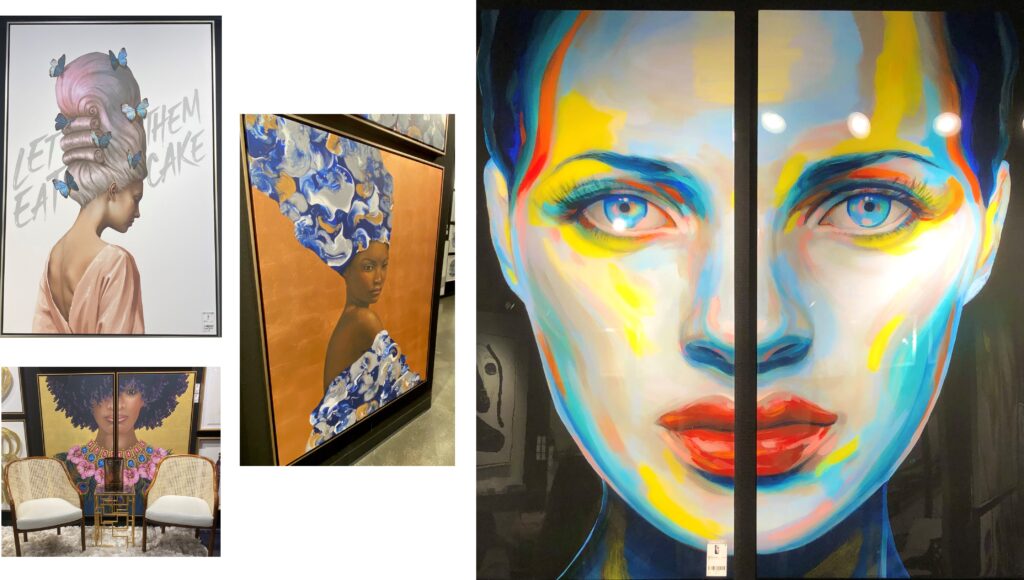 And there you have it – the biggest trends and newest products that I was inspired by at this year's Las Vegas Market. I hope you enjoyed these trends as much as I do.
Happy Decorating!