Now that we are nearly halfway through 2022, it's time to talk about what is hot in the world of kitchen design in 2022! Who's excited? I know I am!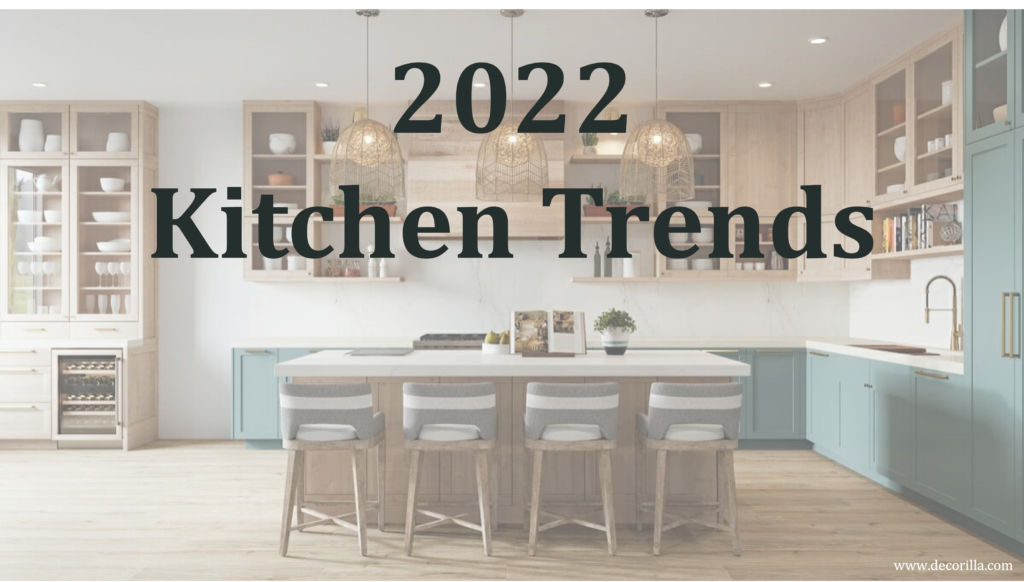 But first, my trends disclaimer…remember, if you are planning on renovating your kitchen in the near future, trends are only meant to give you ideas for your own kitchen project – obviously, you should only consider incorporating trends that appeal to you since trends come and go.
And for the rest of us? Trends are pure fun and entertainment.
So what are this year's trends?  First, let me just start by saying that I don't think the kitchen has ever been a more popular space to focus on by homeowners than it is right now.  Many people are still working from home and they are demanding even more out of their kitchens with regards to both style AND functionality.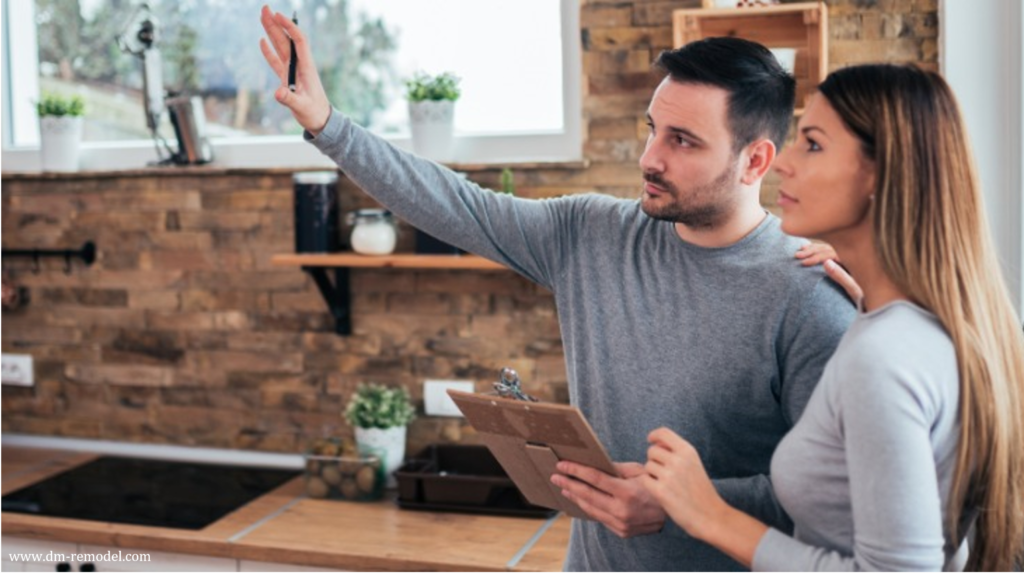 Trend #1 – Oh the Colors!
Let's start with what is hot in the world of kitchen color design right now. Perhaps not a surprise, but many of the hues that were popular last year, remain popular this year. I am referring to colors from nature, in particular green – all shades of green are still everywhere, from kitchen islands and cabinetry to wall paint and wall art.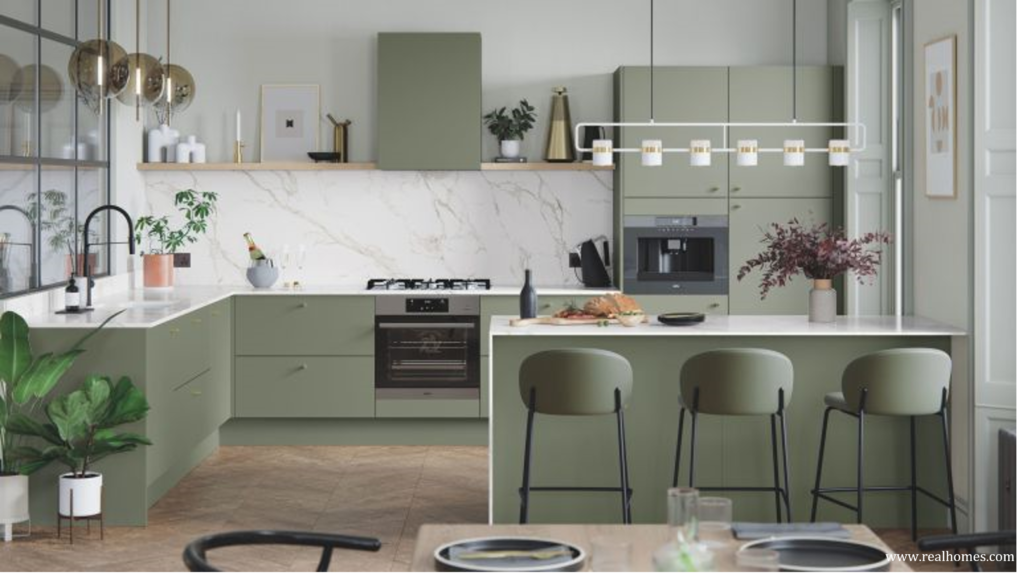 And check out these gorgeous backsplashes!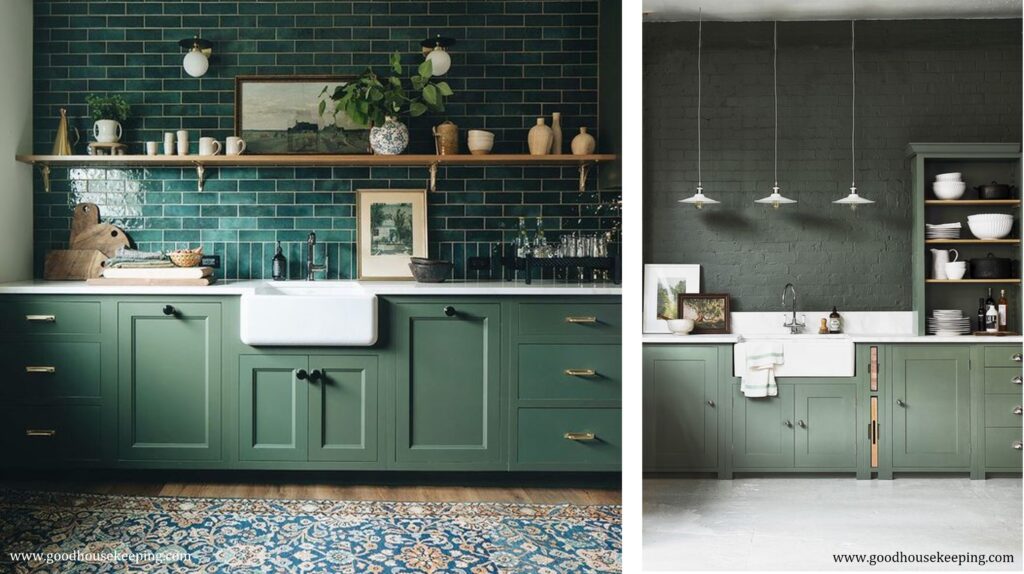 To that point, look at how many of the leading paint companies chose a shade of green as their color of the year this year. .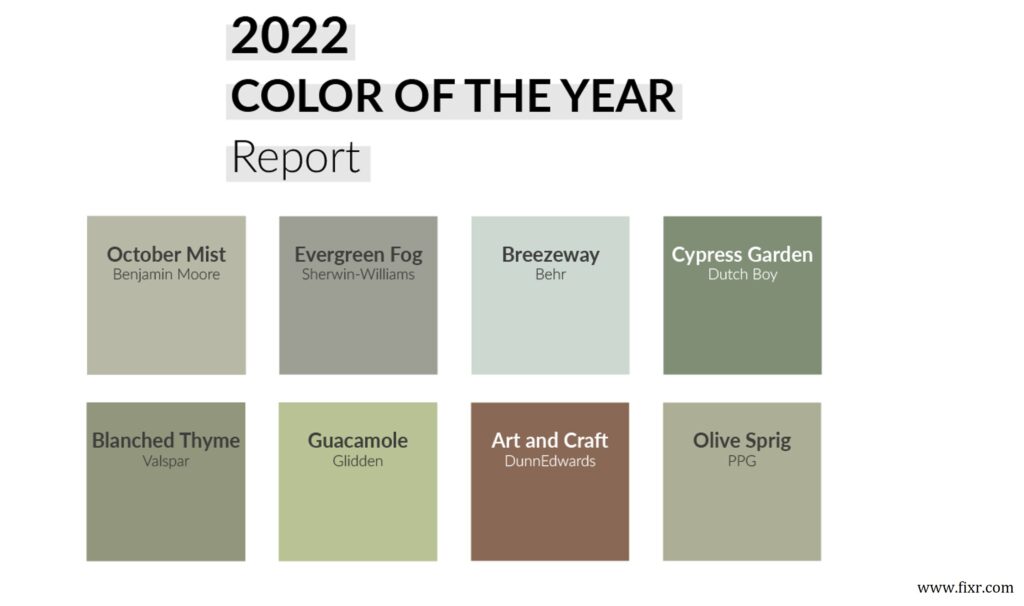 If you love this hue, but find the idea of an all green kitchen overwhelming, I always love the option of just painting the lower cabinets or even just the island in your favorite shade of green.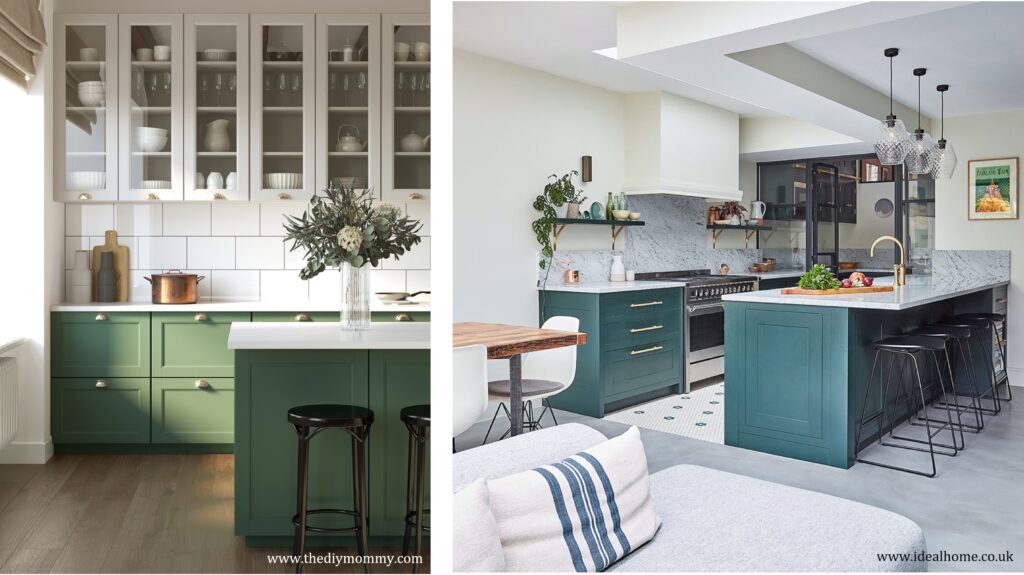 Blues are also trending, not only mid-tone and navy blues, but all shades of blue, including baby blue or sky blue.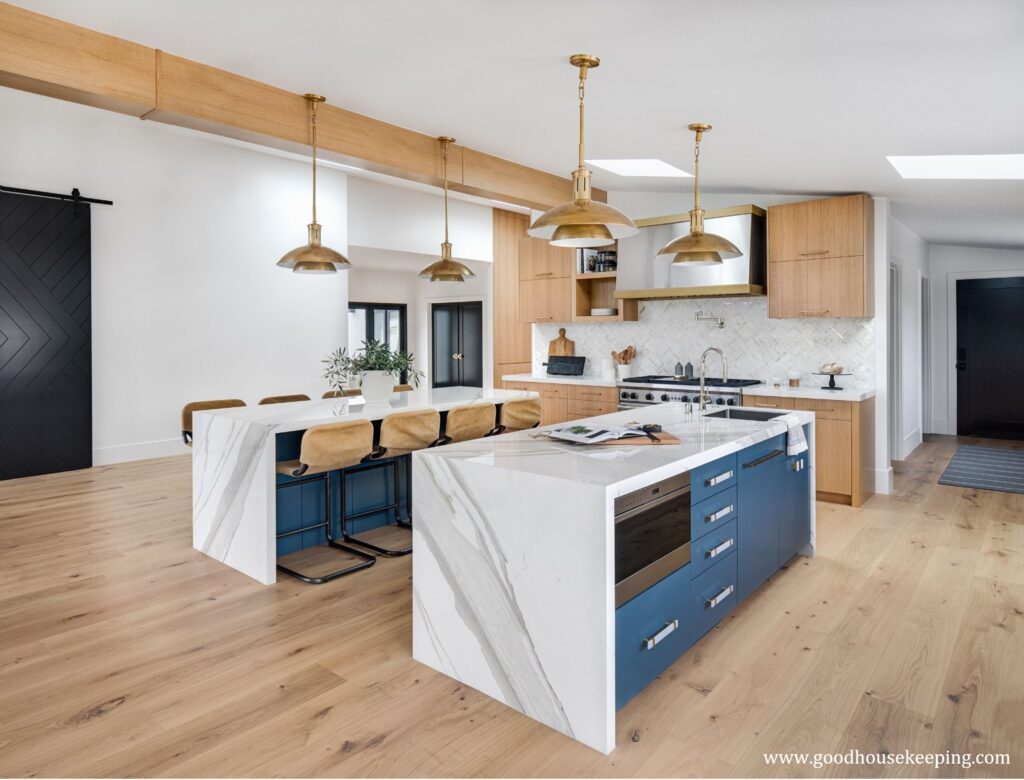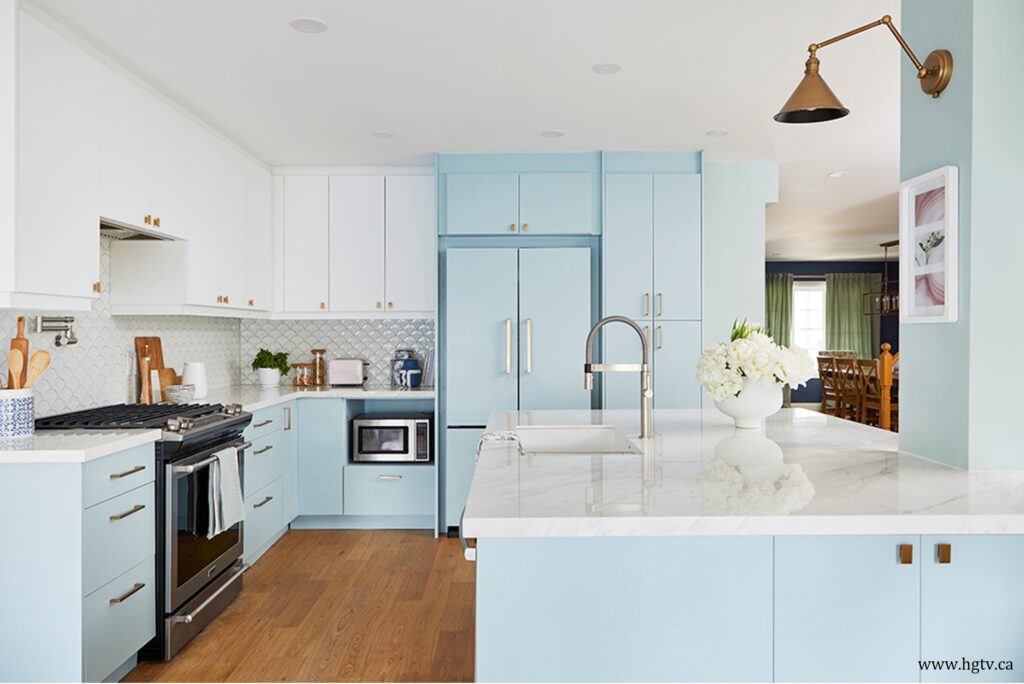 In fact, all pastel hues are making a big showing this year, including mellow yellow, mint green, and muted pink.  Clearly, non-neutral color is the preference this year.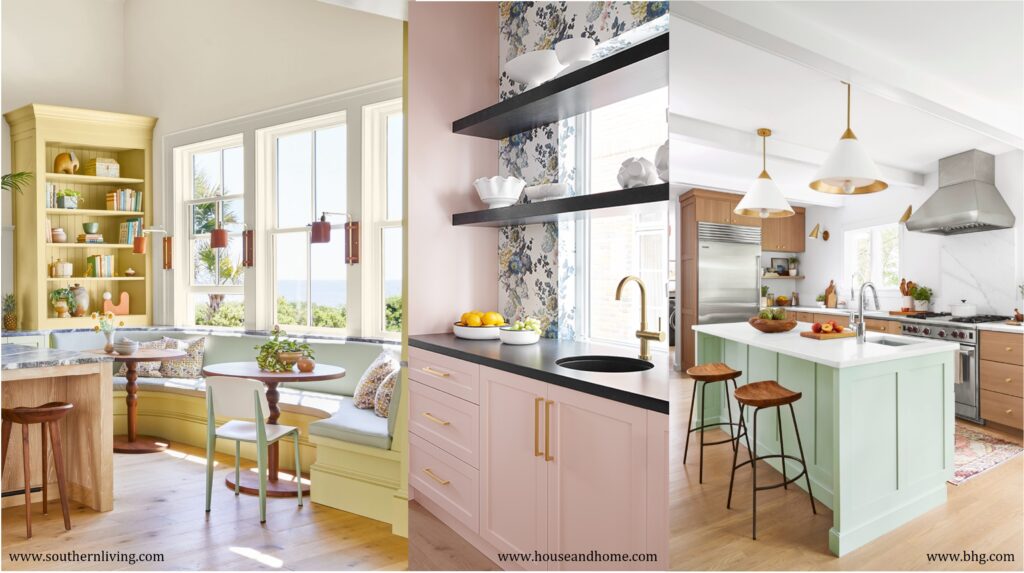 Although if non-neutral color is not your thing in the kitchen, the hot neutrals right now are warm gray and black.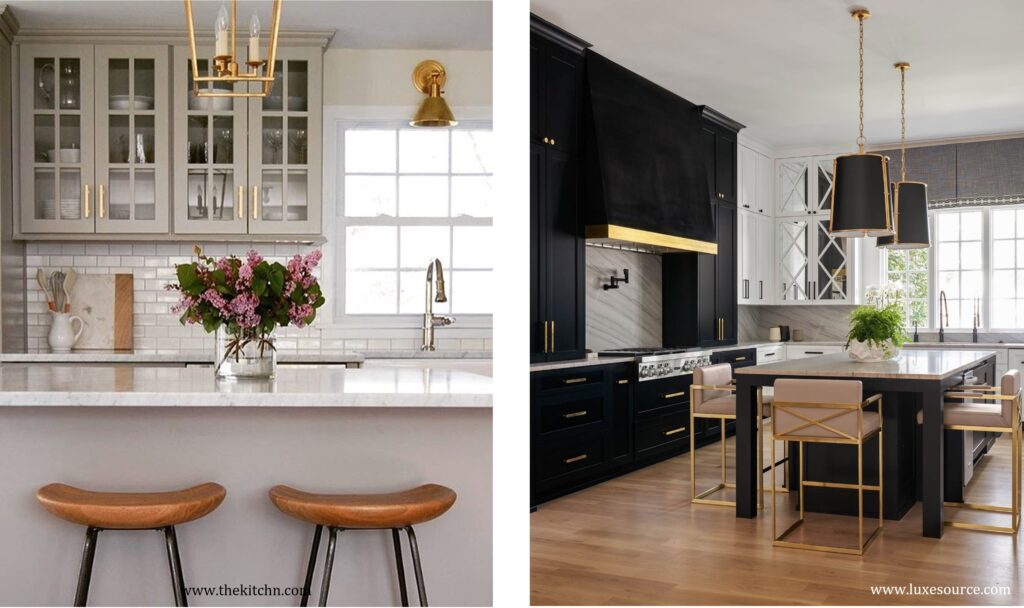 And not just a splash of black, but black on black.  This approach can work really well in Contemporary, Urban Modern, and Industrial styled homes.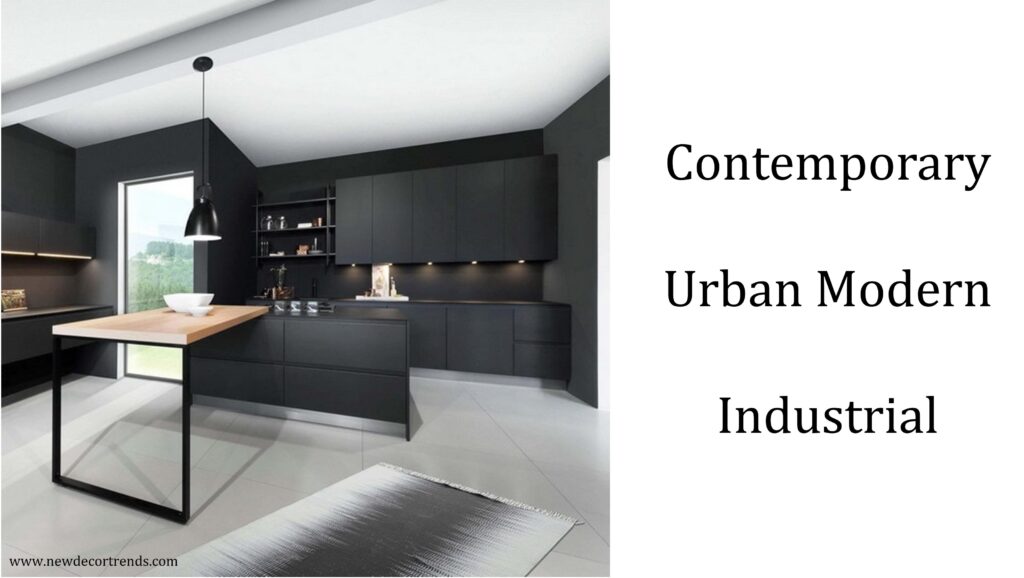 So what about white?  It depends on who you ask – some designers are saying that white kitchens are looking dated, but many others, including myself feel that white kitchens done well will never be out of style.  But again, if you like white, go with it, as even if does go out of style, this is one trend that we can safely say will keep coming back.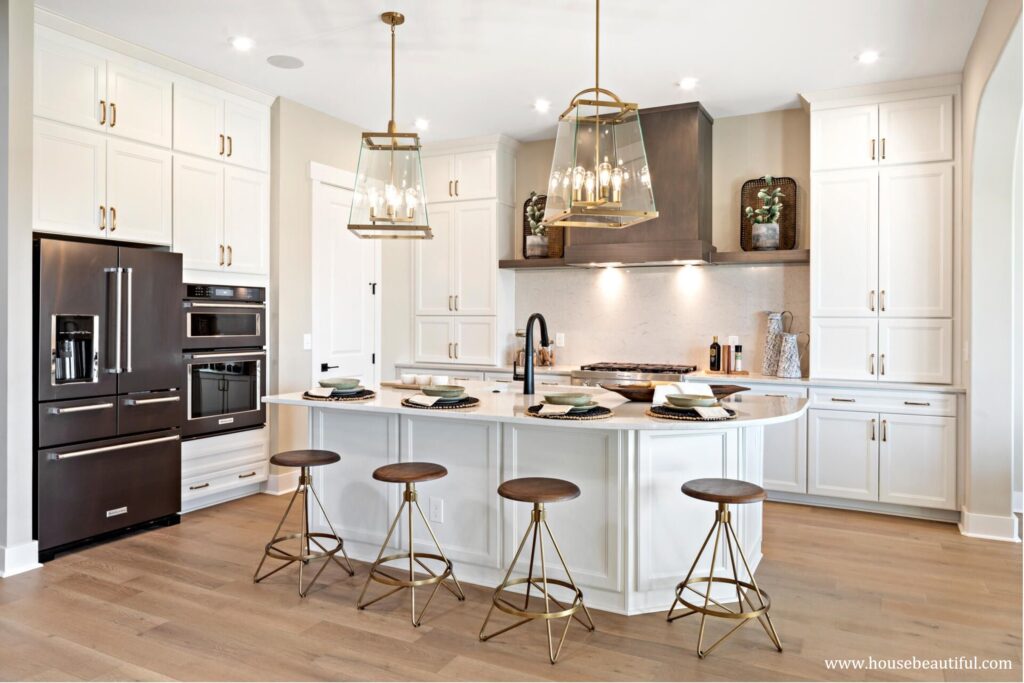 The bottom line is that this year, it's apparent that clients are wanting to add extra personality to their kitchens and they are doing this partially through color.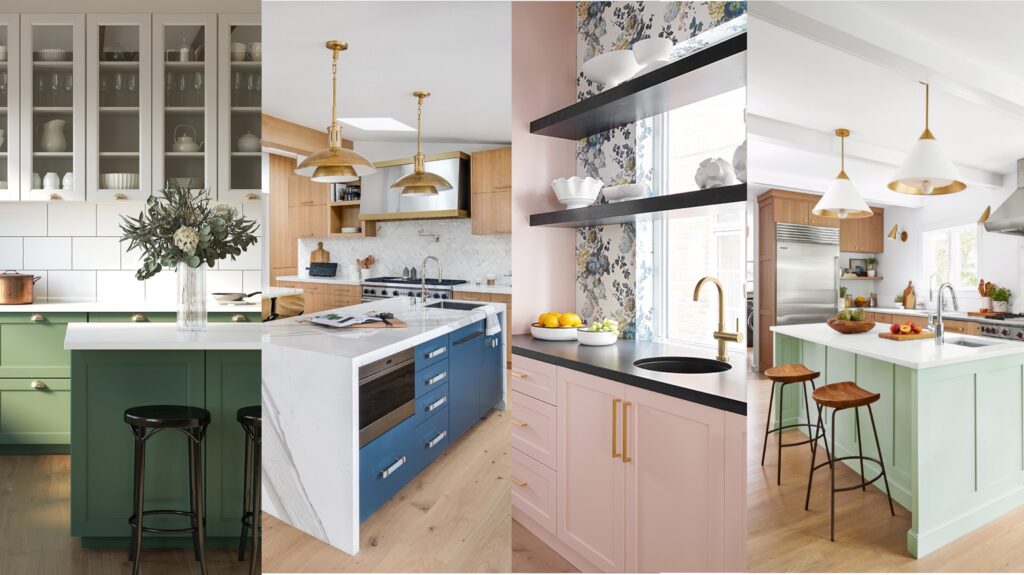 Trend #2 – Natural Materials and Luxe Finishes
One of my favorite trends in this area is the return of wood grain.  Whatever your style, this trend reinforces the current focus on nature and incorporating biophilic design into our kitchens and our homes.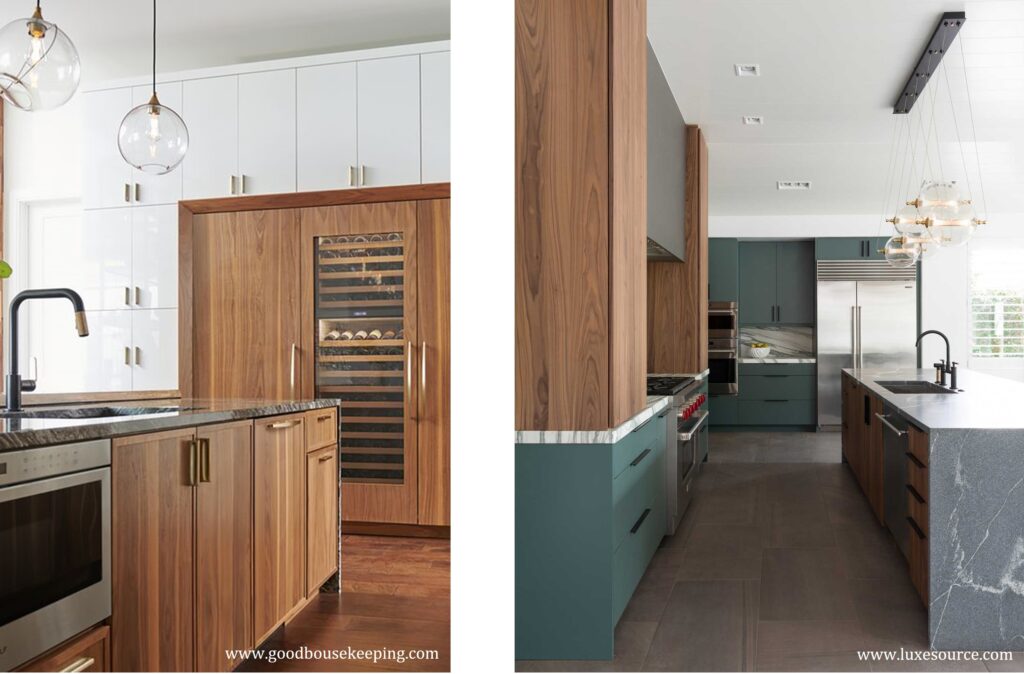 And look how amazing it looks with this year's most popular non-neutral color!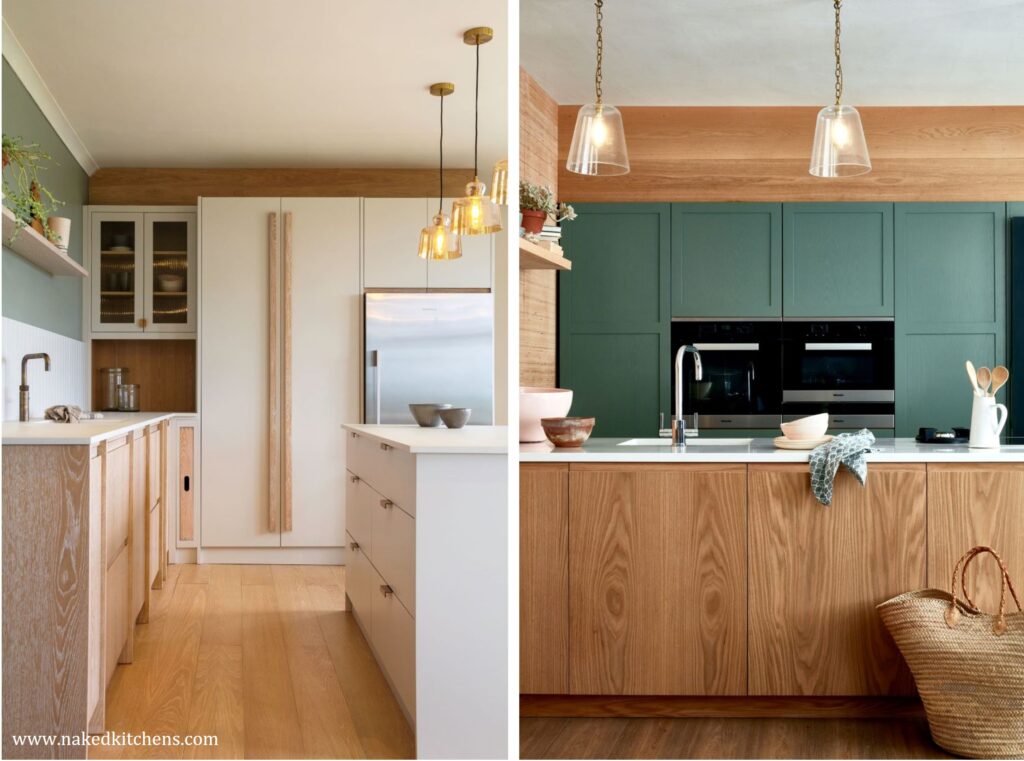 Along those same lines, my other favorite trend this year that really has been growing in popularity for a while now, is a real interest in using eco-friendly materials – this means sustainable materials and products with a low carbon footprint manufacturing process and end of life recycling.  If you want to know about how to incorporate eco-friendly design into your own home, check out my course on this very topic.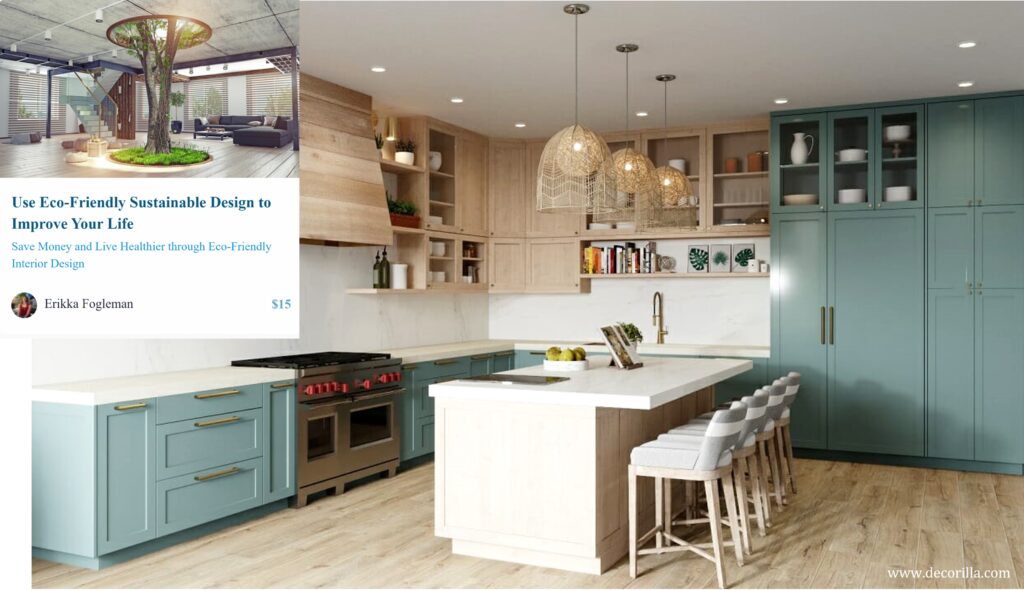 Now you might remember that mixing materials, particularly contrasting materials, was very popular last year.  Well, this year that trend hasn't slowed down one bit.  Designers everywhere are happily mixing a wide variety of materials, including but not limited to reclaimed wood, all types of metals, distressed brick, and all varieties of stone.  The goal has been to create a personalized, curated look for their clients.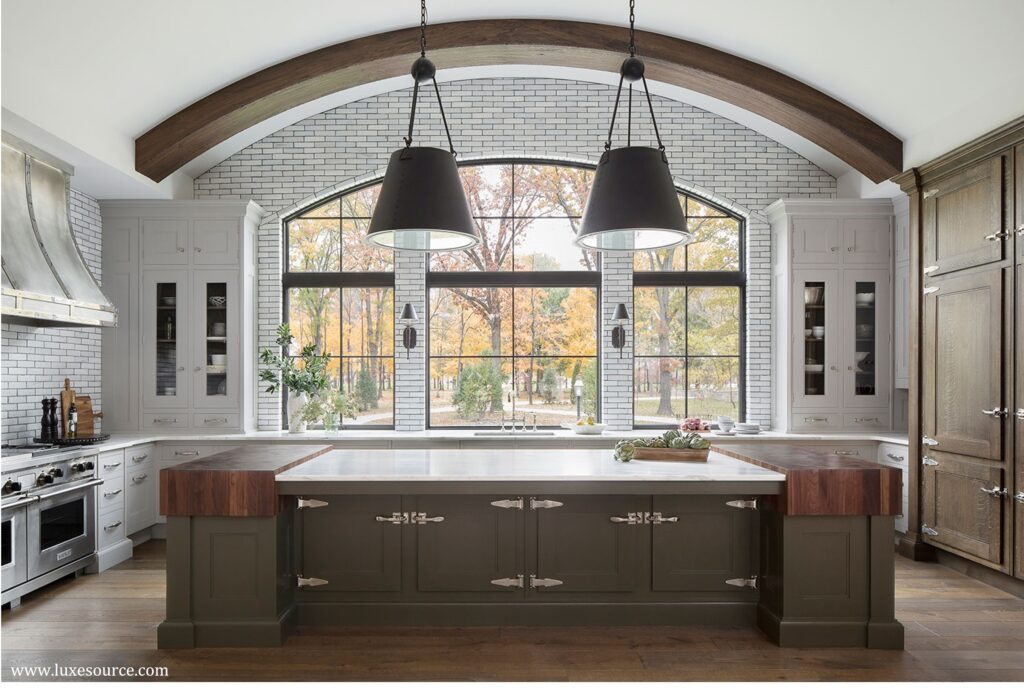 Speaking of stone, both heavily veined marble and colored marble countertops are extremely popular right now.  And they look fabulous paired with metallic finishes.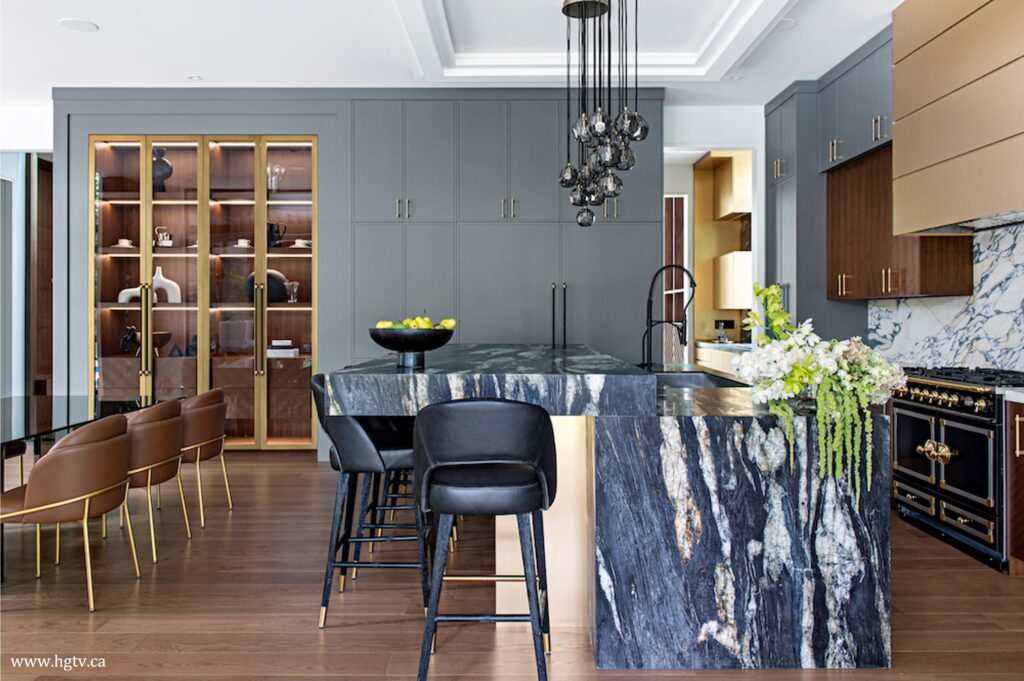 The hottest metallic finish this year is by far brass, as well as antique gold, and copper.  And just like last year, matte finishes are still reining supreme as homeowners appreciate how easy they are to keep clean compared to polished finishes.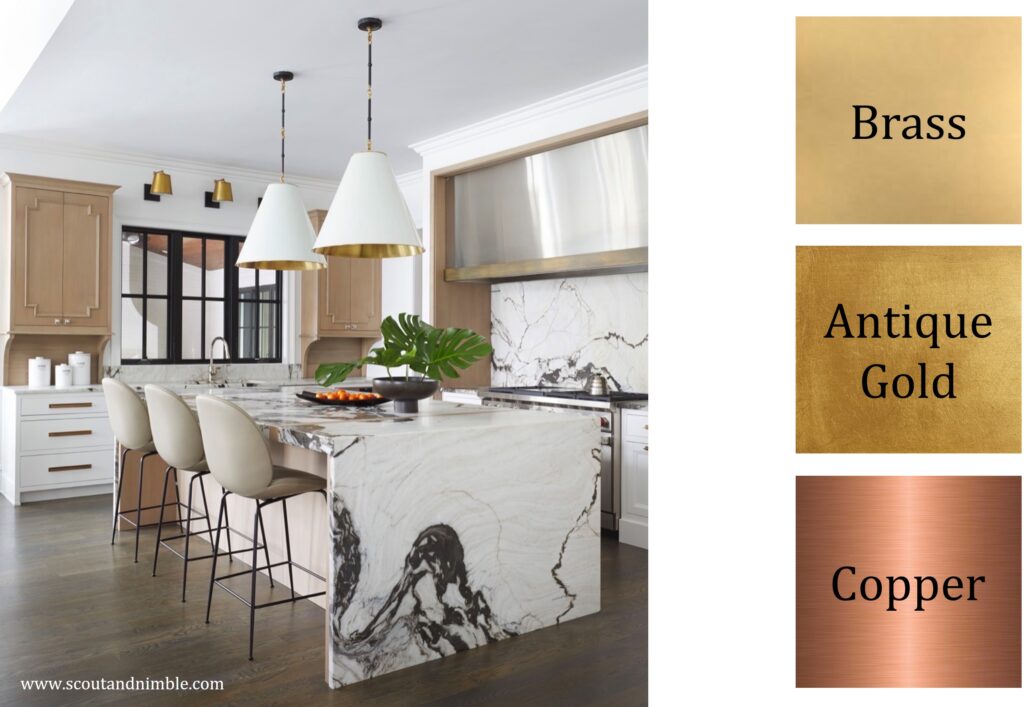 Finally, you might remember that we were seeing some interesting metal finishes for sinks last year, such as matte gold.  This year, the trend of using interesting materials continues, and the materials of choice appear to be concrete, marble, and granite.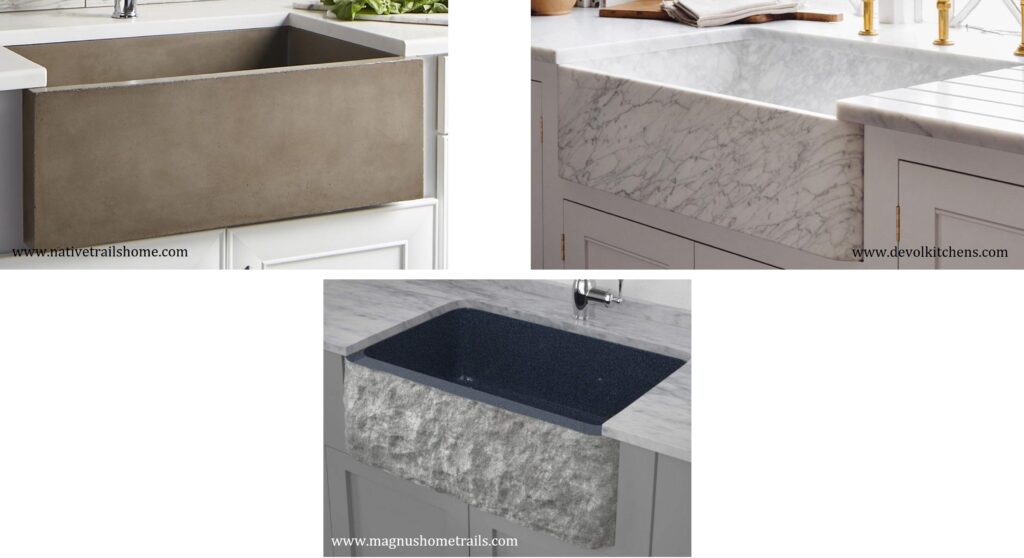 Trend #3 – Furniture, Pantries, and Larders, Oh My!
In the area of cabinetry and storage, one big trend we are seeing this year is the use of multi-functional furniture, such as dressers, sideboard, and cupboards, which can function well as a pantry or to store extra servingware and glassware.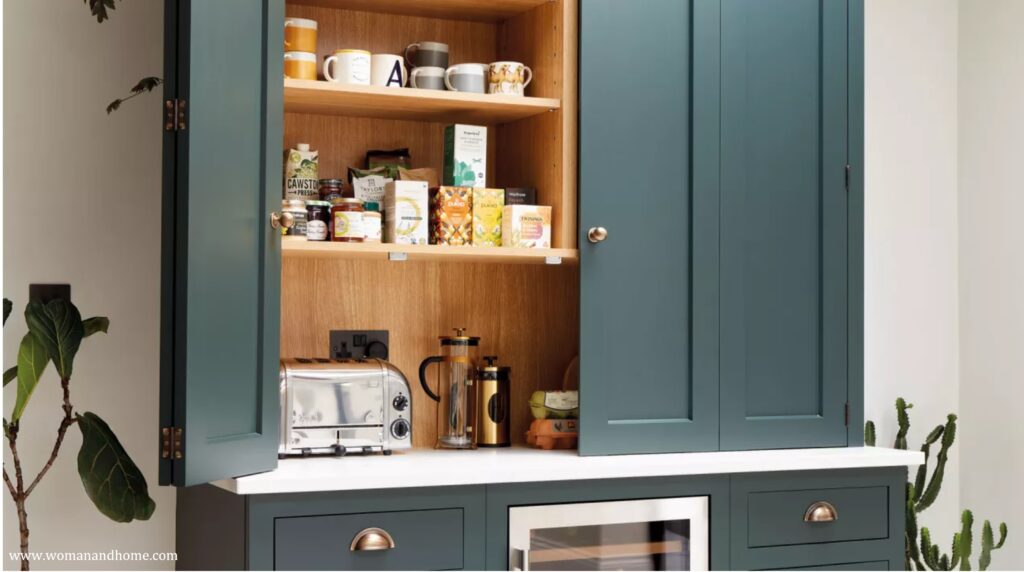 Pantries and larders are still some of the most requested upgrades this year, but so are other luxuries like sculleries, which is a separate room, set off from the kitchen, that is used for cleaning and storing.  If you don't have the space for a built-in pantry, consider a freestanding piece of furniture that can serve as your pantry.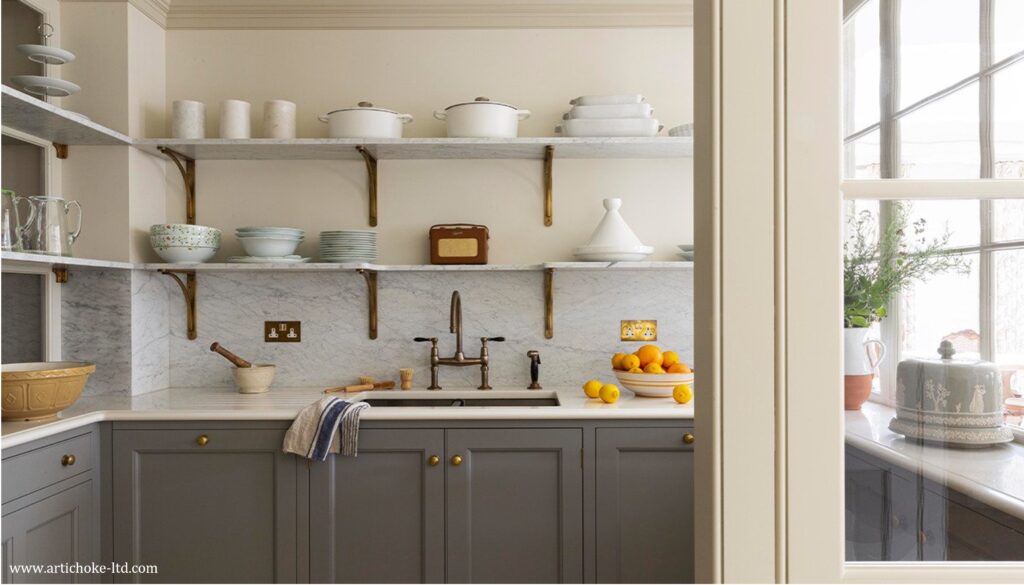 Glass cabinetry, in particular frosted glass, is also trending this year.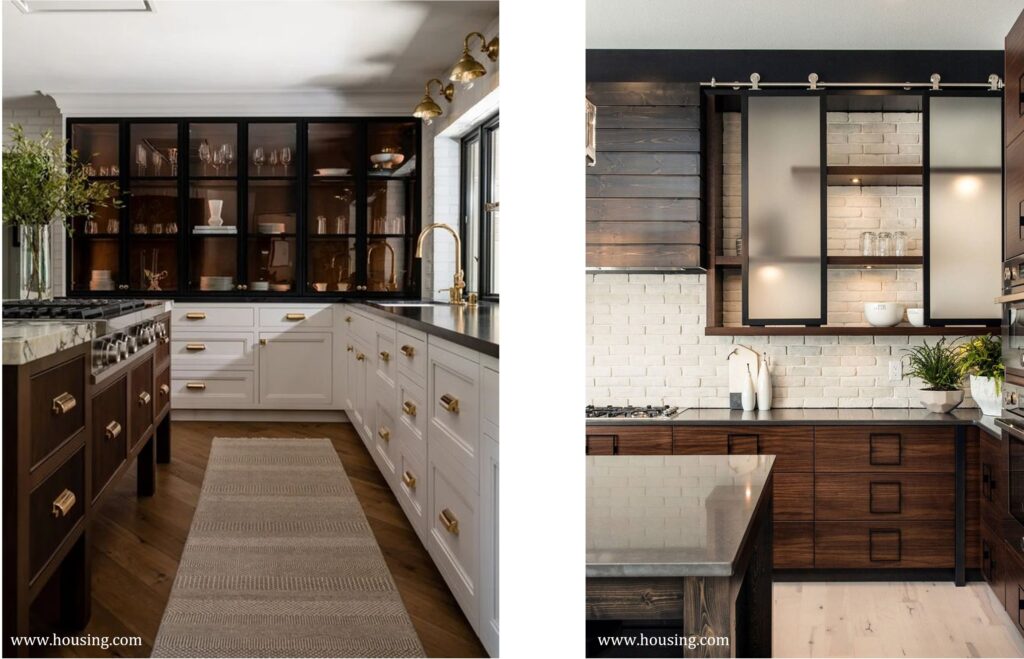 Trend #4 – Rustic Open Shelving
Some of you were doing a happy dance that open shelving had gone from being huge in 2020 to not so huge in 2021.  That said, we did see open shelves being used last year to display heirlooms, decorative objects and artwork – all in the name of adding character and personality….AND that remains unchanged this year. The main trend is this area is the use of more rustic looking wood shelves with LED spotlights to highlight said pieces.  So if you love open shelves, don't hesitate to add a few in.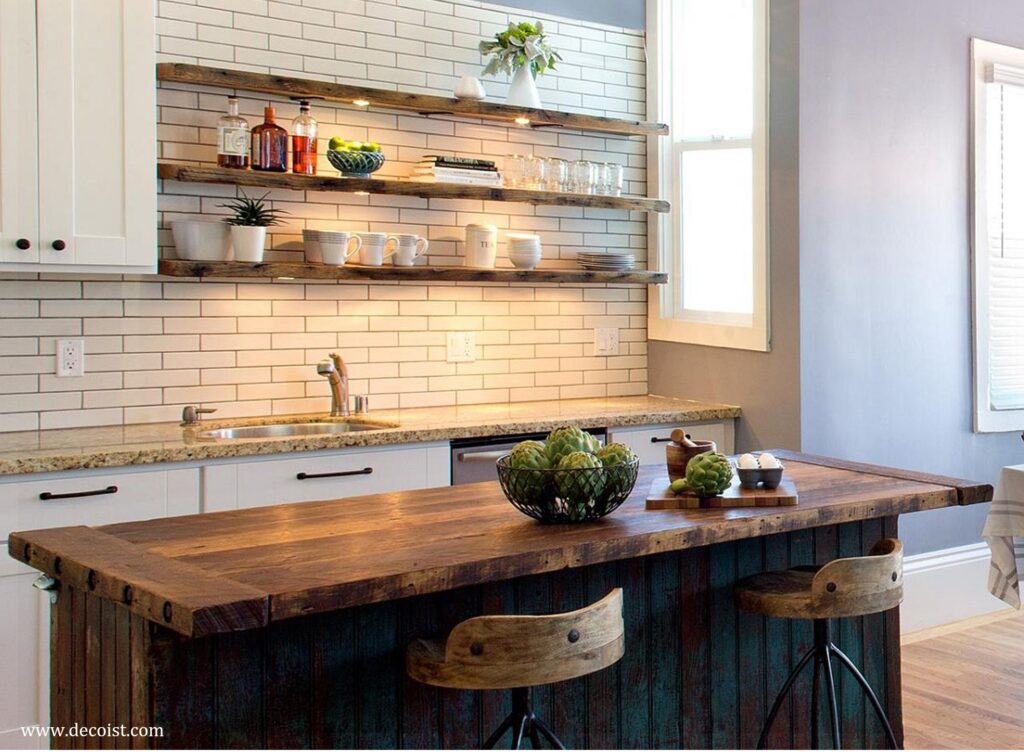 These rustic wood shelves work well with the Cottagecore style that we are seeing everywhere right now.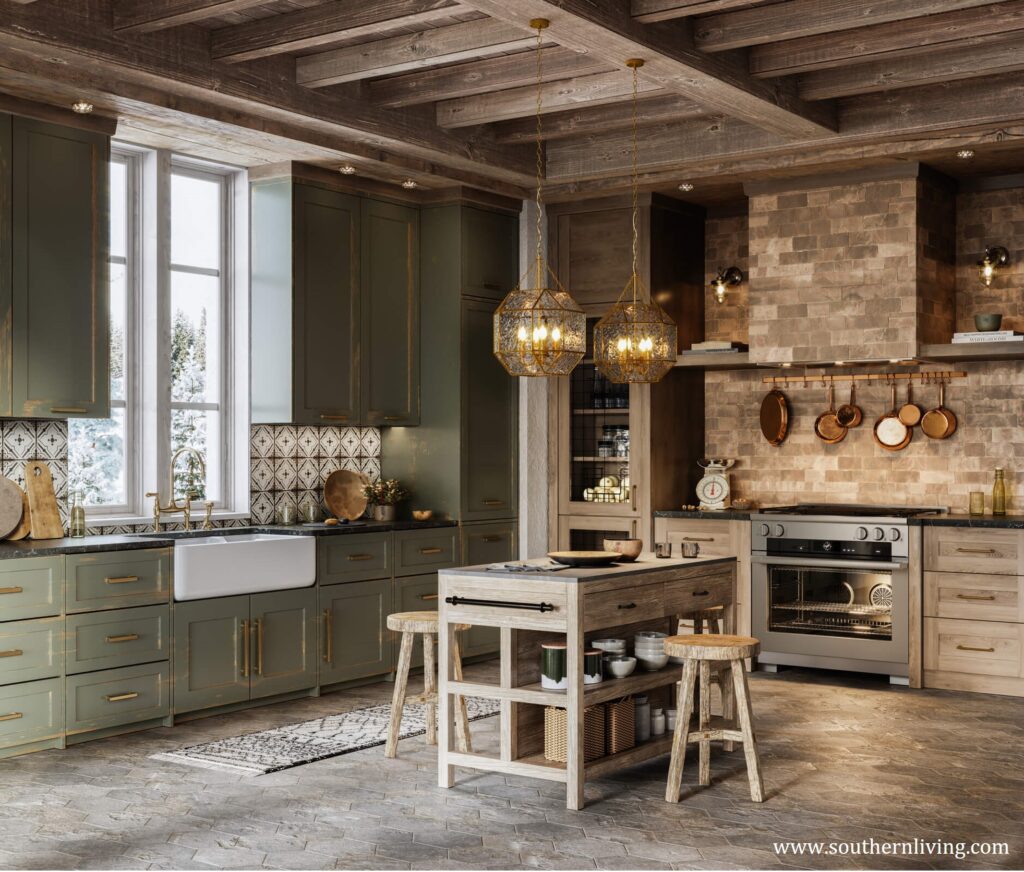 Trend #5 – Curved Corners
Curved and rounded corners, particularly on kitchen islands, are popular this year, and I think it fits in nicely with the overall organic trend that we are seeing.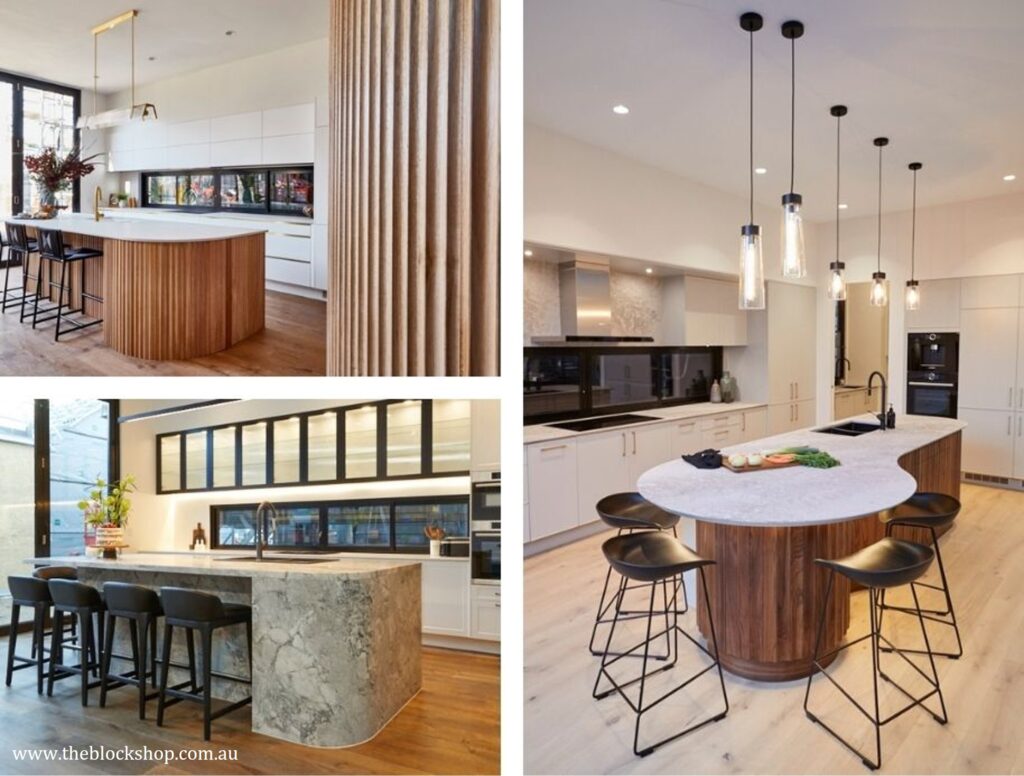 Trend #6 – Quartz, Quartzite, and Porcelain Reign Supreme
Apart from the heavily veined marble and colored marble countertops I mentioned earlier, quartzite and quartz are really trending right now.  Quartz has been trending for a while and no surprise given it's non-porous and anti-microbial characteristics.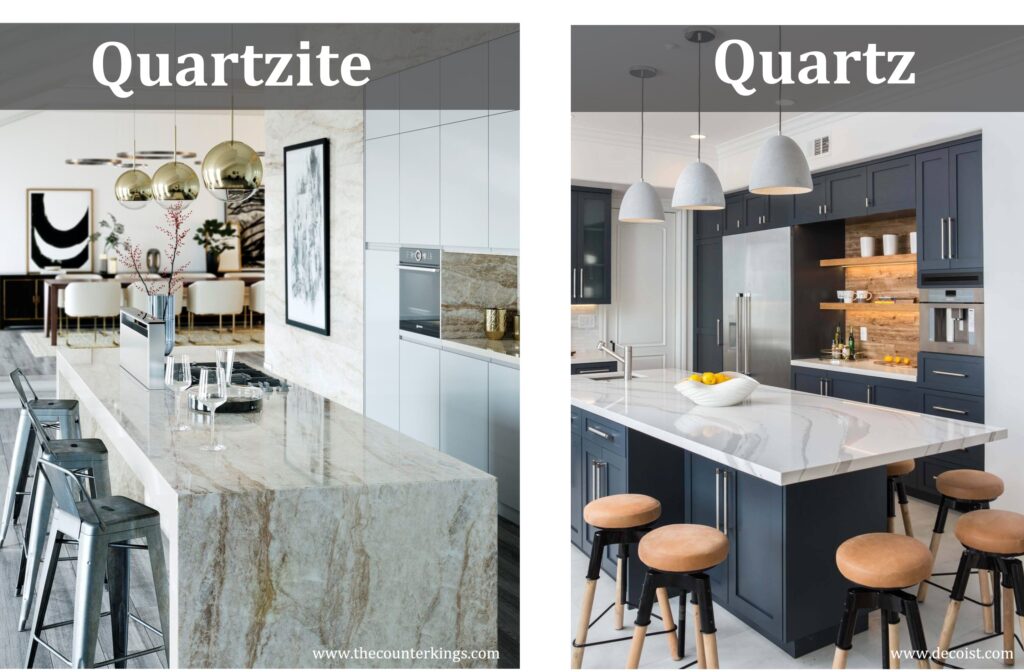 In addition, porcelain slabs are also becoming more popular this year.  If you live in the U.S., you may not be that familiar with this product.  Porcelain slabs shares many of the same characteristics as quartz, namely that they are also non-porous and easy to maintain. Many of the porcelain slabs sold in the U.S. resemble marble, making it an attractive option for many styles.  Additionally, porcelain is also considered a more eco-friendly material.  Depending on the product, it can be somewhat fragile, especially during the fabrication process, which means that if you go this route, be sure to find a fabricator with porcelain slab experience.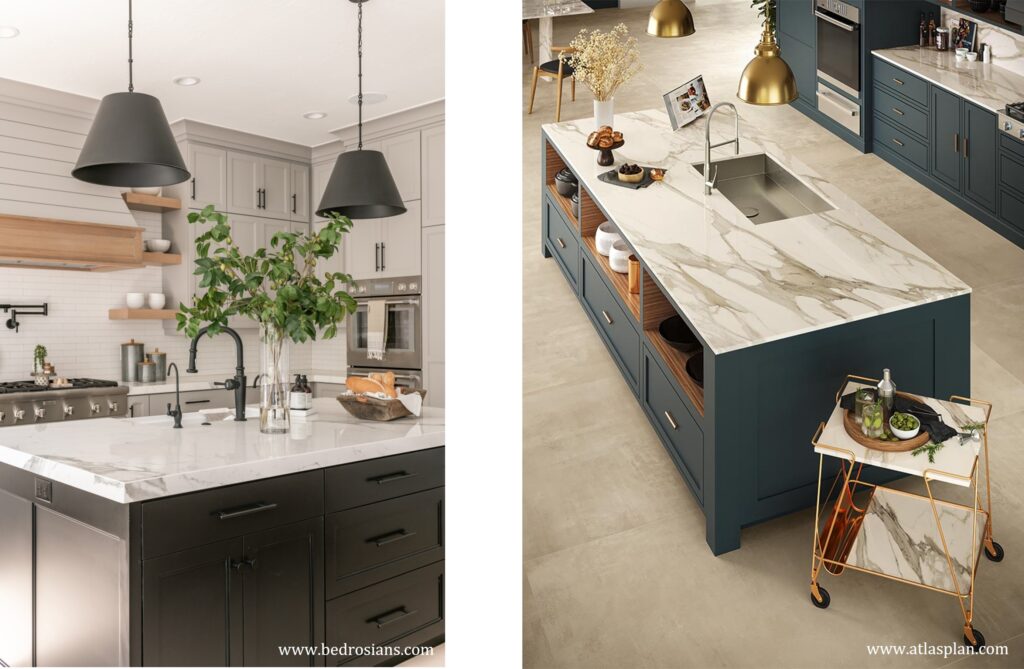 In the world of backsplashes, I'm seeing more slab backsplashes than ever.  This is such a dramatic and exciting look and works particularly well in Traditional, Transitional, Contemporary, and Modern French style kitchens.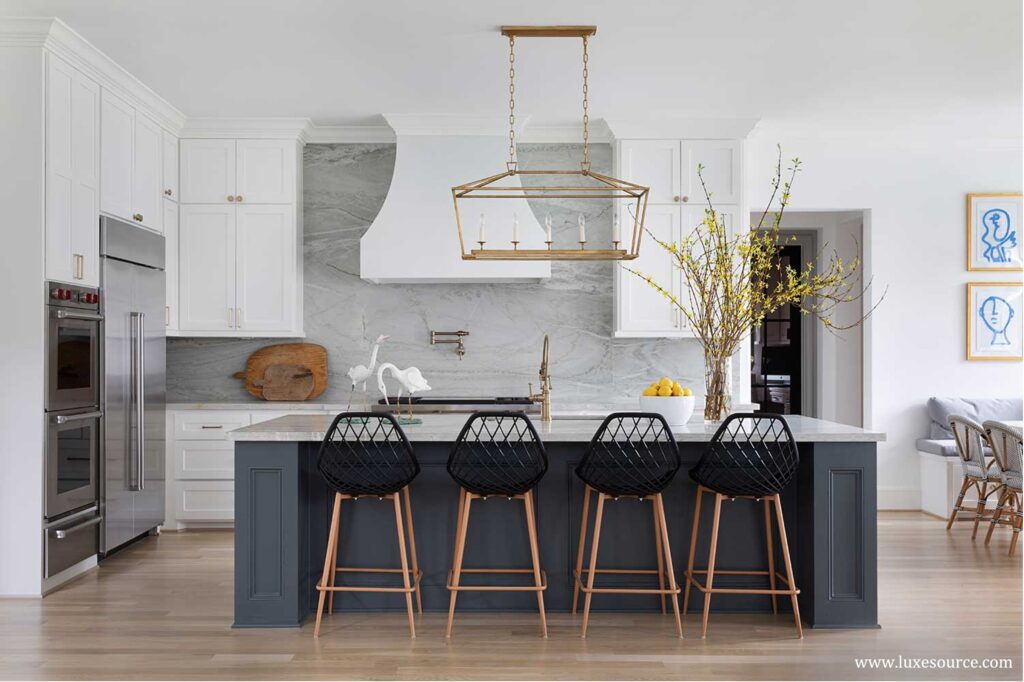 Apart from slabs, subway tile still shows up as one of the most popular choices year after year, but what's trending this year is the way it's being installed – instead of traditional 33% or 50% offset installation, clients are choosing horizontal stack and vertical patterns, both which works well in contemporary and mid-century modern designs.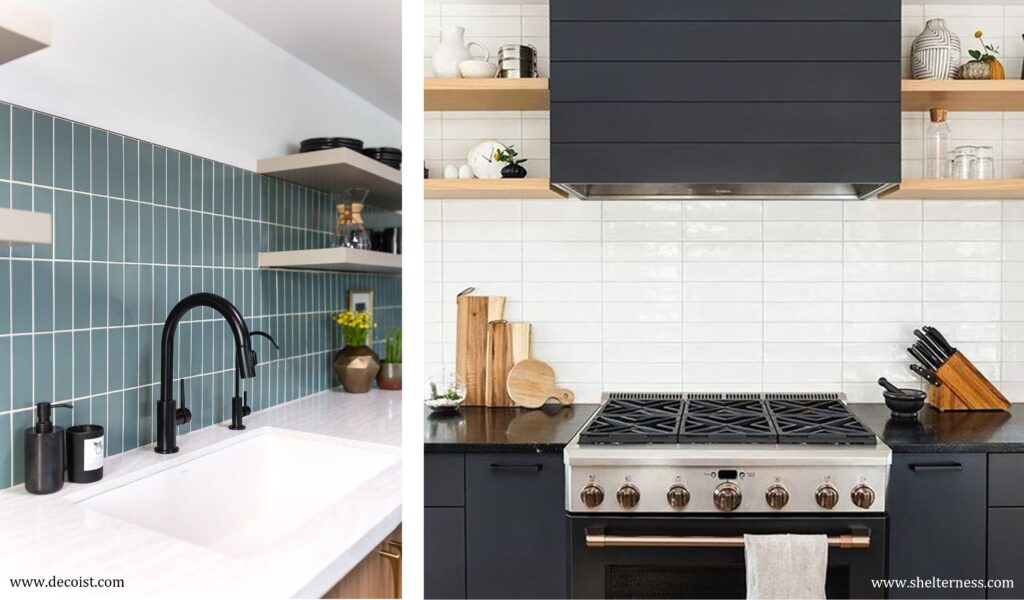 Trend #7 – Statement Flooring
In the area of flooring, we are seeing a lot more statement flooring, specifically patterned tile floors.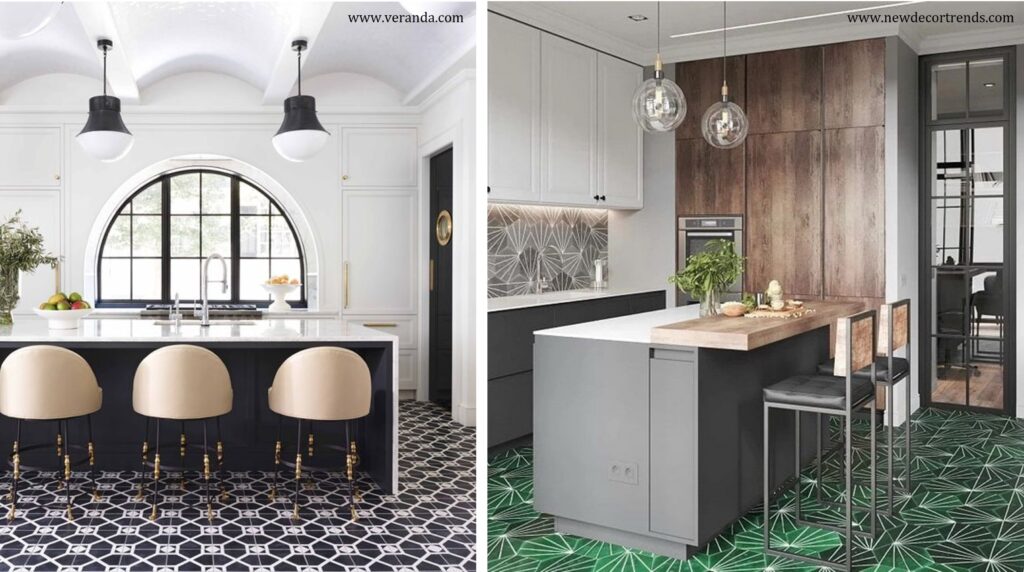 Along the same theme, we are also seeing a lot more statement light fixtures with strong architectural lines, which is not the typical thing we see in the kitchen.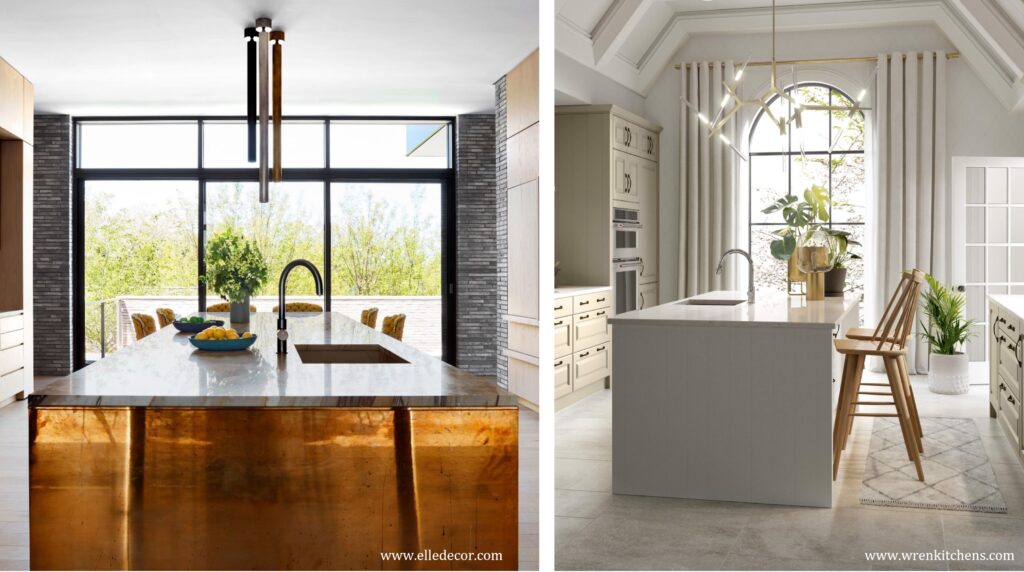 Trend #8 – Luxury Appliances
Regarding appliances, we are seeing clients choosing to integrate more luxurious appliances, such as flexible refrigerator drawers and warming drawers.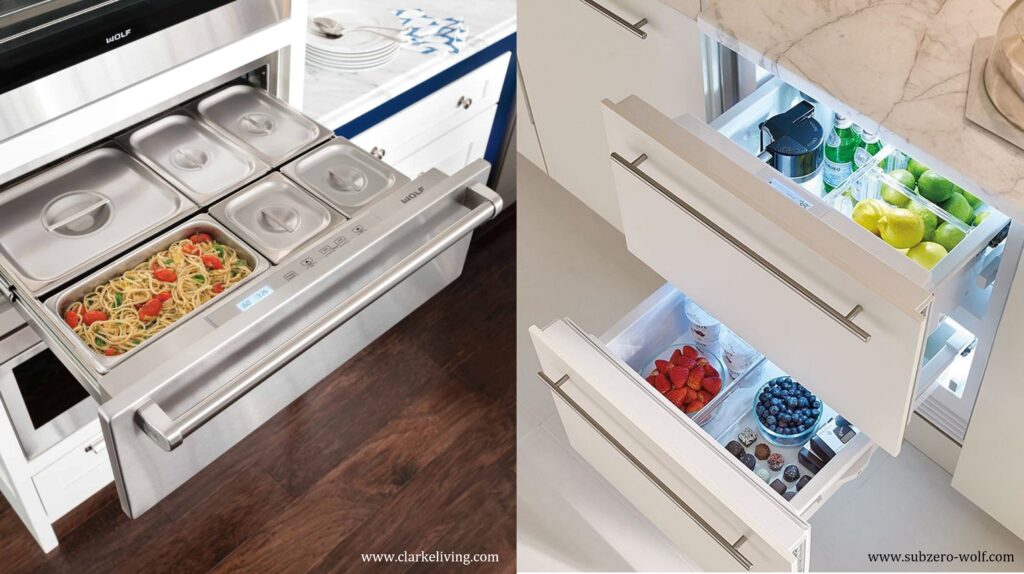 With regards to smart appliances, you might recall me saying last year that this "trend" is here to stay.  Sure enough, not only do we have even more smart large appliances such as refrigerators and ranges this year, we are seeing a lot more small app enabled smart appliances, including, but not limited to, slow cookers, blenders, and countertop ovens.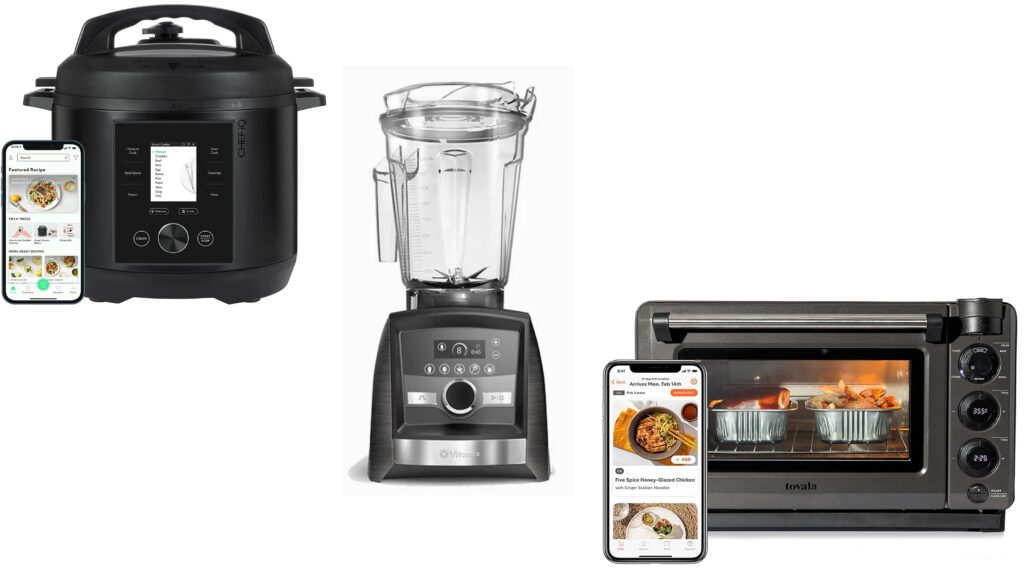 Another growing favorite item among homeowners is voice activated faucets so you can adjust the water temperature down to the degree and tell it how much water you'd like it to dispense.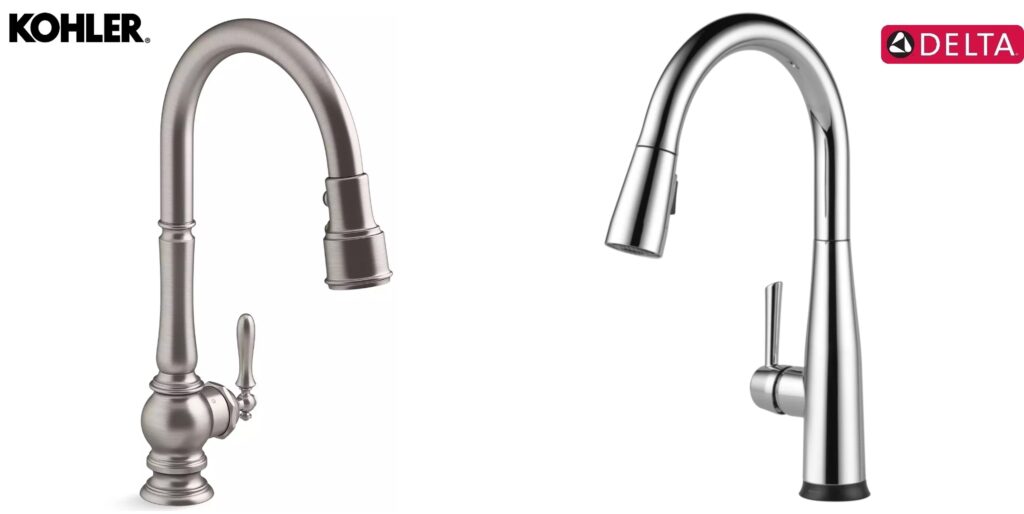 Trend #9 – Smart Outdoor Kitchens
Outdoor kitchens are also becoming smarter with WiFi enabled BBQs, grills, firepits, and heaters, weather resistant smart TVs, integrated AV systems, ambient LED lighting to adjust both color and lighting levels, and sensors to close the roof it if starts raining.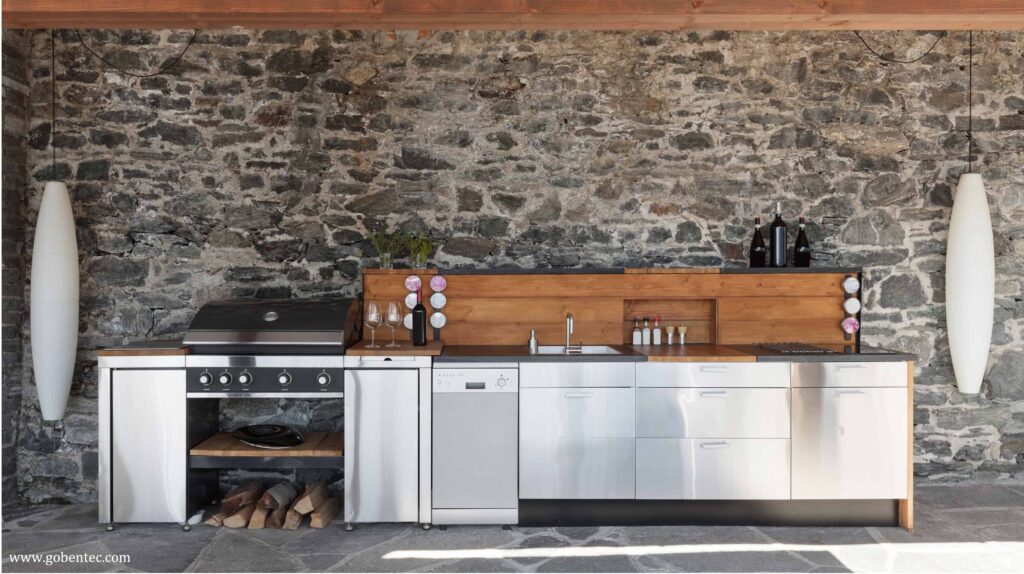 Trend #10 – Open Concept or Closed Design? You Decide!
Last year we saw a move away from open floor plan kitchens, which was fueled by the desire for separation while everyone was at home.  This year, open concept and closed kitchens are both trending.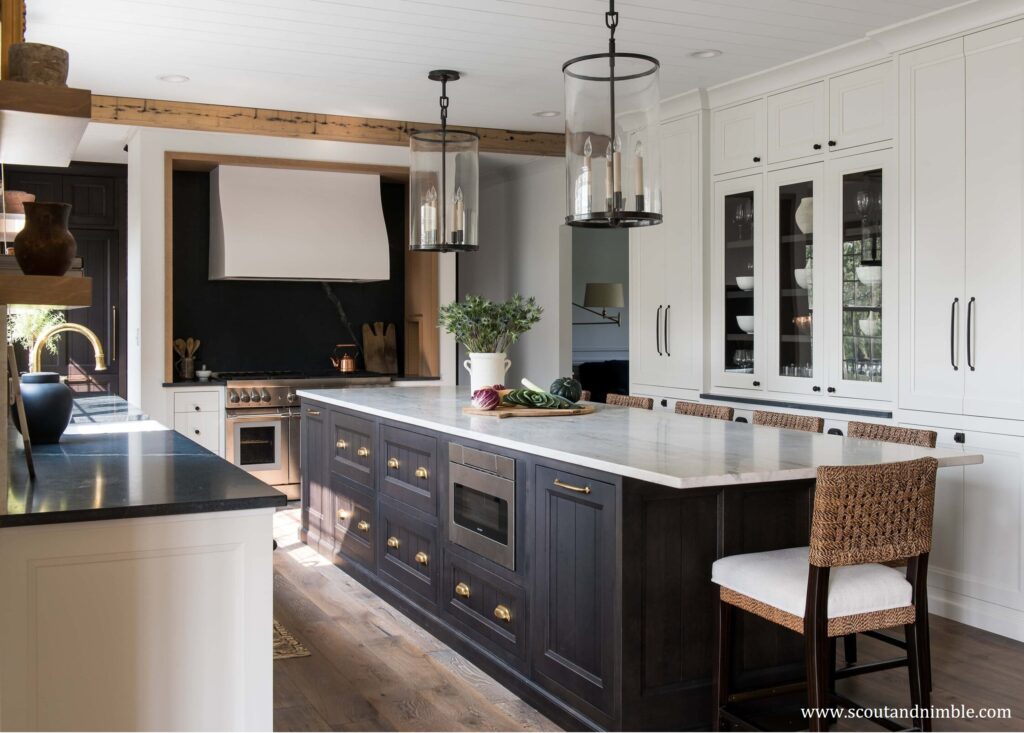 In the area of open floor plan kitchens, especially in contemporary homes, the growing trend is for a hidden or invisible kitchen, meaning, making the kitchen as integrated as possible to the rest of the space, which can be accomplished with smart storage solutions, appliance panels, and furniture style cabinet doors so that it feels like it's part of the overall living space.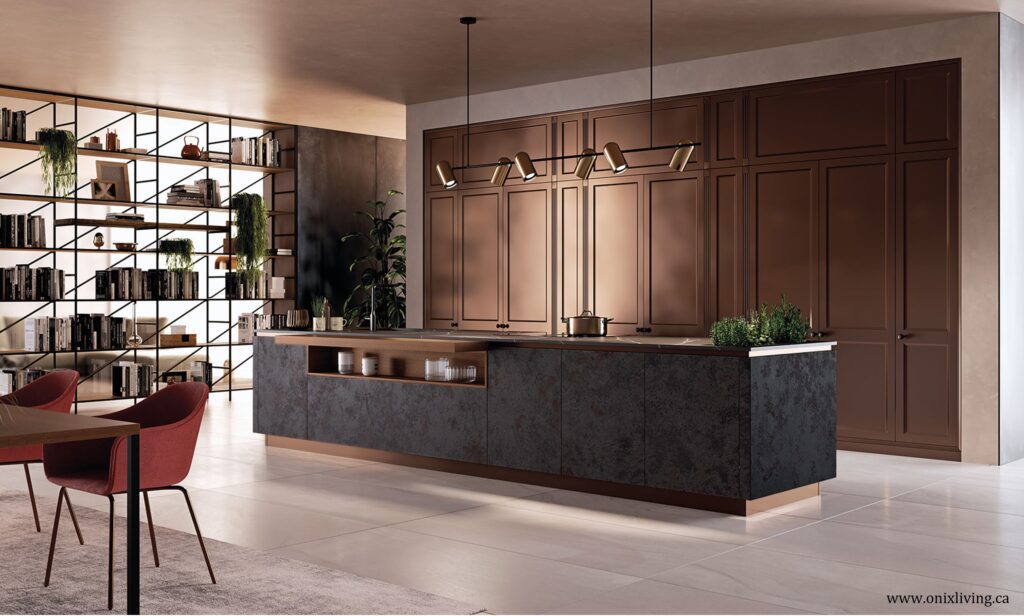 Trend #11 – Artwork and Wallpaper are Adding Personality
Finally, because there is a desire to have the kitchen become more like an extension of the living room, and because clients are also wanting to inject more personality into their kitchens, we are seeing more artwork and wallpaper installation than ever!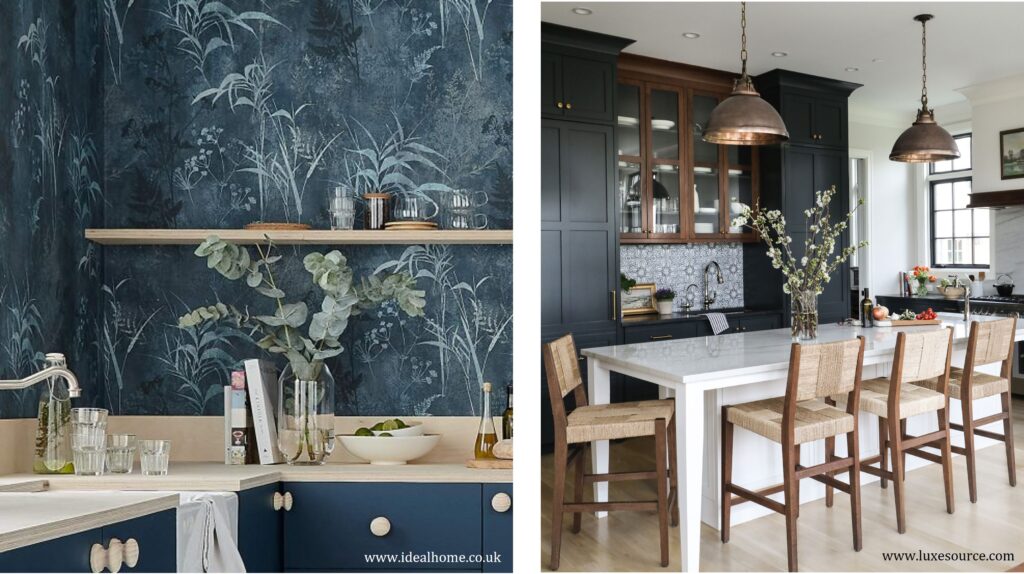 I hope you enjoyed learning about this year's kitchens trends! Happy Decorating!