Ah, open floor plans – who doesn't love the openness, flexibility, and possibilities of an open floor plan?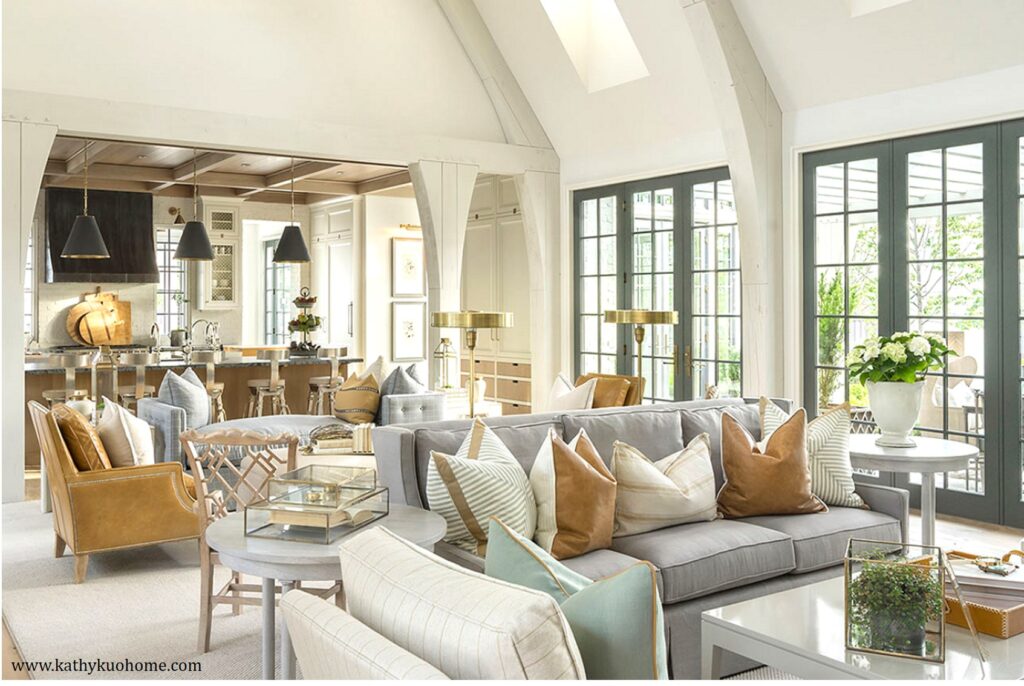 Most of us love the look and the idea, but many struggle with not only how to properly delineate the space for the best functionality, but also with how to make such a large open area feel comfortable and cozy.
Not to worry! I'm going to share with you the top 10 techniques that designers regularly use to make any open floor plan functional, comfortable and stylish.


1. Define your Major Activities
As with any room design, it's incredibly important to give careful thought to how you will be using the space, as you want to ensure that you include all of the furnishings you need to meet your functional needs. This couldn't be more true for an open floor plan. Some open floor plans will include just a living area and a dining area, others will encompass living, dining, and a kitchen, and yet others, such as those in a loft or studio apartment, will have to create space for sleeping and working as well. Your first step is to write down all of the major activities that you plan on doing in your open floor plan. Major activities include, but are not limited to, eating, sleeping, watching TV, working, and entertaining guests.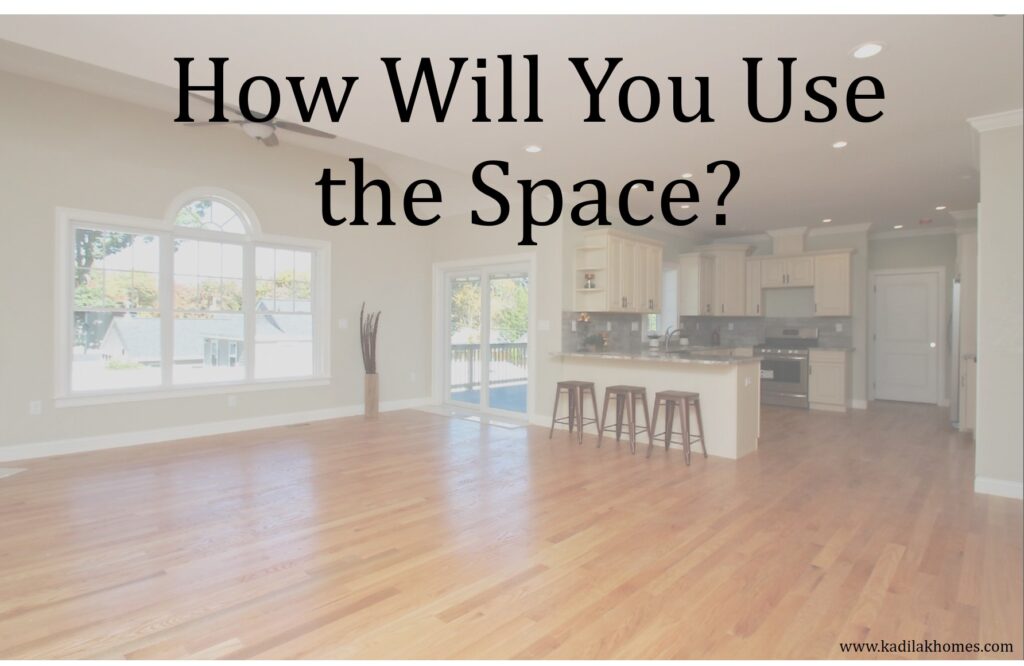 2. Choose Furniture Based on Your Activities
Now that you have defined your major activities, you can then begin the process of identifying what pieces of furniture you'll need for those activities. A simple example is dining. If you know you need a place to throw a monthly dinner party for 6 guests, then you'll obviously need a dining table that seats 6. Once you know all of the furniture pieces you'll need (whether you own them or you'll need to buy them), you'll have a good idea of how much space you'll need for each activity area. To help keep your home clutter free, donate, sell, or reuse in another room any items that don't make the list of what's needed for each activity. When you group your furniture, make sure you maintain adequate walking space in between groupings – the rule is 3 feet for a main walking space.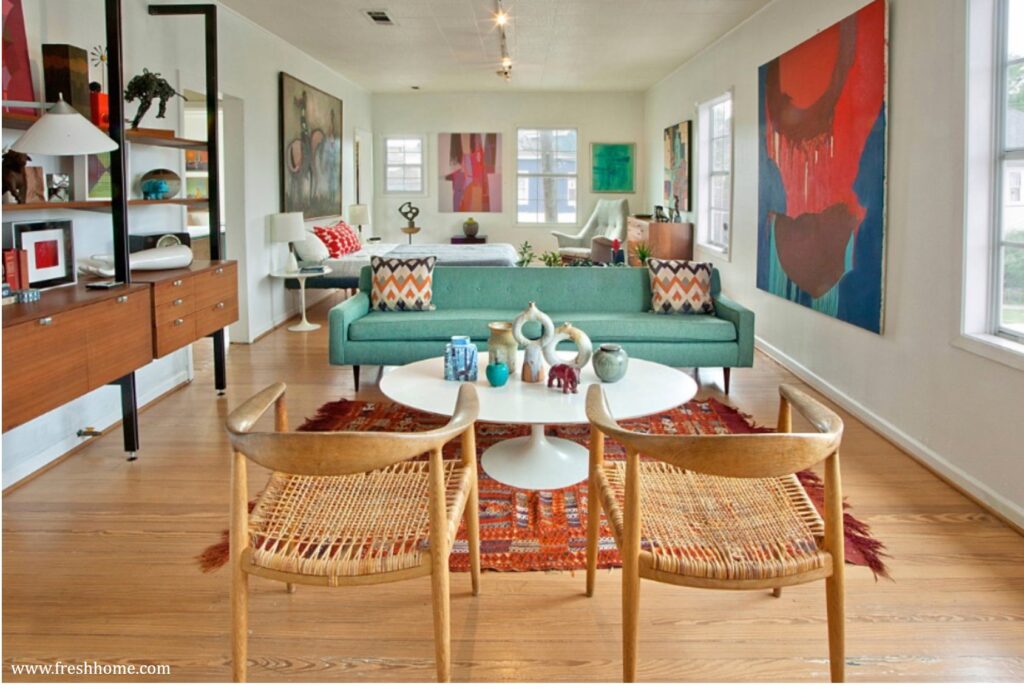 3. Rugs are one of the Easiest Ways to Define a Space
Not only do rugs feel great underfoot and are an easy way to add color/pattern to a room, but they are also one of the easiest way to define a space within an open floor plan. You can either choose to use the same rug or choose coordinating rugs, preferably in a coordinating color and style (e.g., contemporary, traditional, etc.) So how do you choose whether to go with the same rug or coordinating rugs? One easy way to get this right is if your rugs are right next to each other (within 1-2 feet), I would lean towards using the same rug like we see here.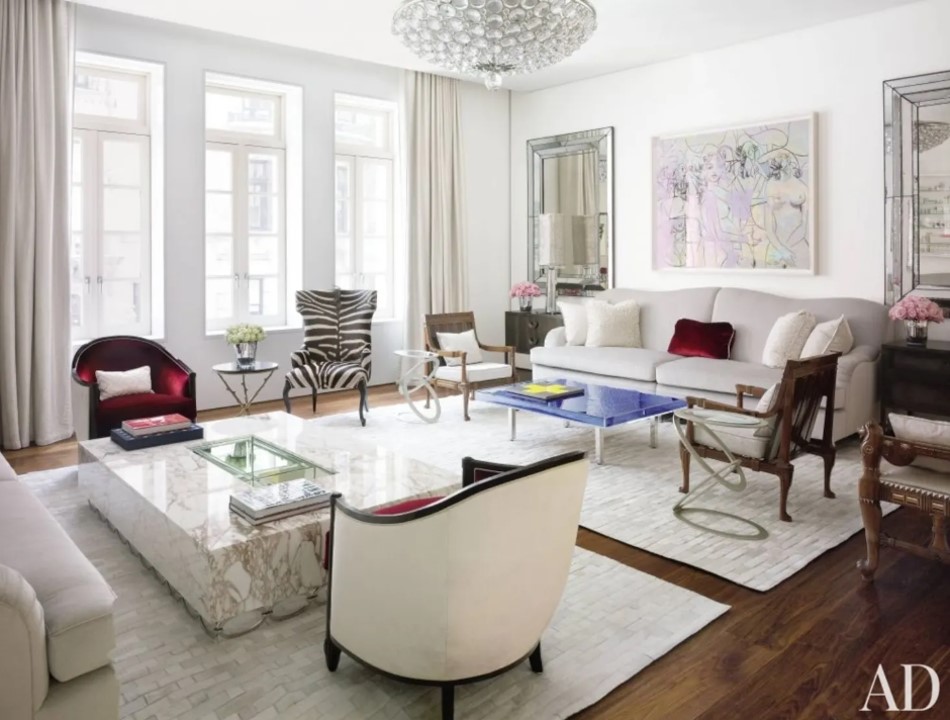 However, if there is at least a few feet of separation, either the same rug or coordinating rugs will work well. It's important to ensure that the main furniture pieces are either sitting partially on the rug or completely on the rug.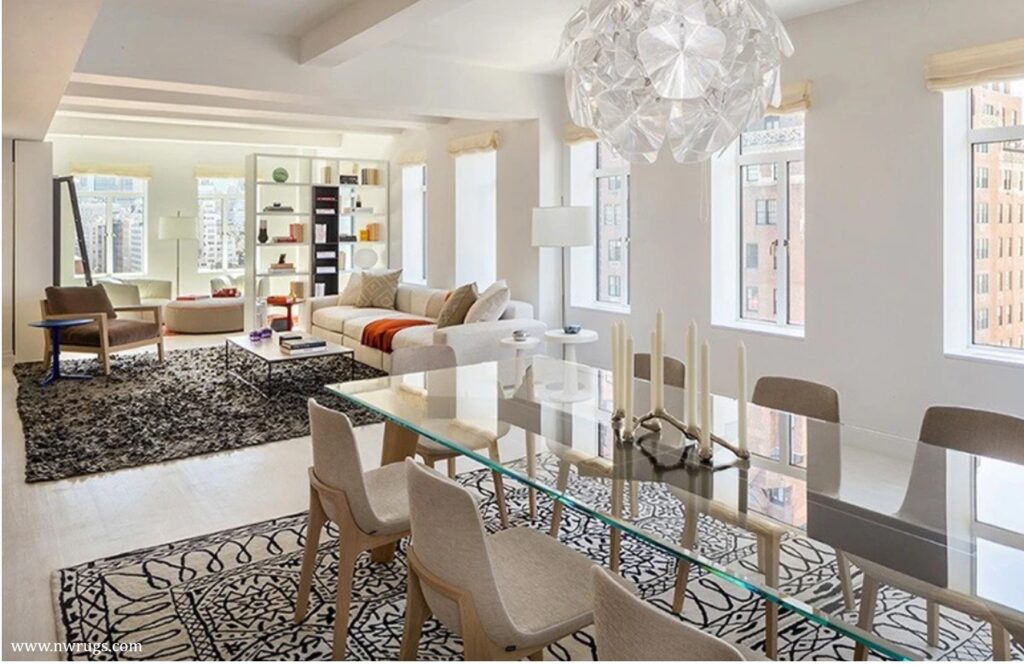 One final great option is to use one large rug for a space and then overlay two different but coordinating rugs to define the spaces. Below you can see that they used a large jute rug for the entire room, but they used different but coordinating cowhide rugs to define each of the 2 spaces. Brilliant!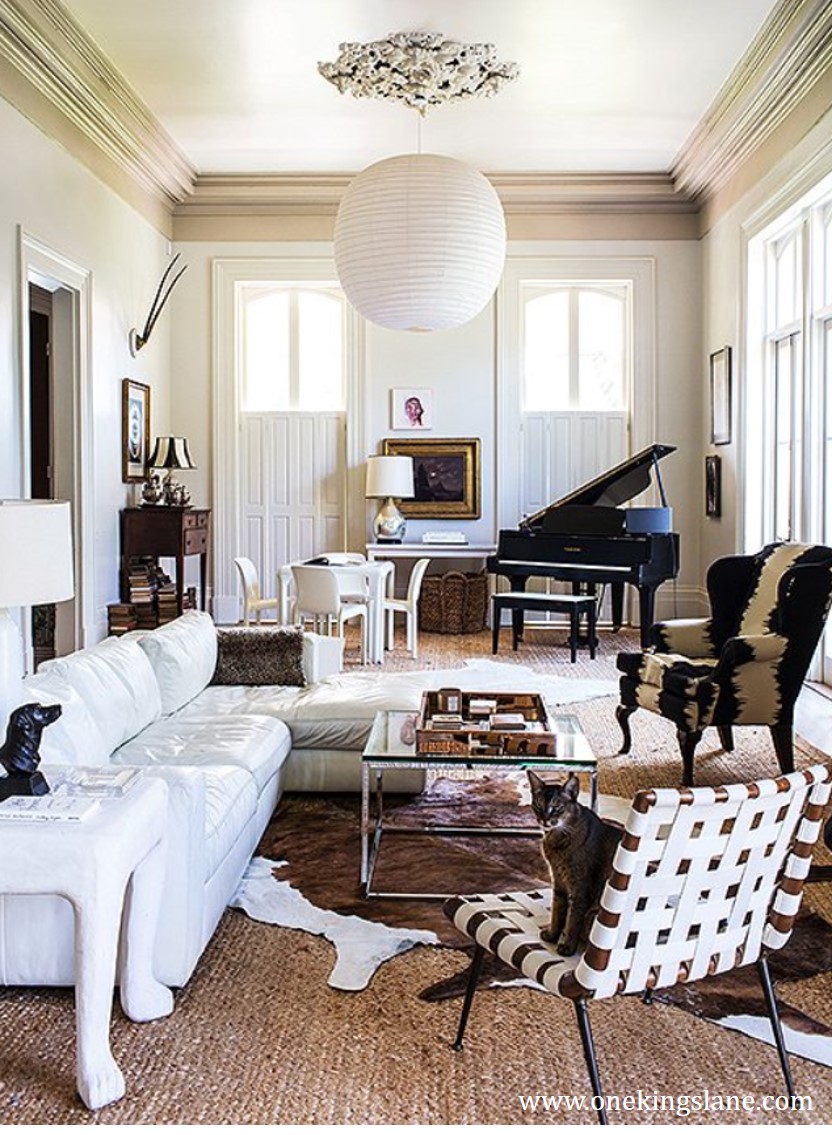 4. Use Lighting to Define Your Center Point
After rugs, light fixtures, in particular chandeliers and pendants, are probably the second best way to help define individual spaces within an open floor plan (ceiling fans also work). You want to hang your fixture in the middle of the space. Additionally, how high you hang the fixture also matters. More specifically, for larger areas, such as in the seating area below, you want to hang your fixture at a higher distance, as your eye will automatically make the connection that this is a larger space. Contrast the height of this fixture with the chandelier hanging over the dining area. Do you see how it's hanging lower, closer to the dining table? This allows you to quickly determine that this is a smaller space.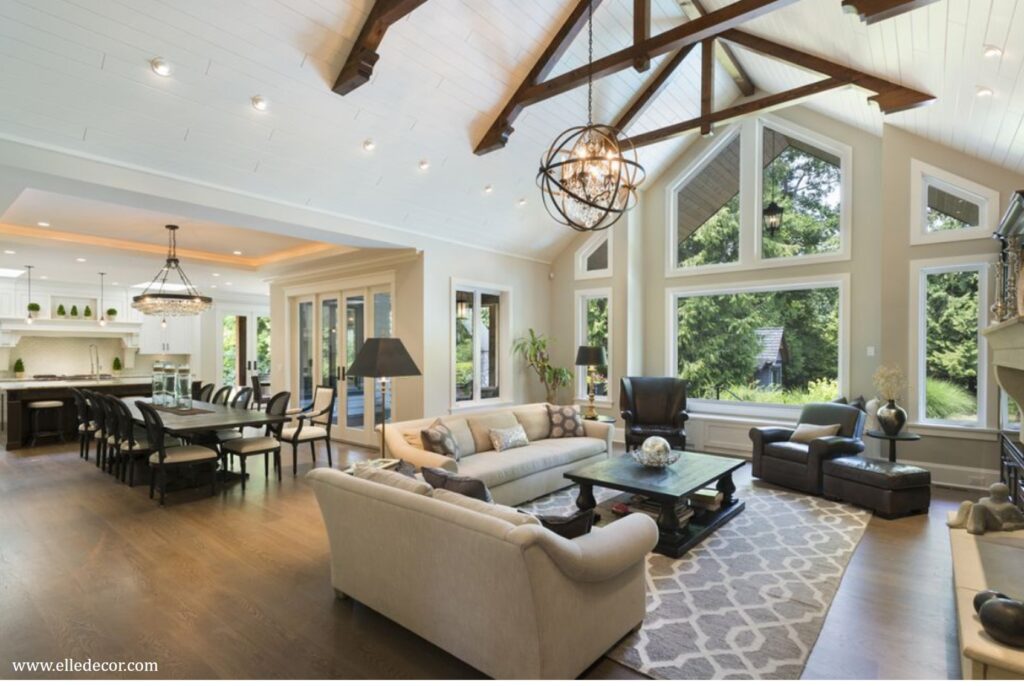 5. Room Dividers are Easier than You Think
While rugs and ceiling light fixtures are often enough to define spaces, you may want to go with, or add, a different solution. Certain case good items can make stylish and effective room dividers. The easiest and most effective are console tables, buffets and bookcases.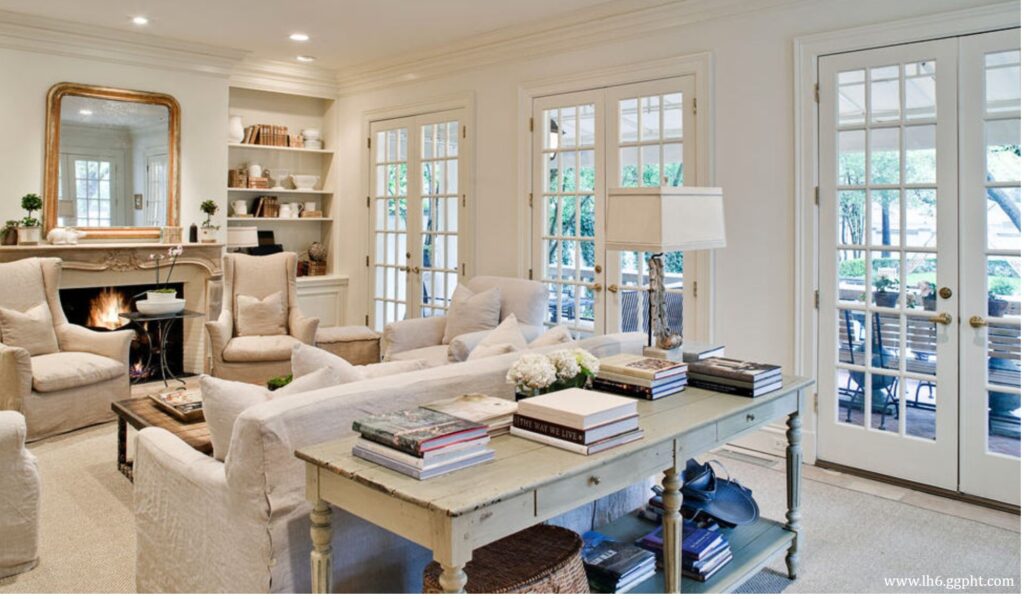 If you are going to use a bookcase, keep it backless so you maintain an open and airy space as much as possible.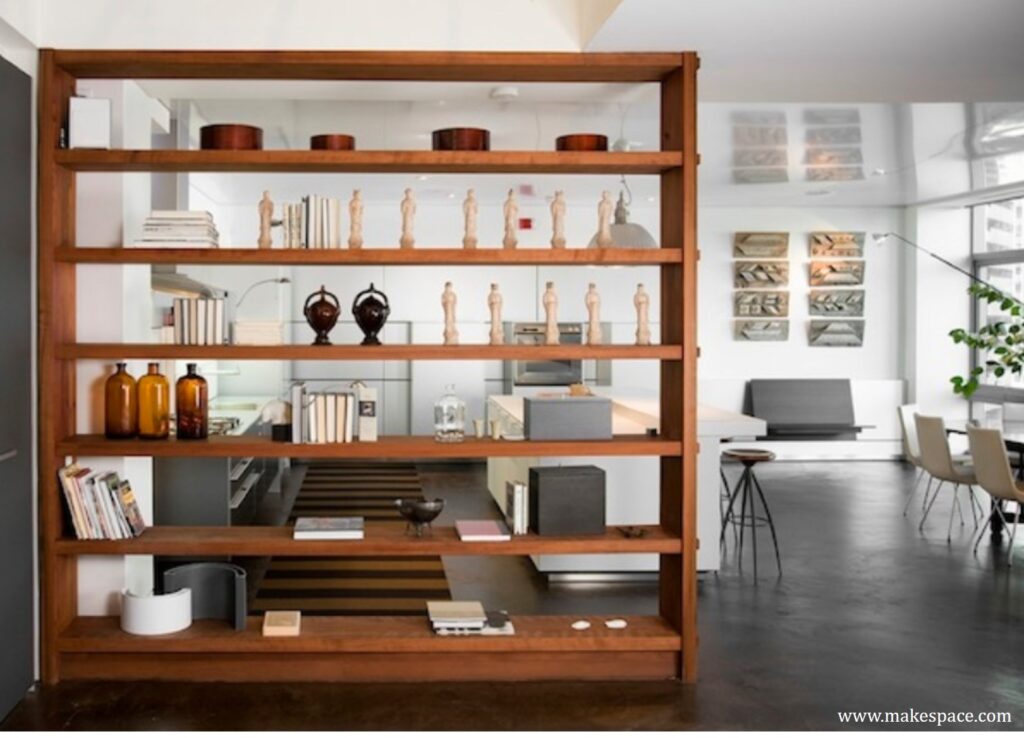 6. Use Color and Metals Strategically
Clearly, when you have an open floor plan, you need to have a cohesive color scheme for the entire space – ideally, your color scheme will include 1-2 neutrals and 1-3 accent colors. However, you can use color strategically to help define the separate areas. For example, you might to go with a white, red, and chocolate brown color scheme for the entire open floor plan, but you can use each color more predominantly in one area to define the space. For example, in the image below, we see that red is used in a big way in the main seating area, but is repeated in the rugs in the groupings to the left and right of this seating area. The red, then, is used cohesively, but is also used strategically to define the main seating area.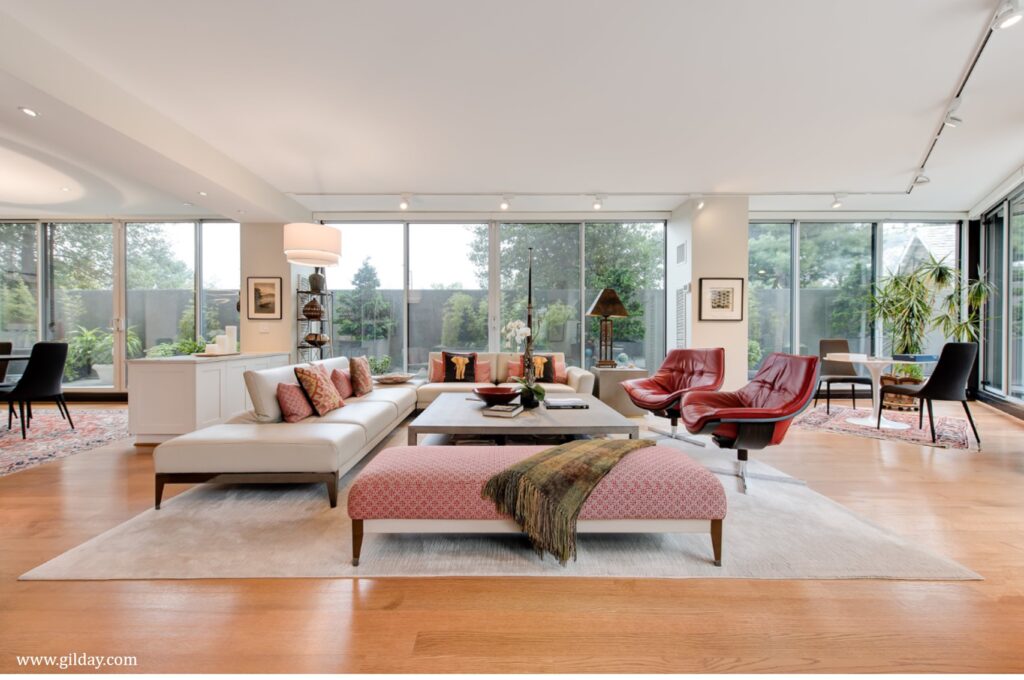 It's not just the color of your furnishings that you can use for delineation. Paint is another great way to define a space, particularly when it's at the end of an open floor plan like we see in the image below. However, to look right, a paint transition should only happen at an angle, ideally a 90 degree angle so there's a clear and effective transition point between the 2 paint colors.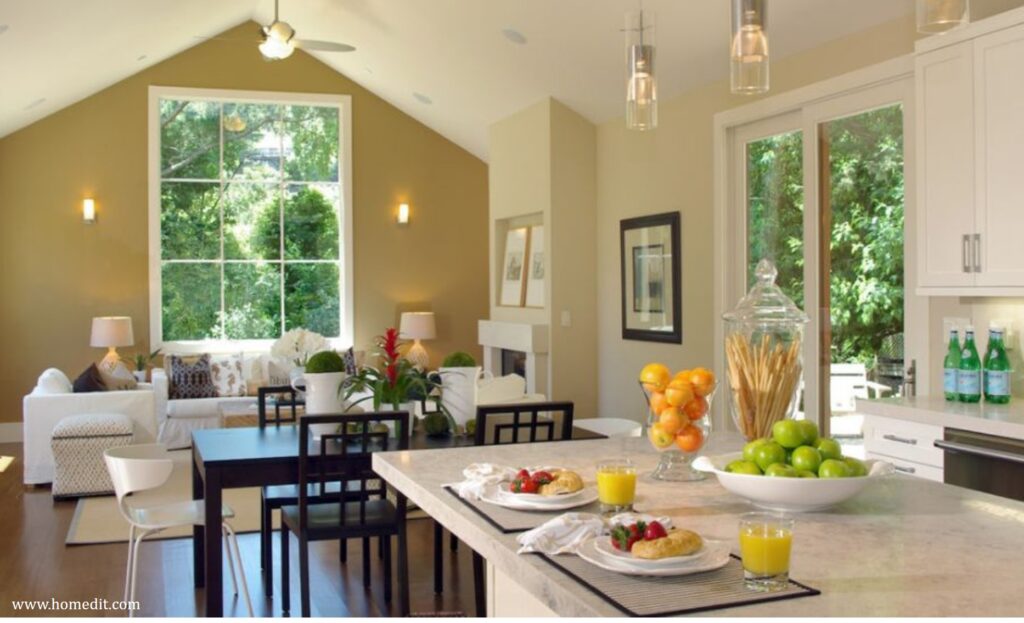 You can do the same with metallic finishes. I love mixing metals and while you might decide to go with black and brass finishes for the entire space, you could choose to use brass in a big way to define a space like we see below in this family room.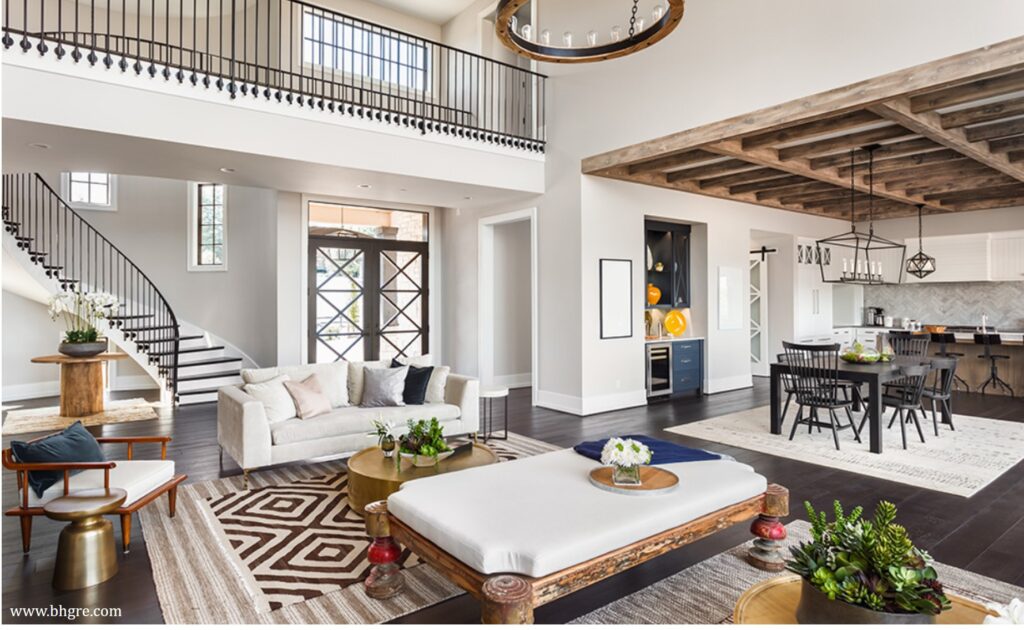 7. Create a Focal Point for Each Main Area
One of the defining design guidelines that I live by is to ensure that every room has a focal point. So what do you do in an open floor plan – do you go with just 1 focal point, or should each area has its own focal point? The answer is the latter. Each unique area deserves to have something striking. Common focal points for rooms include, but are not limited to, fireplaces, artwork, ceiling light fixtures, unique ceiling treatments, or a unique furniture piece, such as a beautiful coffee table. Focal point objects can also be combined. For example, below we see a lovely piece of artwork over the fireplace, this space's natural focal point. You can further accentuate the focal point with lighting, like we see with the 2 sconces flanking the artwork.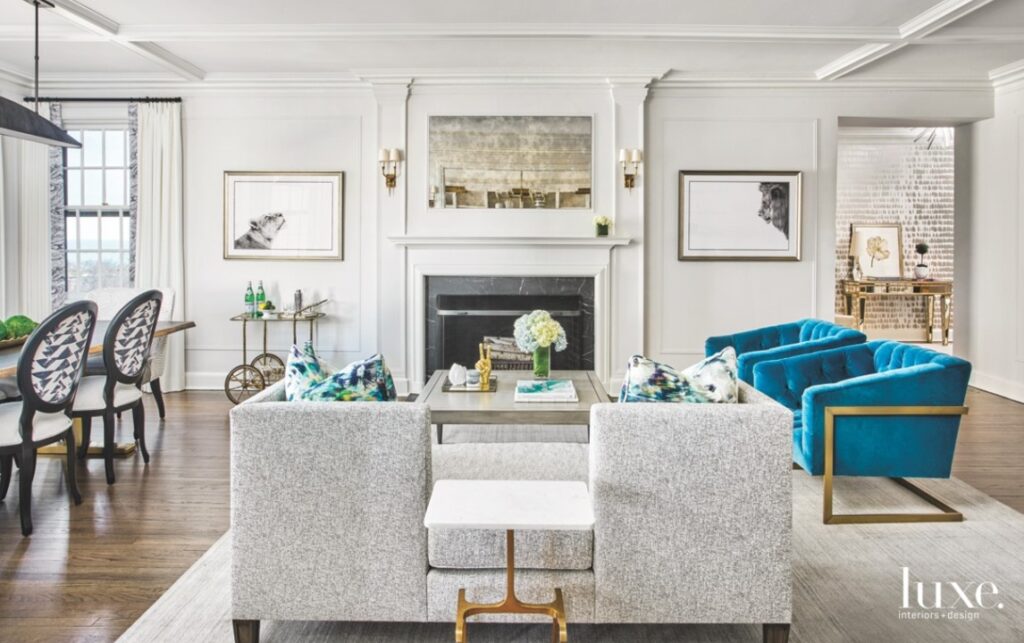 8. Use Formal Symmetry
Formal symmetry is one of my go-to design techniques, and I particularly love it in an open floor plan because symmetry automatically brings order to a space, which is critical to a well defined open floor plan.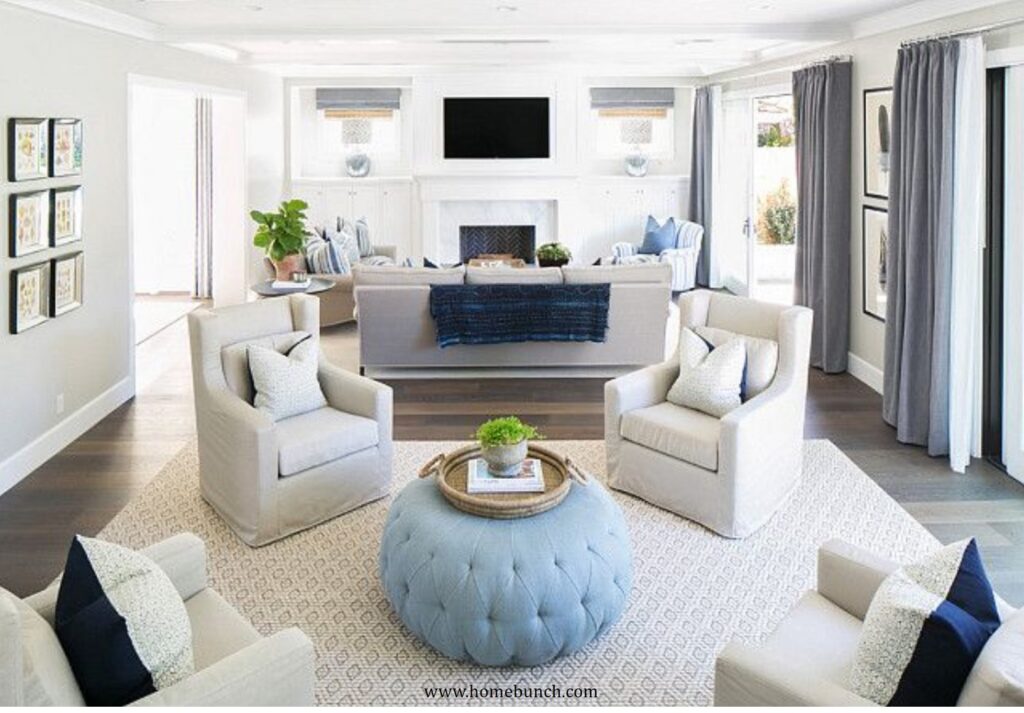 Additionally, placing furniture pieces and/or groupings both parallel and perpendicular to each other will always create an ordered, well-balanced look.

9. Ceiling Accents – A Favorite Designer Technique
Although this option costs more money than some of the other ways we've discussed, ceiling accents can be an excellent way to define a specific space. In the image below, they included a coffered ceiling in the kitchen, which helps to clearly define the area of this space. Other ceiling accents include exposed wood beams, a tray ceiling, or a single beam to create a defined ceiling space (at the end of an open floor plan) in which you could then use a different ceiling treatment, such as a different paint color or wallpaper.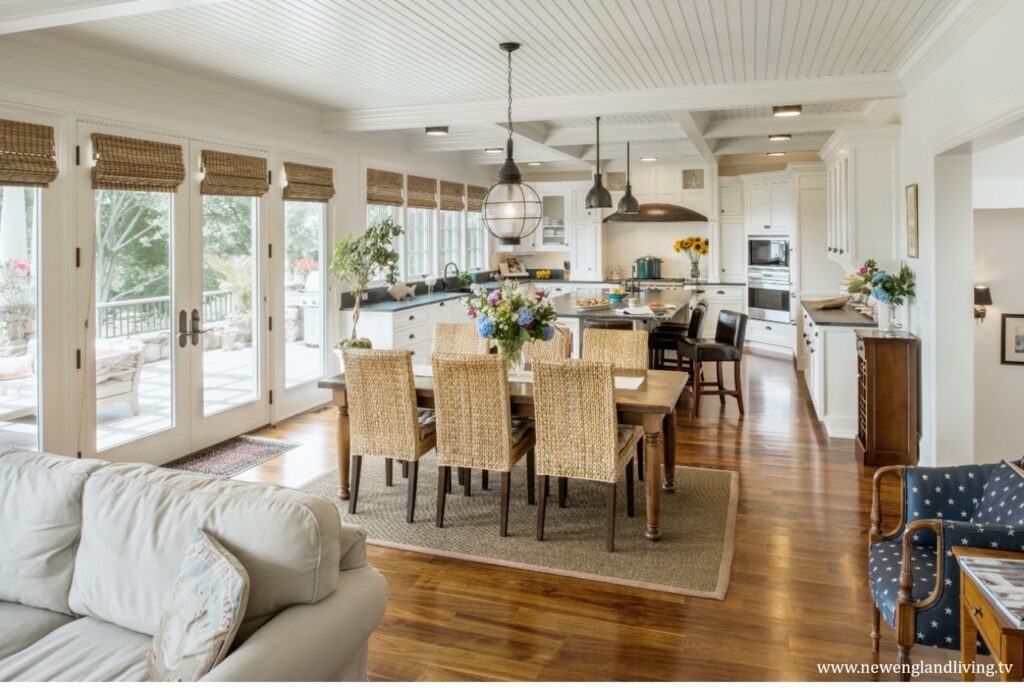 10. Ensure Harmony
Harmony is one of the most important elements to achieving great interior design. Harmony, is a feeling of sameness or unity, and is typically achieved by repeating colors, textures, shapes, or elements in a space. Clearly, for an open floor plan, achieving harmony should be at the top of your design outcomes list. Unless you are going with an eclectic style, simply using the same interior design style paired with a cohesive color scheme will typically achieve harmony. Below we can see that color is the most evident harmonizing element, with blue and pink being repeated throughout the entire space.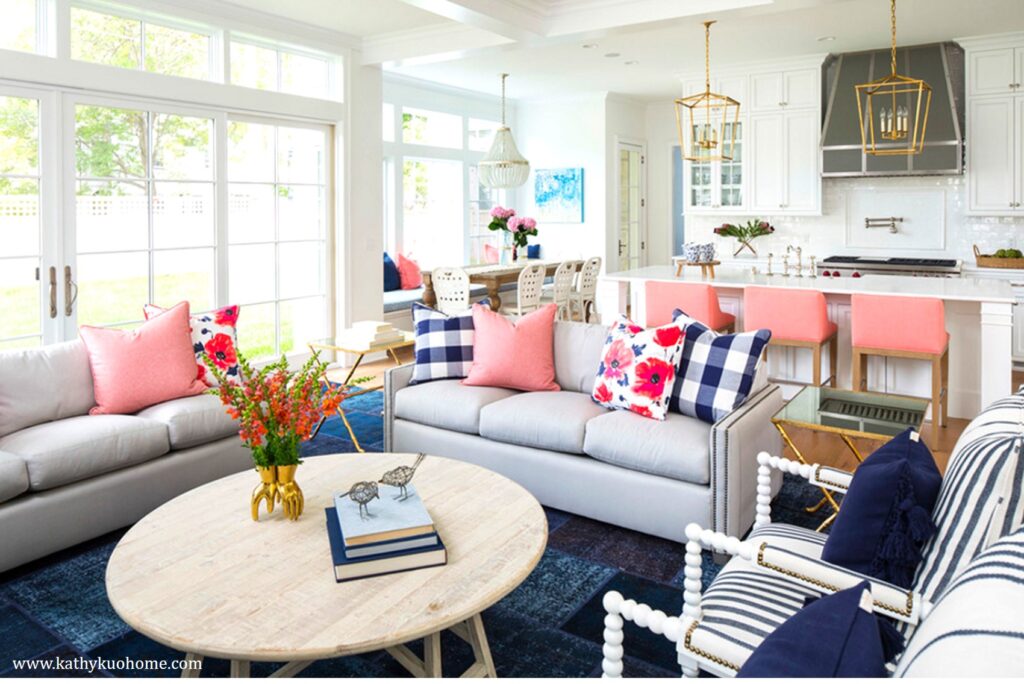 I hope you found these tips useful for your own open floor plan. If you enjoyed this post, please subscribe so you can be notified of future interior design blog posts.
Happy Decorating!