Who here loves eclectic interior design?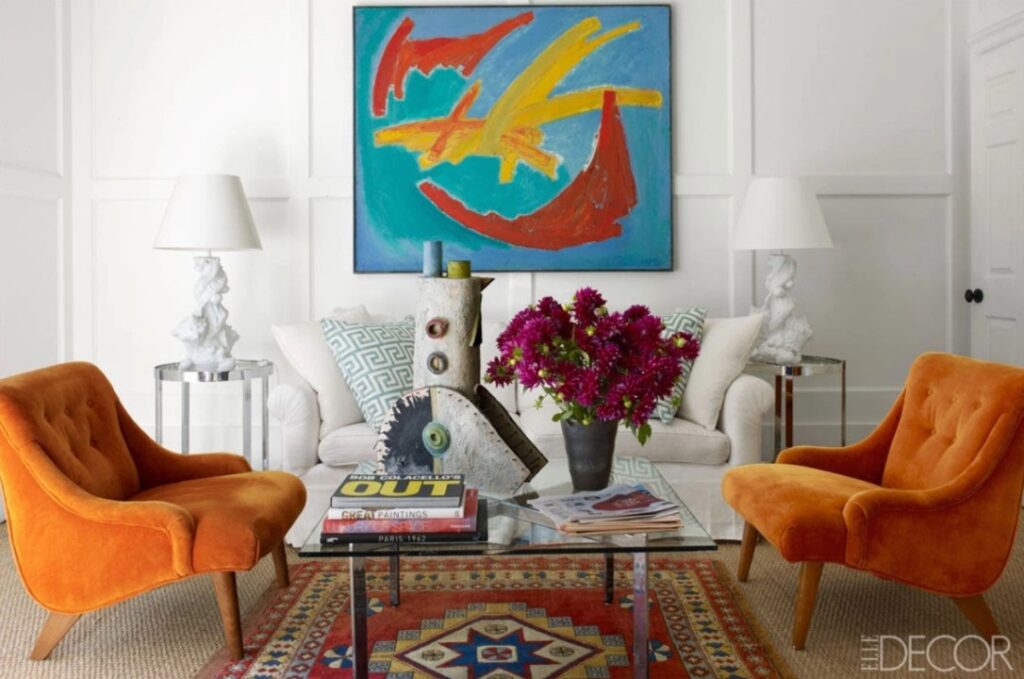 I know I do! I mean, what's not to love? This is a style that allows YOU to choose your favorite styles and elements and mix them together with family heirlooms and one-of-a-kind pieces from your travel adventures. It's the best of everything!
Sounds too good to be true? Well, sort of. All too often, people throw together different styles, colors, patterns, textures, and so forth, into their home, even in the most haphazard way, and then they tell you that there style is Eclectic.
If this is you, I am really sorry to tell you that that this is simply not correct.
Eclectic interior design is very much a specific and intentional interior design style with its own characteristics and guidelines, and more importantly, it's one of the most difficult interior design styles to pull off well without it looking chaotic and haphazard.
Now, that said, I'm a big believer in the idea that if you like the way your home looks, then that is all that truly matters – I mean, really, who cares what the professionals and the rules say? At the end of the day, it's your home and you should love it. But if you're not happy with the way your home looks, and you love Eclectic design and want to learn how to create this style properly in your own home, then you are definitely in the right place.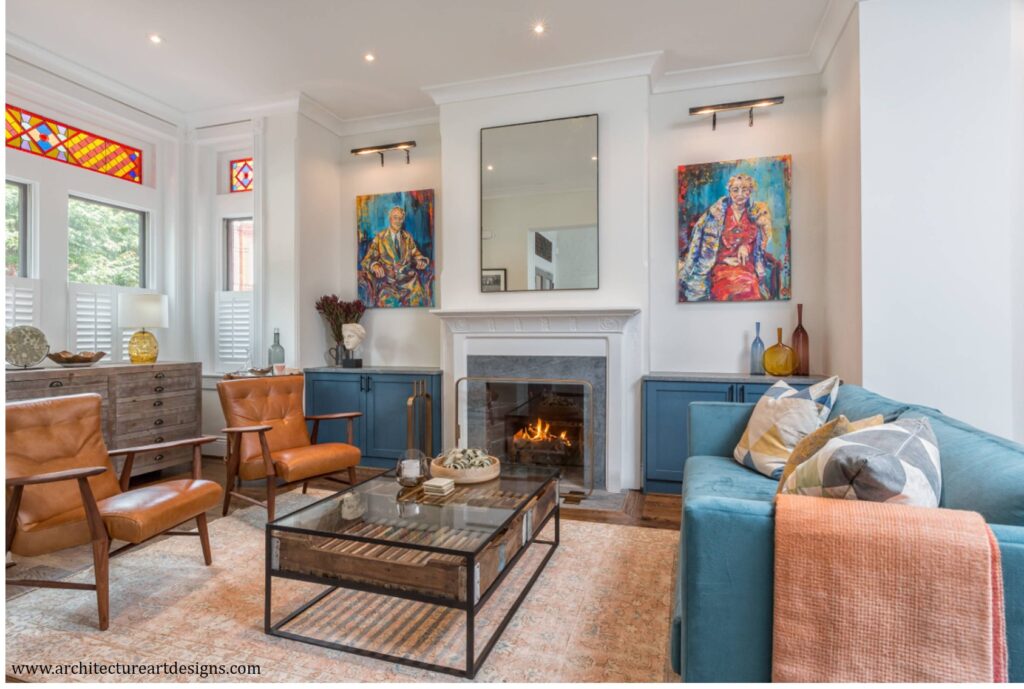 There are many reasons why Eclectic interior design is so popular – let me cover just 3 of those reasons:
First, and foremost, the days of buying matching furniture sets from one store has really lost its luster. Instead, people today really want a unique, curated look for their home.
Second, as I mentioned previously, what's so great about the Eclectic style is that it allows you to beautifully incorporate pieces from YOUR favorite styles and periods, as well as those precious family heirlooms and one-of-a-kind pieces from your travels.
Third, it's an incredibly fluid style – it's more adaptable to change then many of the other popular styles, and that is a great feature when you thinking choosing a style that will evolve with your family and lifestyle over time.
So now that you have 3 solid reasons why the Eclectic style can be a great choice, let's get into how to execute this style like a pro.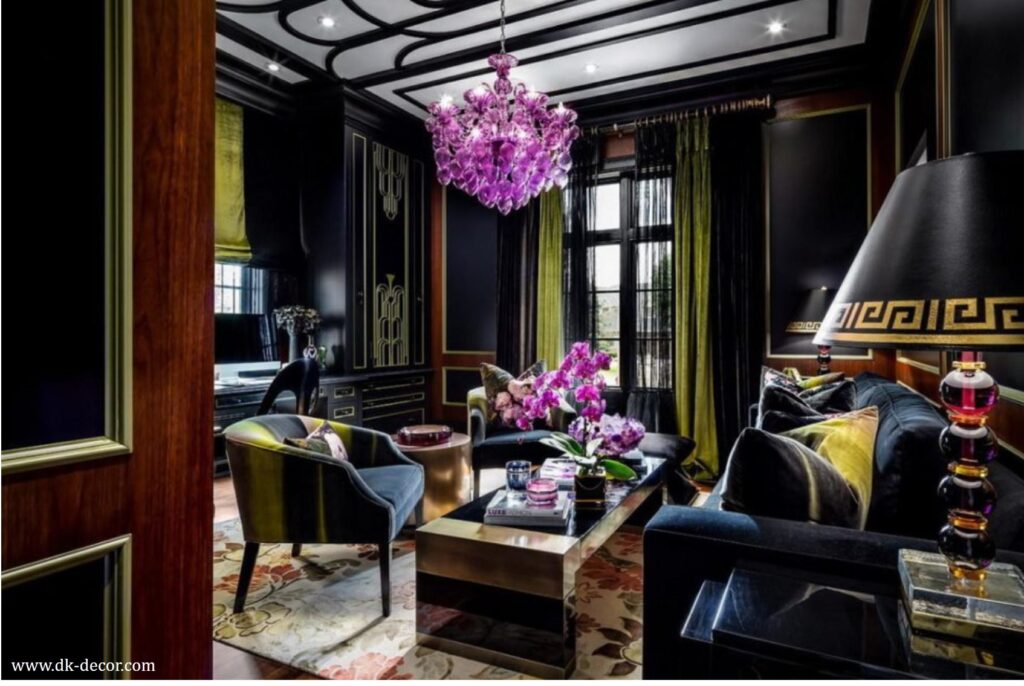 Before I dive into the specifics re: furniture, materials, colors, etc., I want to share with you the 3 most important guidelines for nailing this style and more importantly, avoid ending up with a chaotic mess in your home.


3 Important Guidelines for the Eclectic Style
The first guidelines is this – You need to ensure that you have harmony in your design. Remember, the point of this interior design style is to mix completely different styles, periods, elements, and colors, so creating and maintaining harmony is the ONLY way that you will pull off this style well.
So, what is harmony?
In design, harmony refers to creating unity or a feeling of sameness in a space, typically achieved by repeating design elements such as texture, color, pattern, and shapes. Harmony is what helps to make a design pleasing to the eye.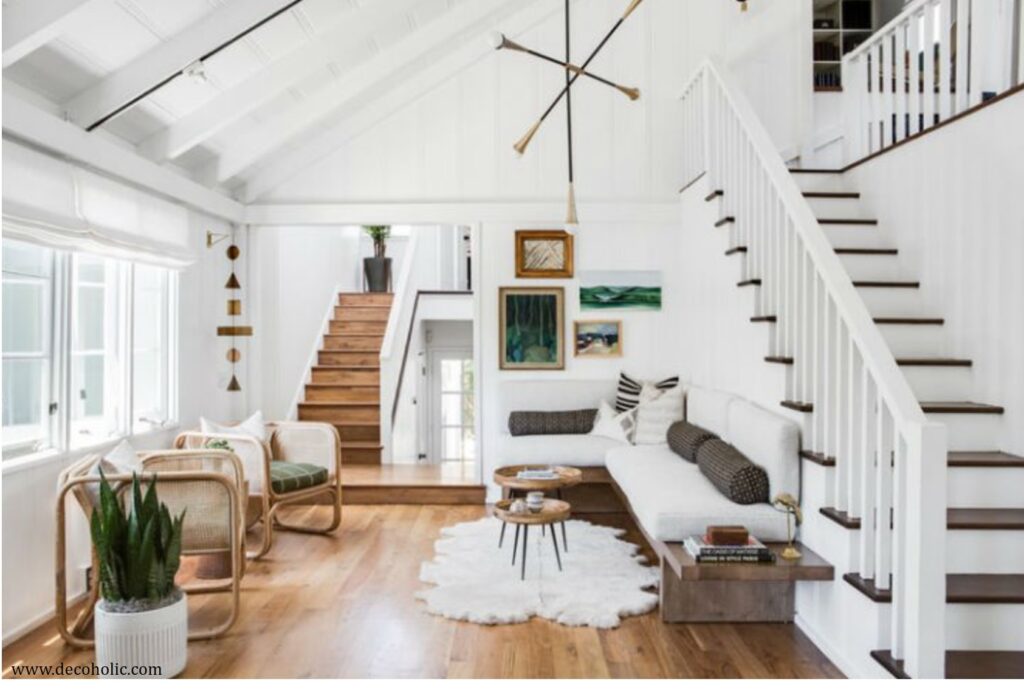 So how do you create harmony, then, with such different elements mixing together? I'm going to give you 3 easy ways to do this.
First, choose a color palette for your entire home – for this style, at least 2 neutrals and typically 2-3 accent colors although it could be more.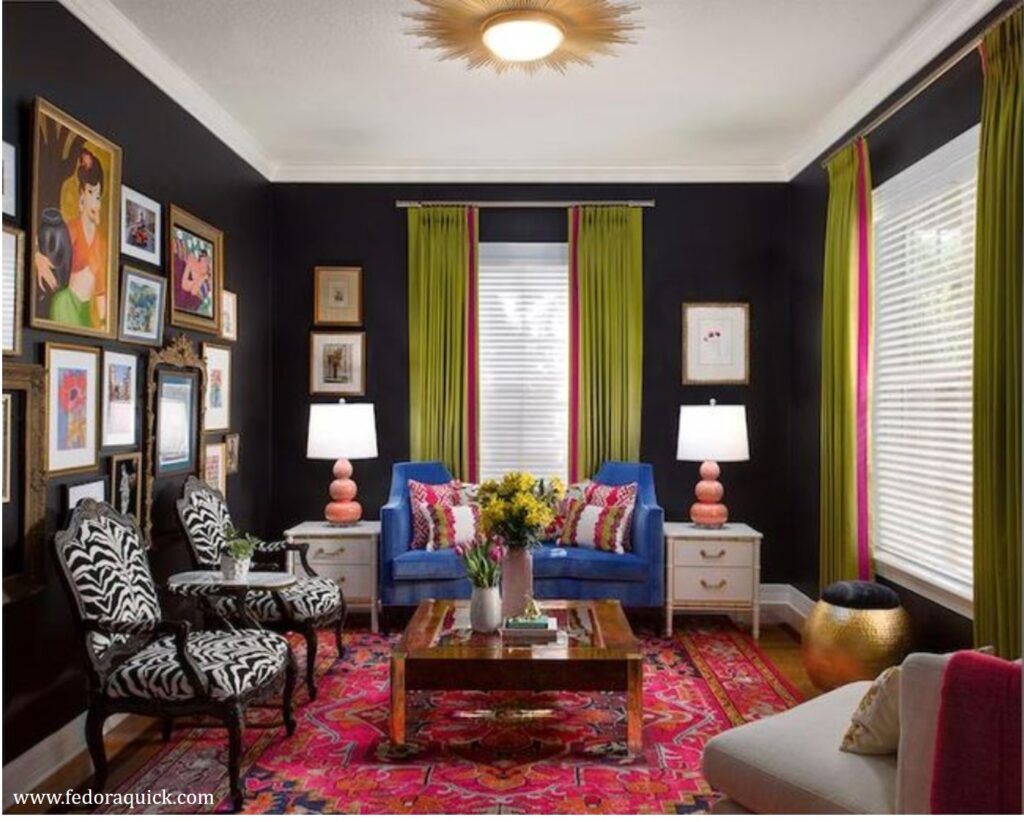 Because you are likely going to be bringing in different patterns in your furnishings, I would generally avoid patterns on your walls, such as in the form of wallpaper, except in such high impact places as your powder room, where wallpaper is always a great choice.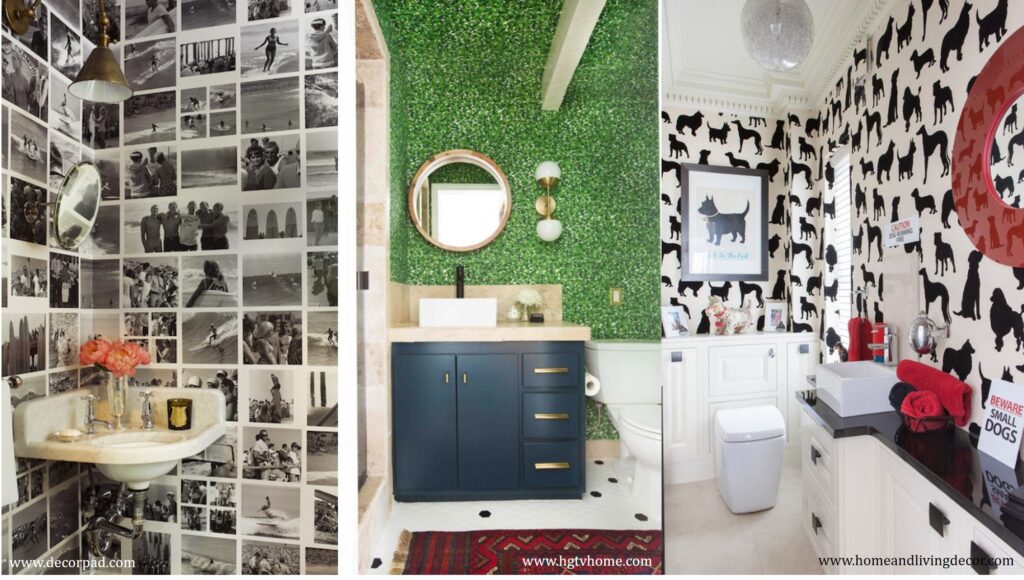 The second way to create harmony is to mix your patterns in one of two ways, either use similar patterns in different colorways or use different patterns in the same color palette, which would ideally be one of your accent colors.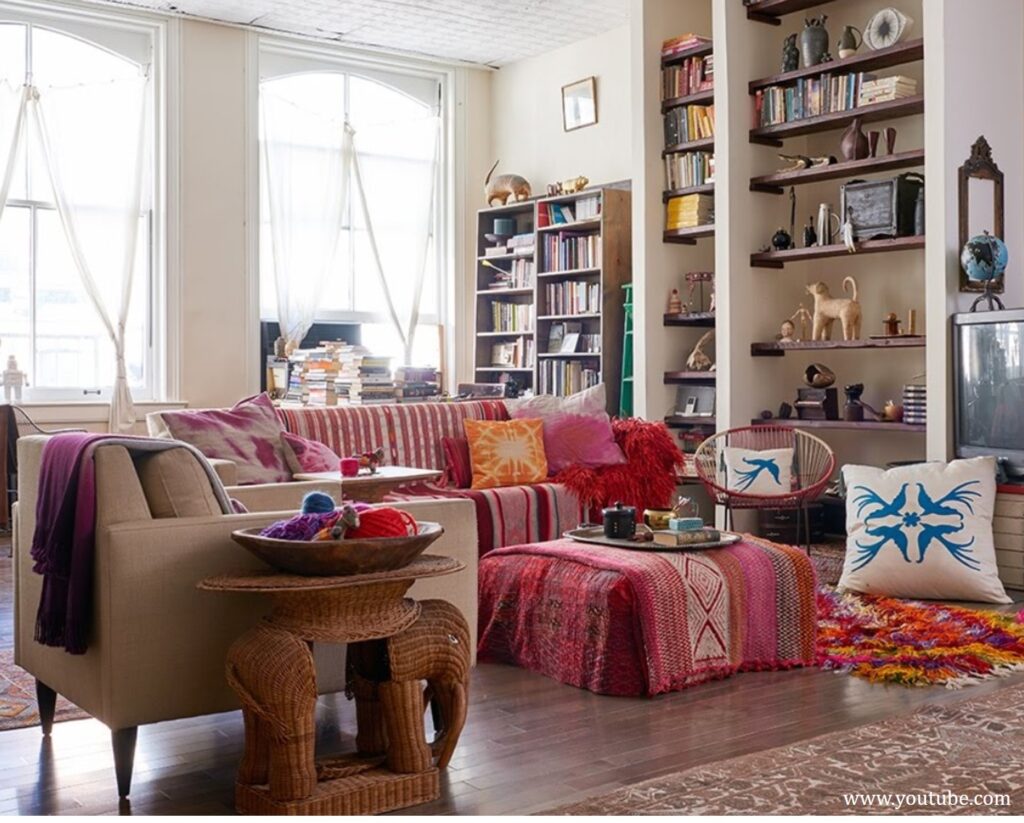 Third, as with any great design, you should definitely use a variety of textures, but you must repeat the types of textures, such as rough, smooth, polished, etc. throughout your space.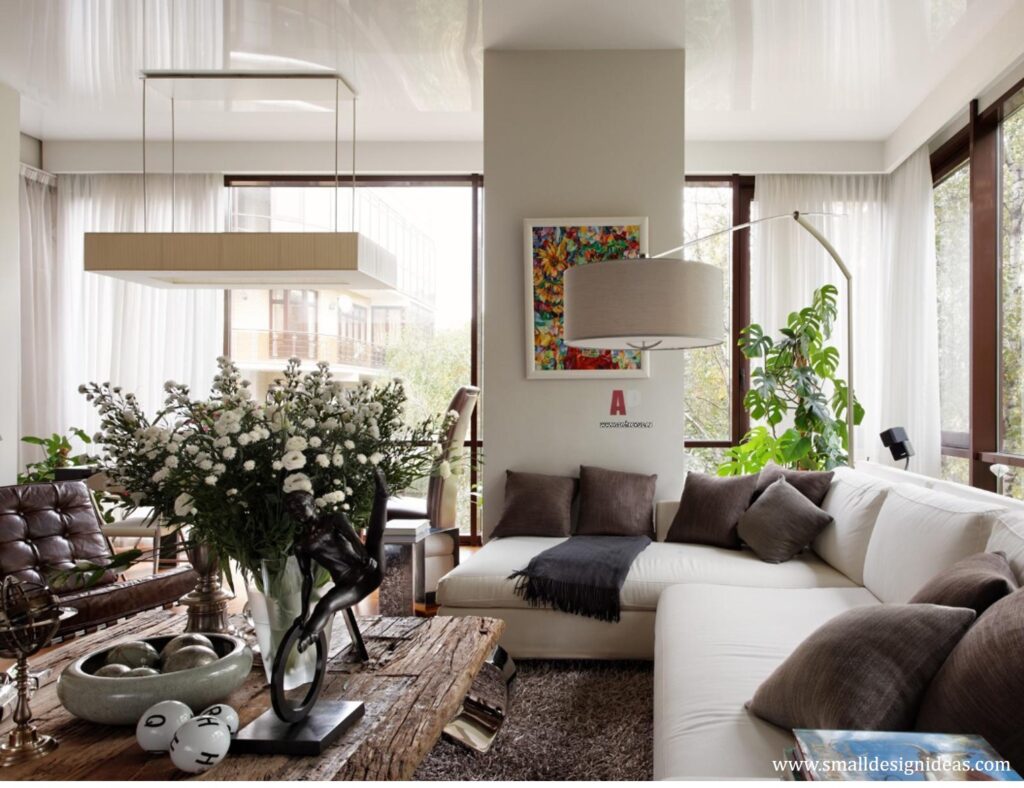 The second rule that I think people forget in this style is the fact that every room needs a focal point. People get so focused on how to mix styles, colors, materials and so on, they forget that you should have one standout piece or area for each room – this is another way to help avoid a chaotic look in your Eclectic home.
The third and final rule is that you want to ensure that each room is Eclectic – meaning, don't decorate each room in its own style. That will feel disjointed and certainly lack a feeling of flow and harmony. You want each room to carry disparate elements from different styles and periods that together, create a pleasing space.
Now let's get into the specifics of how to create this style in your home.

Furniture is the Most Fun!
For furniture, this is where I think this style has the most fun. The goal is to mix wildly different styles together – how many? I try to stick to 3 different styles per room – you can do more, but 3 usually works well. In the image below we have Transitional, French and Contemporary. One reason this all works so well together is because most of the pieces have curved lines – so mimicking lines in your furniture will help to create harmony as well.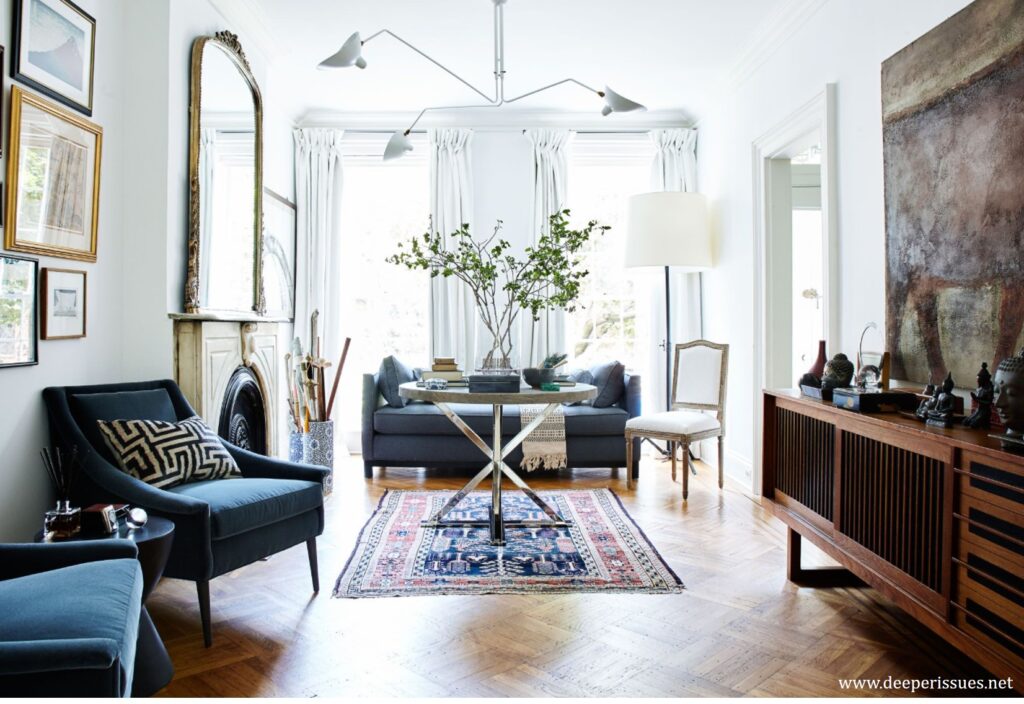 Here's the opposite approach below – again, we have wildly different styles, including industrial, contemporary and Bauhaus, but they all work well together because the majority of the furnishings have straight, clean lines.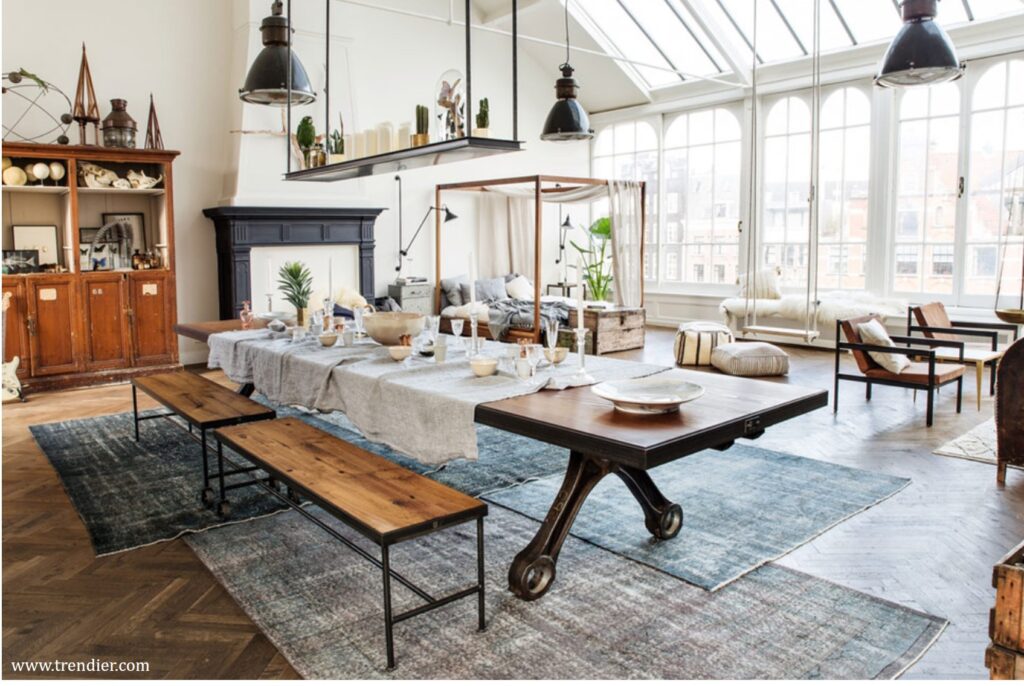 Eclectic is not just about combining different styles, but also about combining old with new, such as incorporating antiques with contemporary furniture like we see in the image below.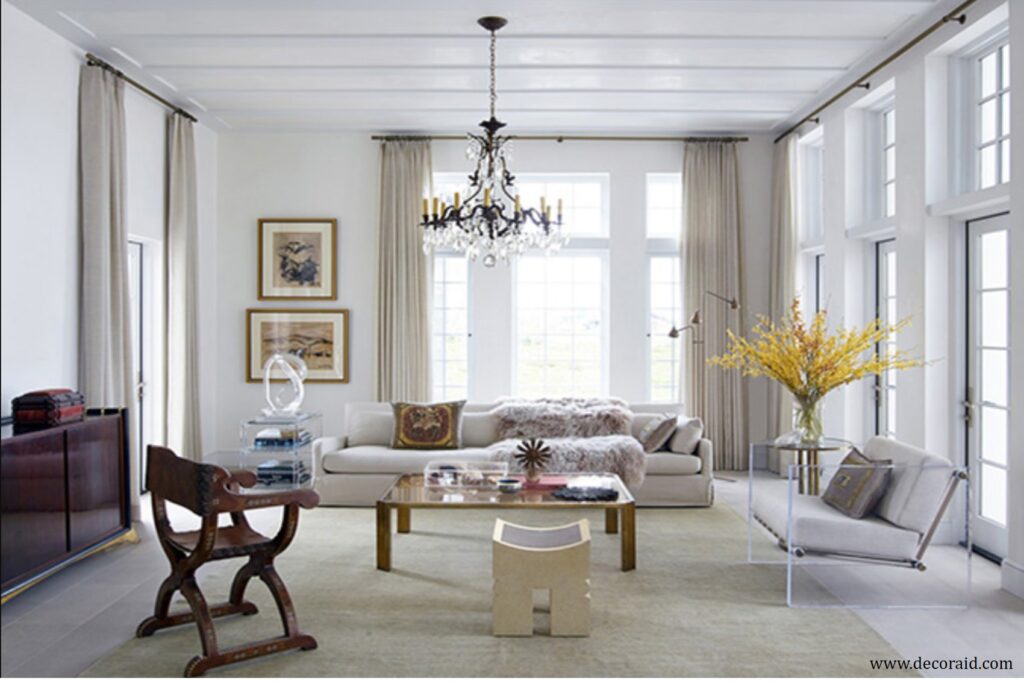 An easy way to incorporate Eclectic design into your dining room or breakfast nook is to mix up the dining chairs – and keeping the same single color or a palette of colors will be an easy way to create cohesion instead of chaos.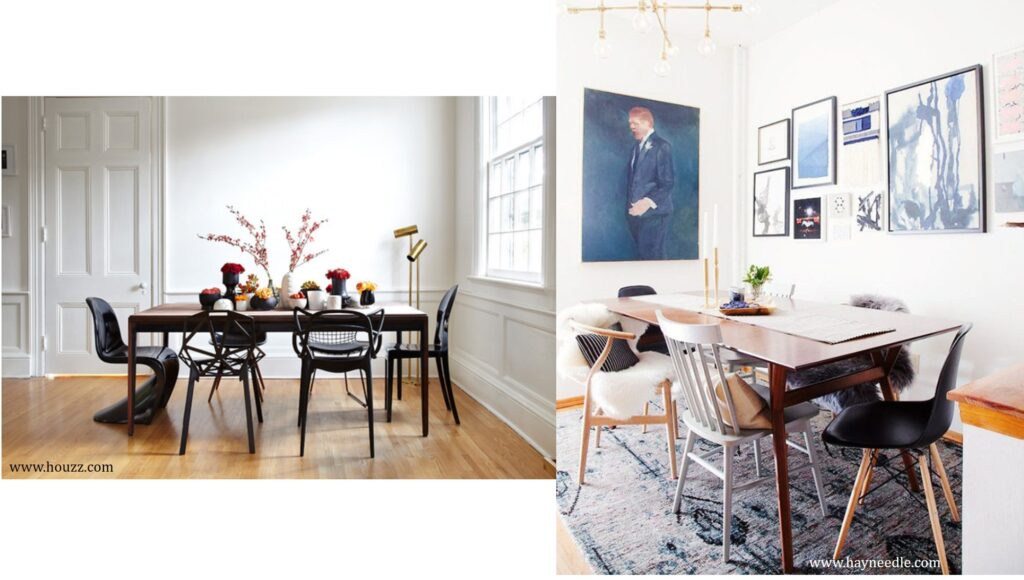 Another easy way to bring together an Eclectic room is to use rugs and/or artwork in a completely different style from the furnishings. Here we have contemporary artwork as a focal point in a very traditional formal room – such a great mix!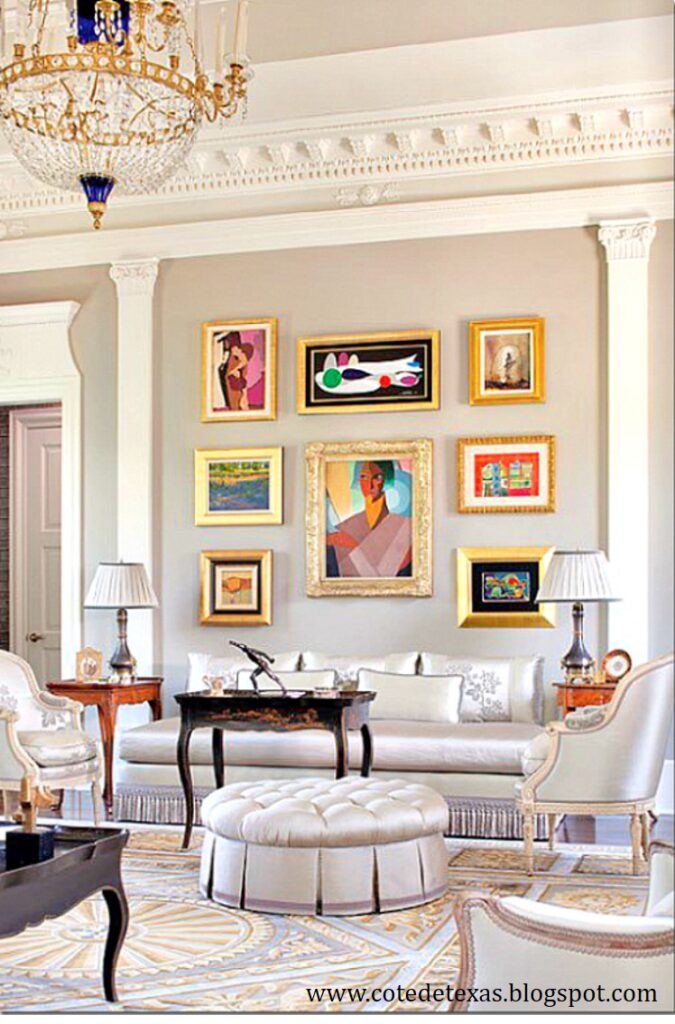 Materials – Variety is the Name of the Game
In each room be sure to combine a variety of different materials and textures including leather, wool, velvet, cotton, polyester, wood – both rough and polished, various metals, glass, etc. And mixing looks particularly good when you layer items directly on top of each other that from a textural perspective, feel and look completely different from each other, like we see so many places in this design.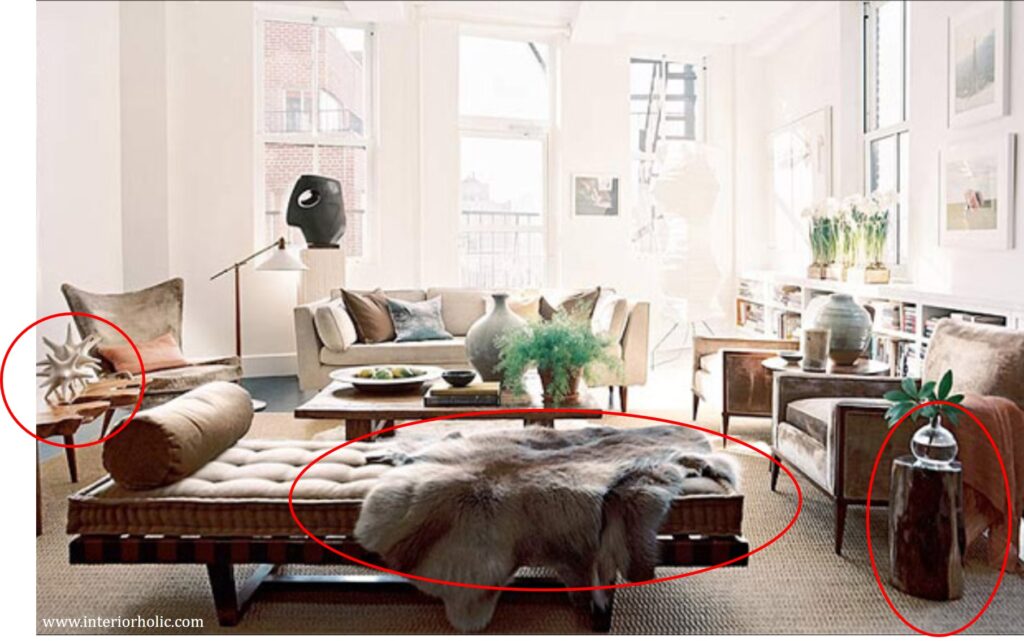 Color, Color Everywhere
From a color scheme perspective, you can go in any direction you want – you can go with a more neutral, subdued color scheme, or you can go with an incredibly vibrant design.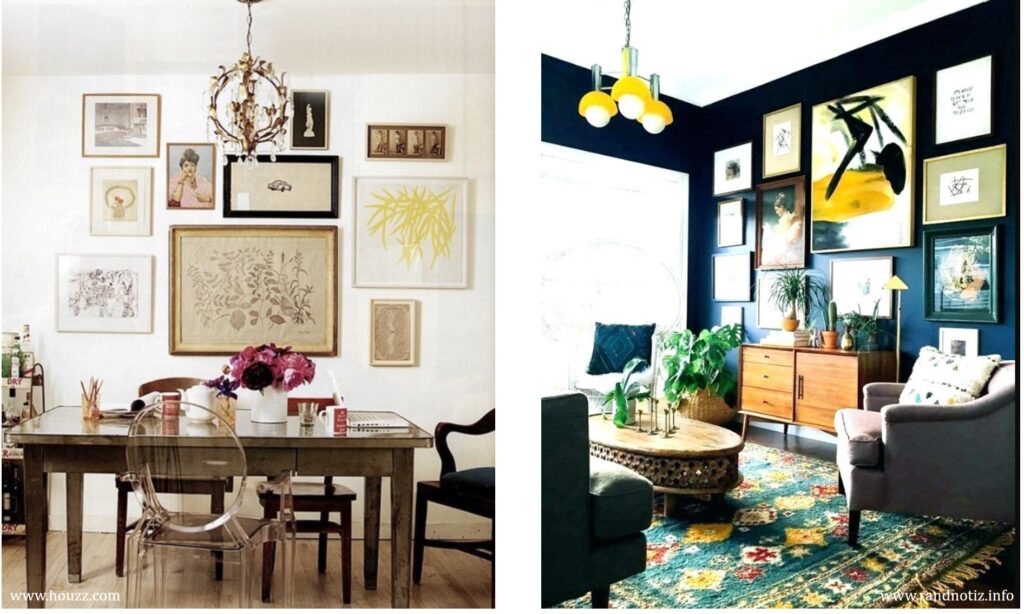 I will say that the most common approach in this style is to use a neutral background color for your walls, such as white, gray, beige, or greige, which provides an easy way to combine all of the different elements, patterns, textures that you will be using in this style.
That said, that doesn't mean that you have to use light paint colors at all – you can absolutely use black, chocolate brown, charcoal gray, and even navy blue as neutral paint colors for your Eclectic home.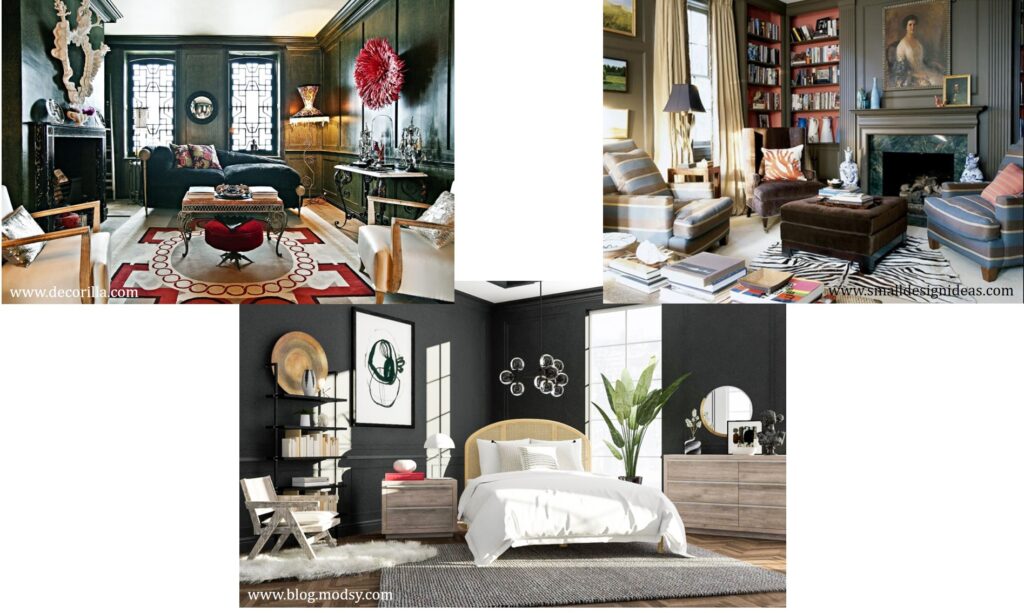 Obviously, I wouldn't use dark paint colors in every room, but they are great choices for living rooms, dining rooms, powder rooms, and even unexpected places like a laundry room. Contrast is big in this style, so black and white color schemes work well, or any strongly contrasting color schemes.
Also, be sure to mix your metals – aim for 2 different finishes for smaller rooms and 3-4 for larger spaces. But be cohesive throughout your home – if you use chrome, brass and bronze in 1 room, then mix just chrome and brass in another room.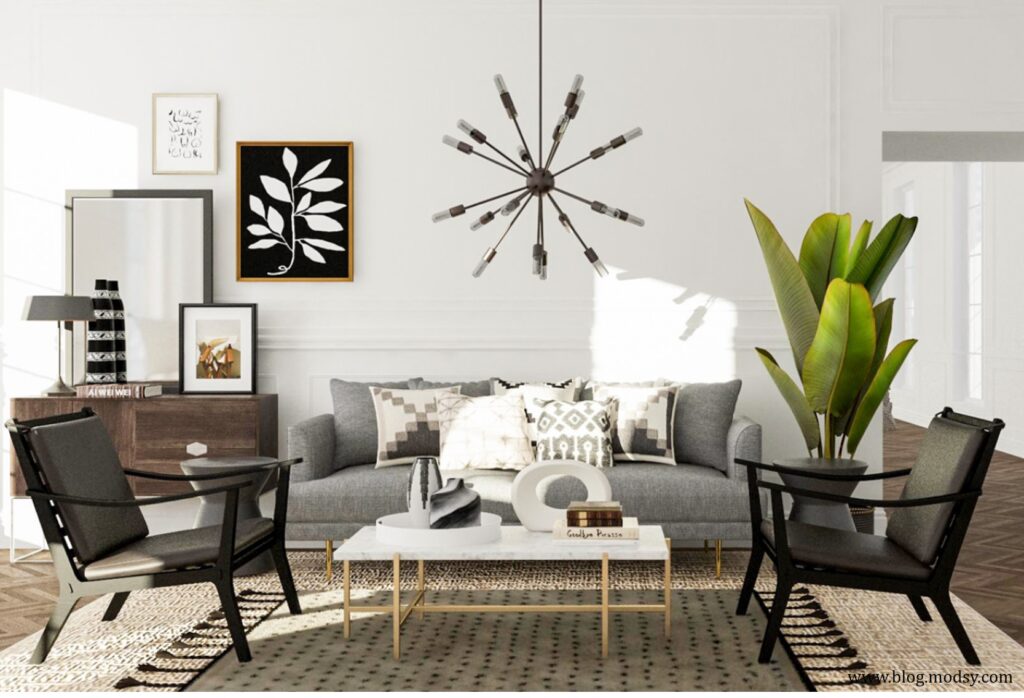 Patterns are a Must
Patterns are nearly always a must have for an Eclectic home, and thankfully, any pattern goes. As I spoke about it earlier, by far the easiest way to successfully marry them in a room is to either ensure you are using patterns with a similar color palette or use the same type of pattern in different colorways. Personally, I prefer the former approach because this is the one style where it is so very fun to mix wildly different patterns together. Here is an awesome example of different black and white patterns mixed together – so chic!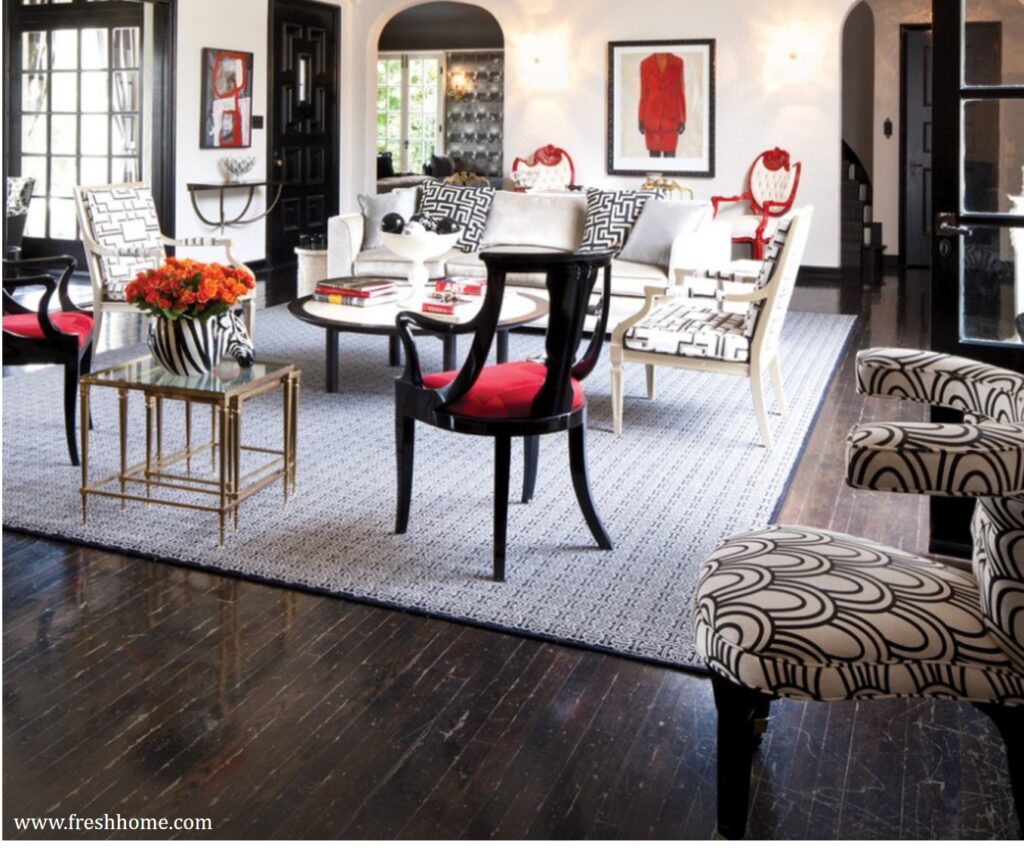 Window Coverings = Your Choice
For window coverings, anything works, including leaving your windows bare. My recommendation would be to go with roman shades or luxurious drapes in a velvet or silk like material for a more formal space and use shutters or simple curtain panels for a more casual room.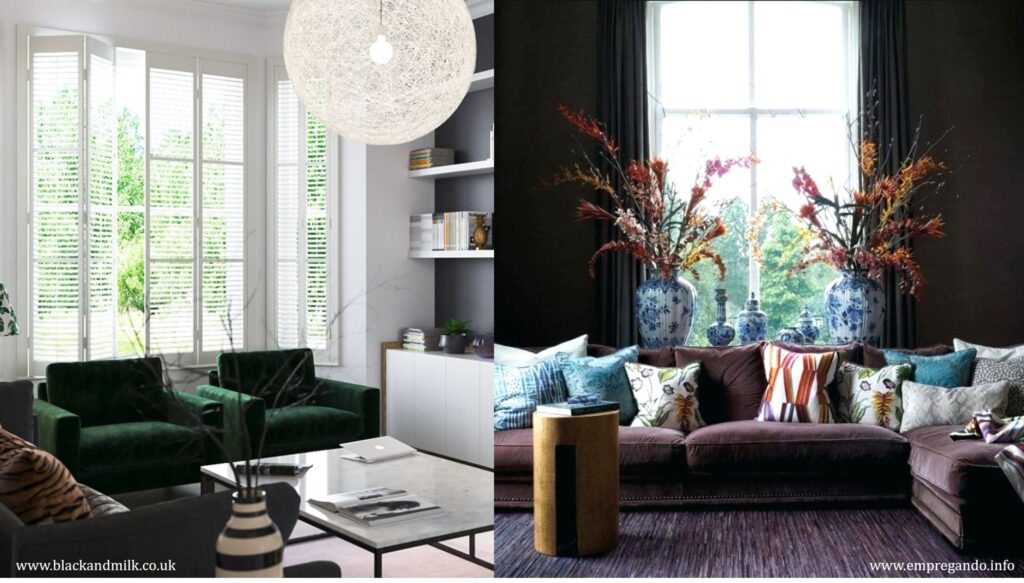 Flooring = Also Your Choice
For flooring, no specific flooring – anything will work so choose your favorite material. For rugs, again, while anything works, I would personally lean towards something with a pattern, even if it's a more subtle pattern. A zebra print rug is an outstanding choice in this style, as is layering 2 rugs on top of each other. But if you already have a lot going on in the room visually, a simple jute rug can provide a much needed visual reprieve.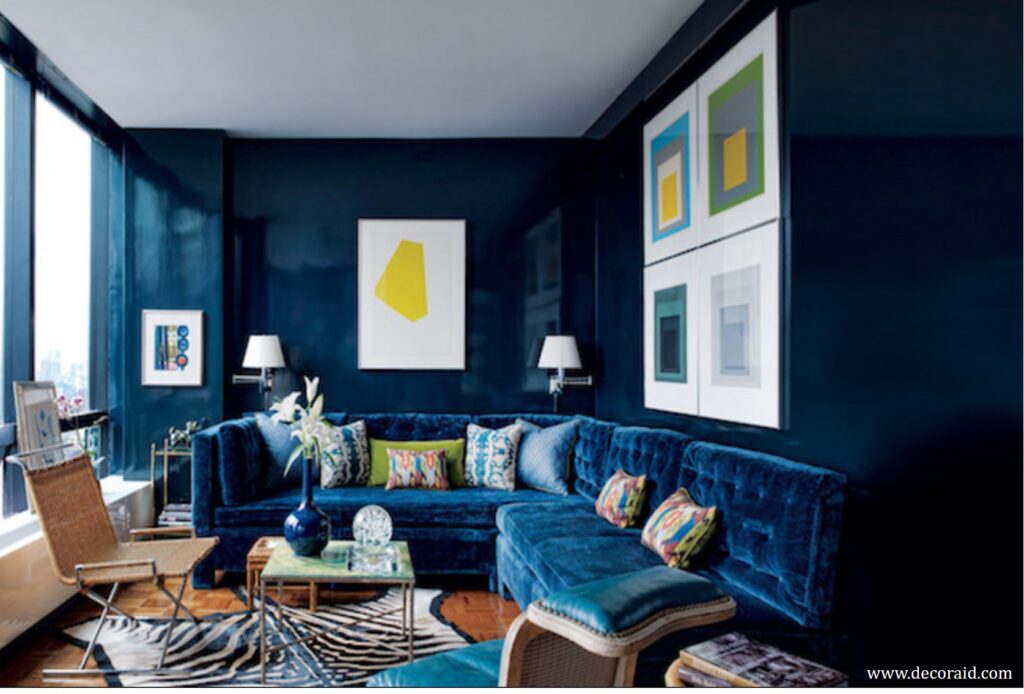 Go Bold with Your Lighting
Lighting is a great place to inject some serious personality into your room. I would either choose fun, unique and interesting fixtures, or I would mix fixtures from different styles, or simply choose the style I liked most, such as mid-century modern – this is a style that has amazing light fixtures to choose from like this sputnik chandelier.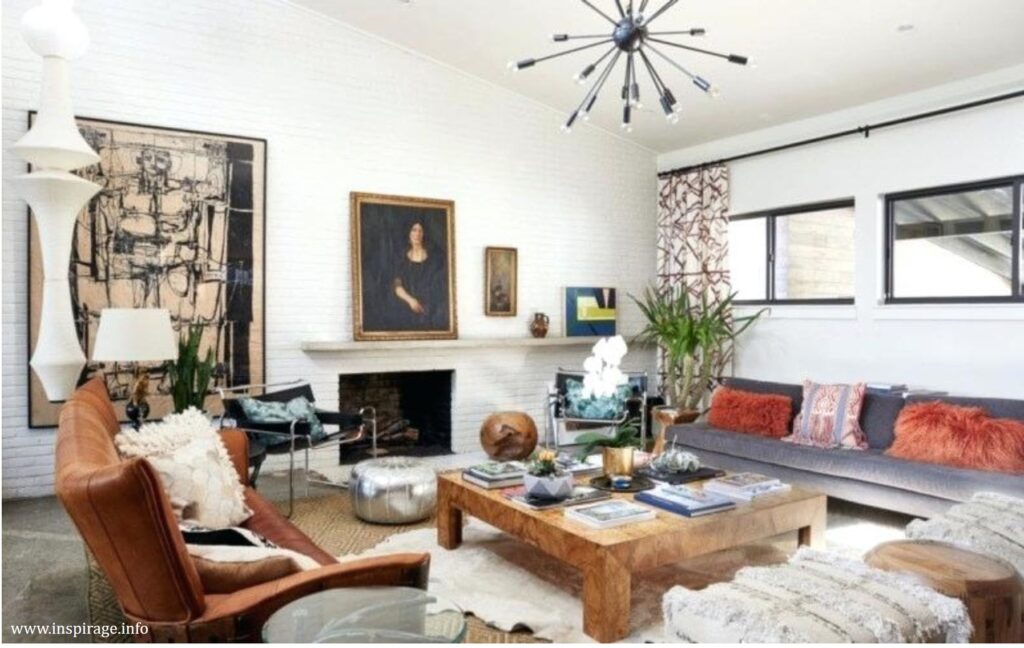 Artwork is Also Eclectic
For artwork, gallery walls are great choices for an Eclectic home, and they are an easy way to create a focal point in a room. To keep it looking smart and well edited, use the same color frames, the same type of images, or use large white mats for each image – you certainly don't have to do it this way, especially in the more daring Eclectic aesthetic, these are just easy strategies to make it look great.

If you are going with single pieces of artwork, the Eclectic style more commonly uses unique art, such as pop art, large back and white photographs, and abstract artwork, but of course, you can truly use any style of artwork in the Eclectic style. Old movie posters would be a very cool choice as well. Don't forget to consider sculptures or other interesting wall hangings.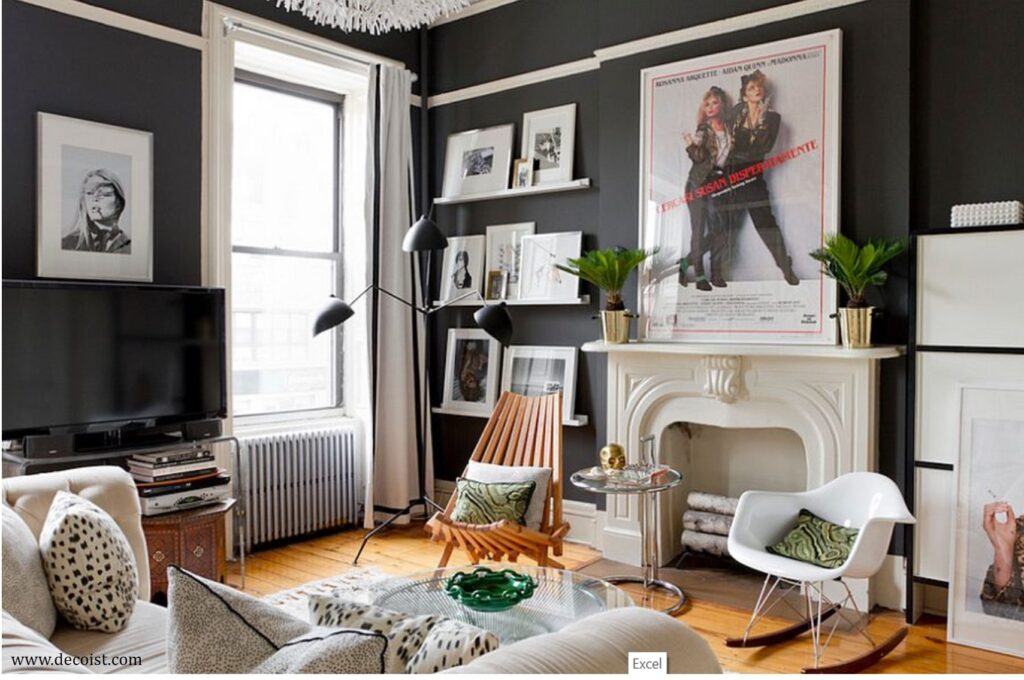 Go Global with Accessories
For accessories, global inspired pieces are on point design wise, as are stacks of books, plants, flowers, framed pictures, and interesting sculptures. Because you have so much going on in this style, it's important to edit carefully in this style, particularly in your accessories. Do you have collections? Great, but don't put the entire collection or collections out – choose your favorite pieces and rotate them if need be. It's very easy to overwhelm a space in this style.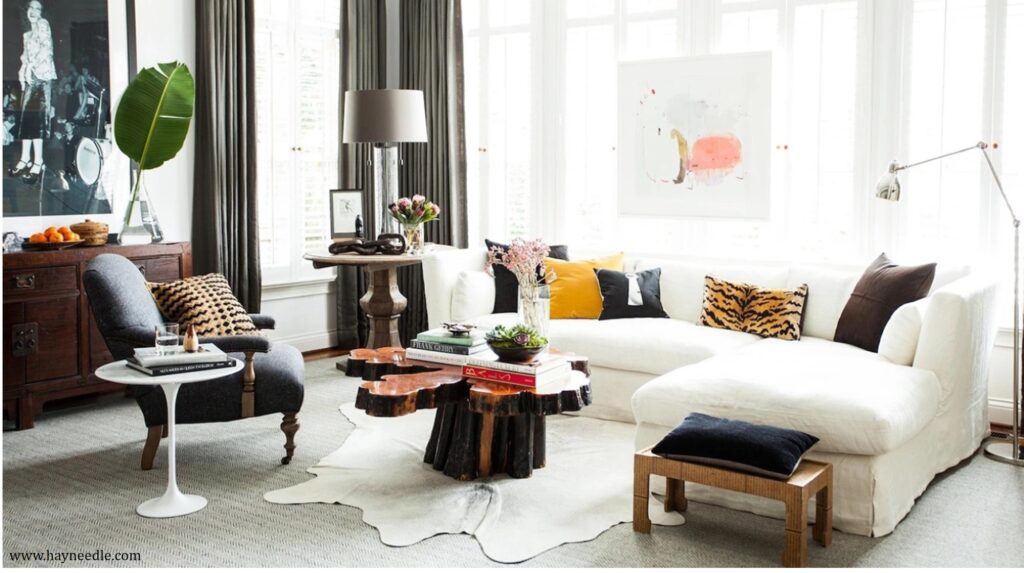 I hope you loved learning about the very popular Eclectic interior design style. Thanks for reading and please subscribe so you can be notified of future interior design style posts.
Happy Decorating!