There is no question that flat screen TVs have become an ubiquitous fixture in most family or living rooms today. Whether you love to stream, game, or watch good old-fashioned live broadcasting, our TVs are generally a must-have. So interior designers, for years, have been finding ways to incorporate these fixtures, which seem to be getting larger each year, as stylishly as possible into their clients' room designs. Now because they are so common and expected, many designers and clients do not feel a need to try to conceal them. We generally see them hanging on a wall, over a fireplace mantel, or sometimes on a stand or in a cabinet, and no matter how high end the room design, their presence is completely accepted.
That said, there are times when we just want to find a way to conceal the giant black figure in the room. Sometimes we don't want it to take up so much real estate for whatever reason, and I completely get it. I feel very similarly, but have yet to do anything about it. Well, that needs to end now!
In this post, I'm going to gather and share with you all of the creative ways that I've seen others, both professionals and creative DIYers, find ways to hide the not-so-little black box, so that I can finally choose a solution for my own TV design woes, and hopefully you can too, assuming you share the same goal of course.
Let's start with the easiest and/or most affordable options.

Paint Your TV Wall
First on my list, and I've used this one successfully myself in a design project, is to paint the wall that the TV hangs on either black or a dark charcoal gray (a similarly hued wallpaper works just as well). This has the effect of immediately camouflaging the TV in plain sight. Now obviously, you will then want to incorporate that color into your room design, which for some may be less than ideal. But for someone like me who loves dark colors and contrast, this is a great first solution.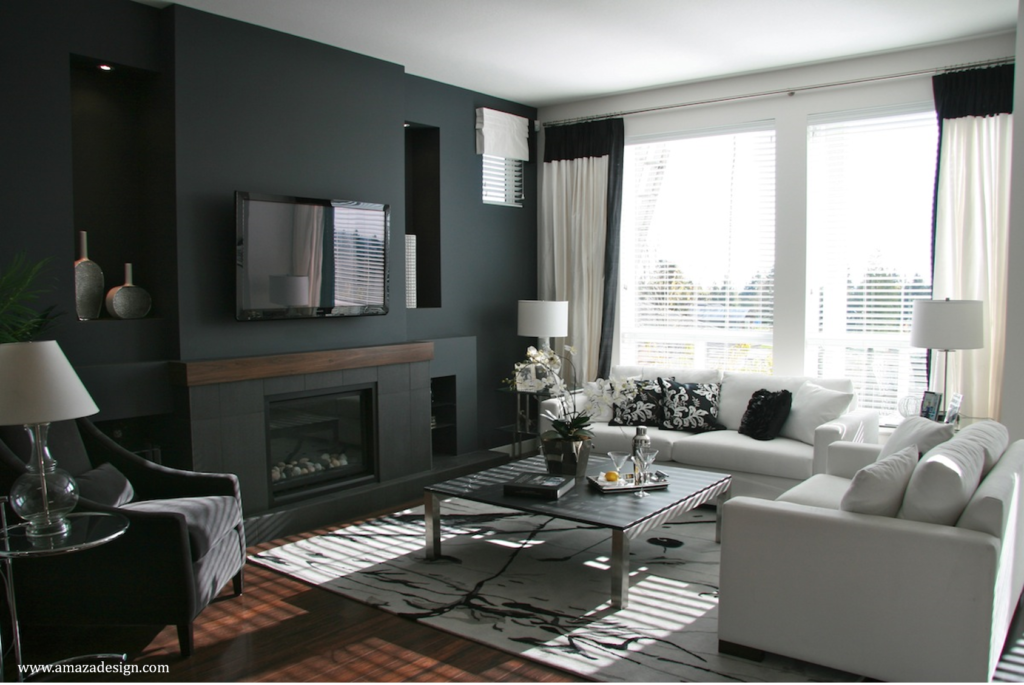 This approach also works really well if you have a pop-out wall or recessed space for your TV.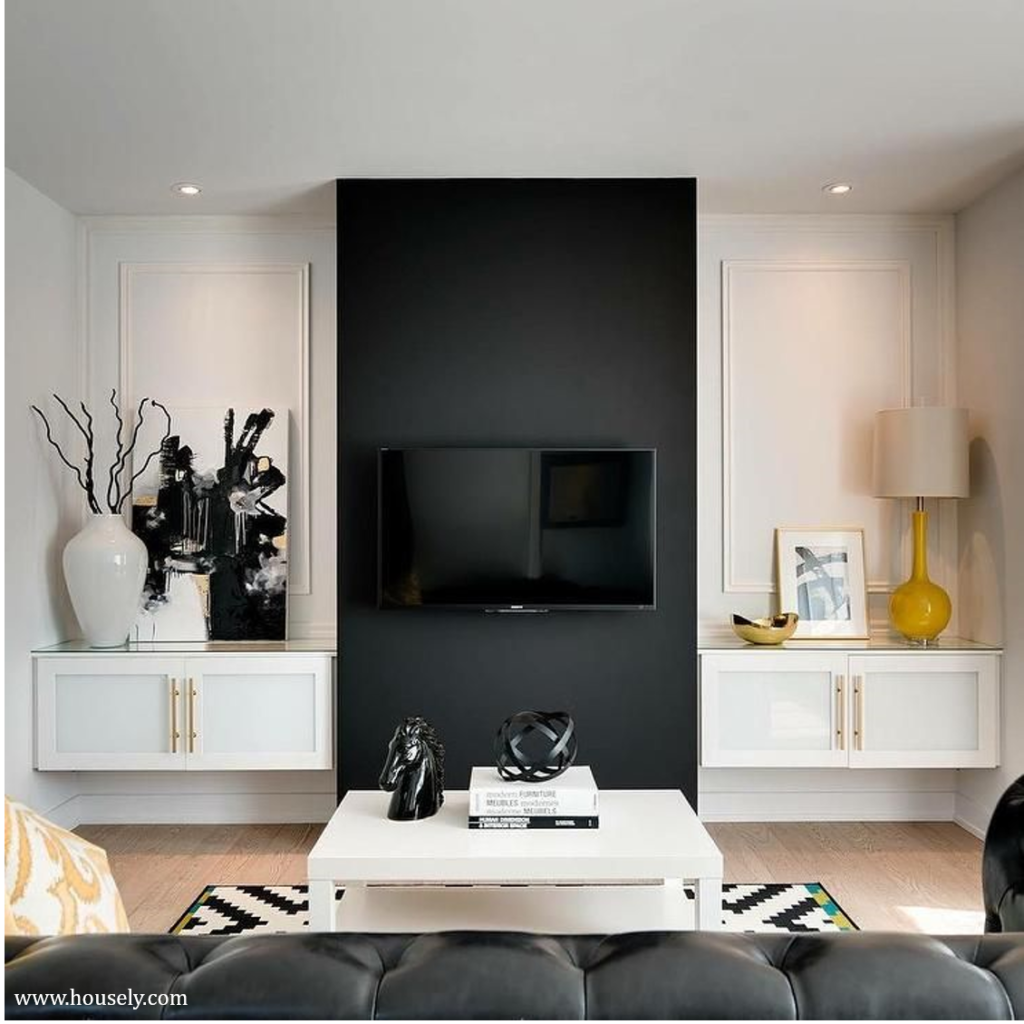 Dark Cabinet Interior
Along the same lines, if you currently use an armoire or cabinet to house your TV, simply painting the interior of that cabinet black or charcoal gray will also help to camouflage your TV and add some excellent style to your cabinet as well.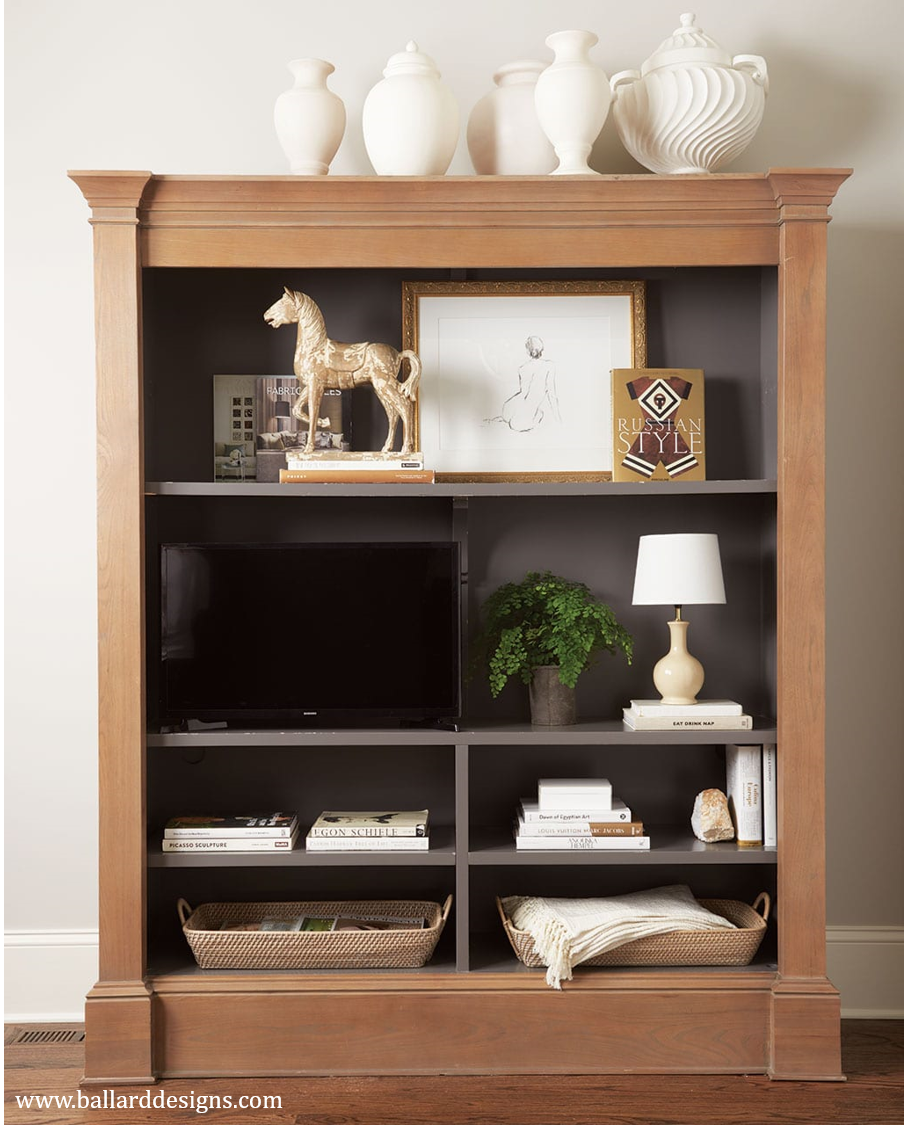 Gallery Wall
Now this approach is more about downplaying the prominent status that our TV often has when hung by itself. You probably aren't fooling anyone into not noticing the TV with this gallery wall approach, but you are definitely helping it to blend more effectively into the room. Additionally, if you happen to have a TV that displays rotating photos or art images, all the better.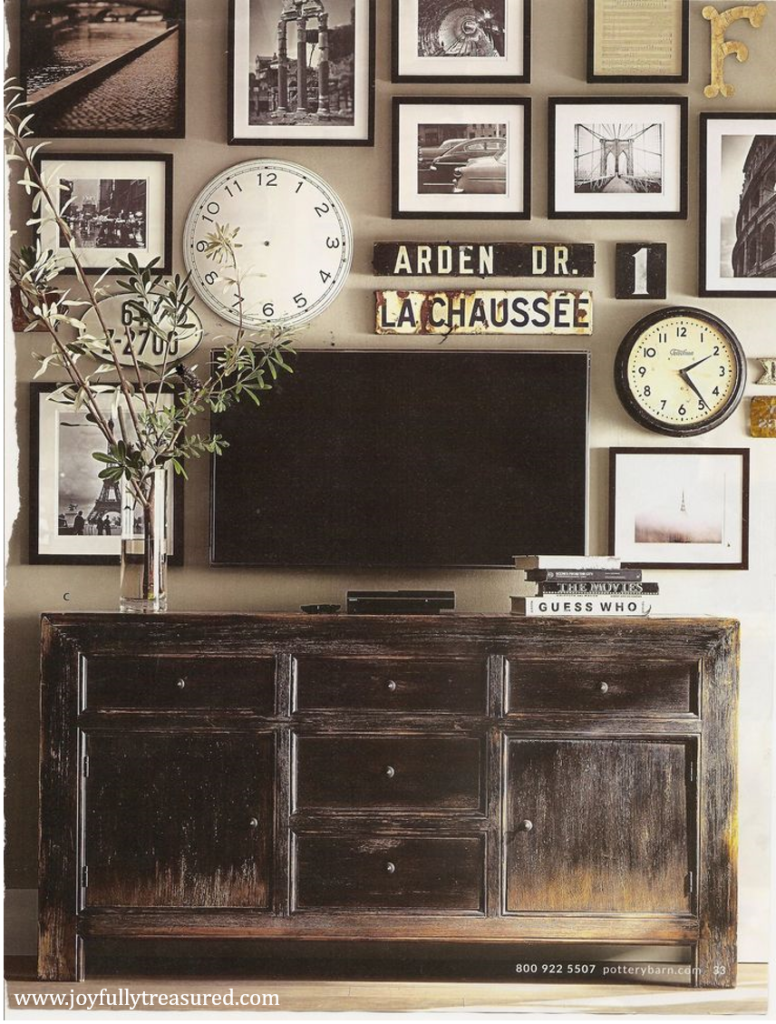 Pull Down Map/Poster/Tapestry/Artwork
In this image, we can see that this ingenious individual pretty effectively conceals their TV and turns this area into a lovely vignette. The beauty of this approach is that you can swap out the map for a pull down poster, tapestry, or another type of artwork. The possibilities abound! Of course, you will see the TV from the side, so this approach works well if the TV is on the wall opposite the entrance to the room so the concealment is not immediately apparent.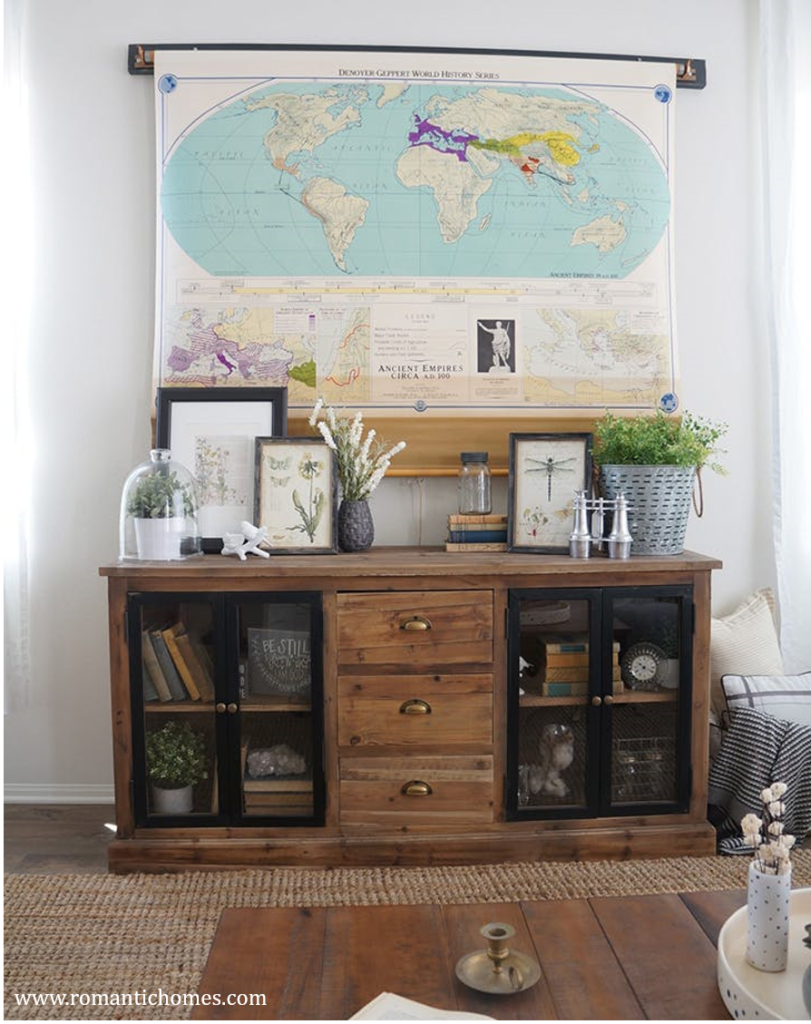 Curtains/Drapes/Barn Doors
If you have a recessed space for your TV, you should definitely consider using curtains/drapes or sliding barn doors to conceal the space. This is such an easy and effective approach that, if I had a recessed wall for my TV, I'd definitely be considering this approach.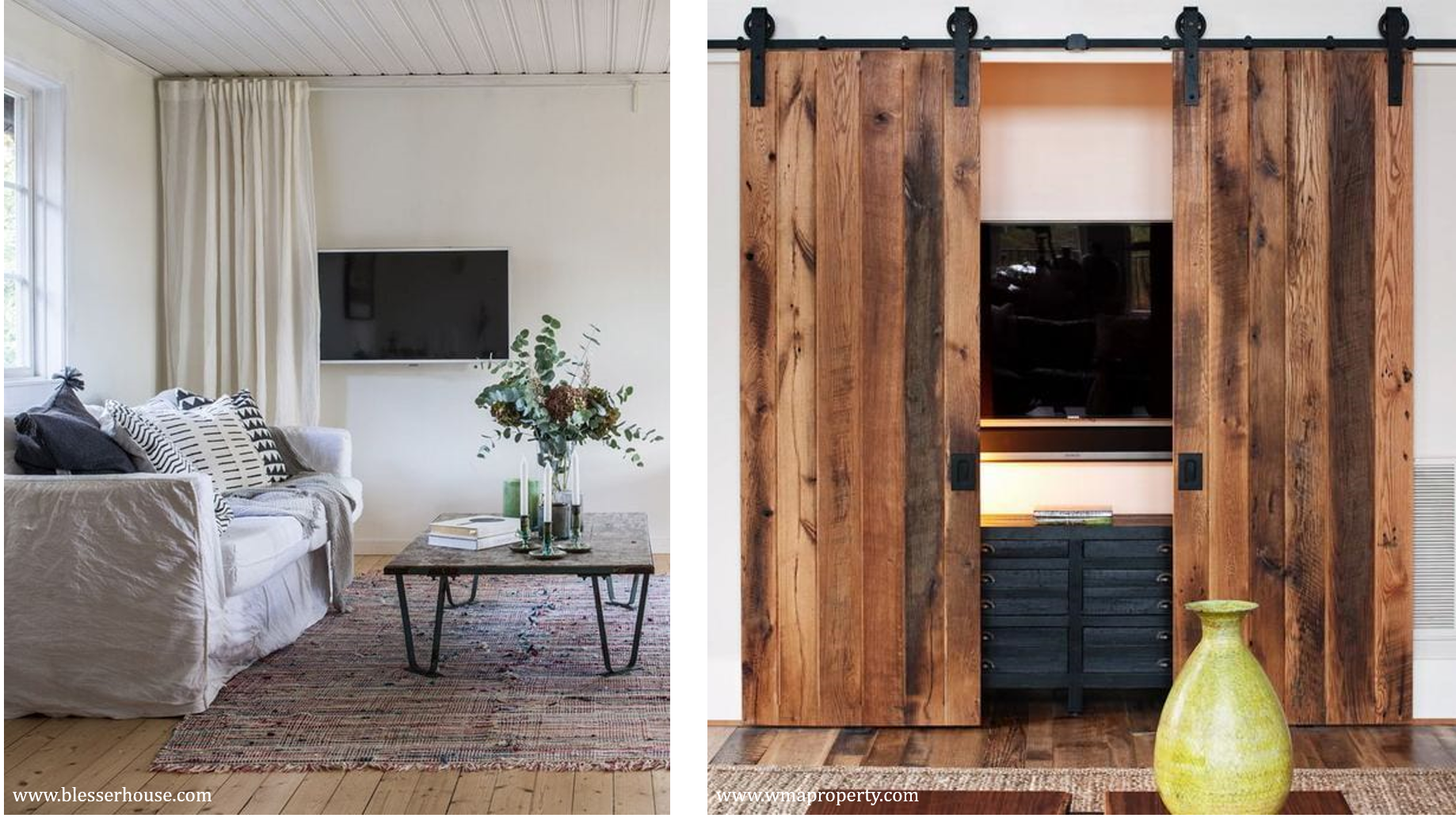 Speaking of barn doors, if you already have a built-in media center/bookshelves, this element can likely be installed on your existing architecture to conceal the electronics.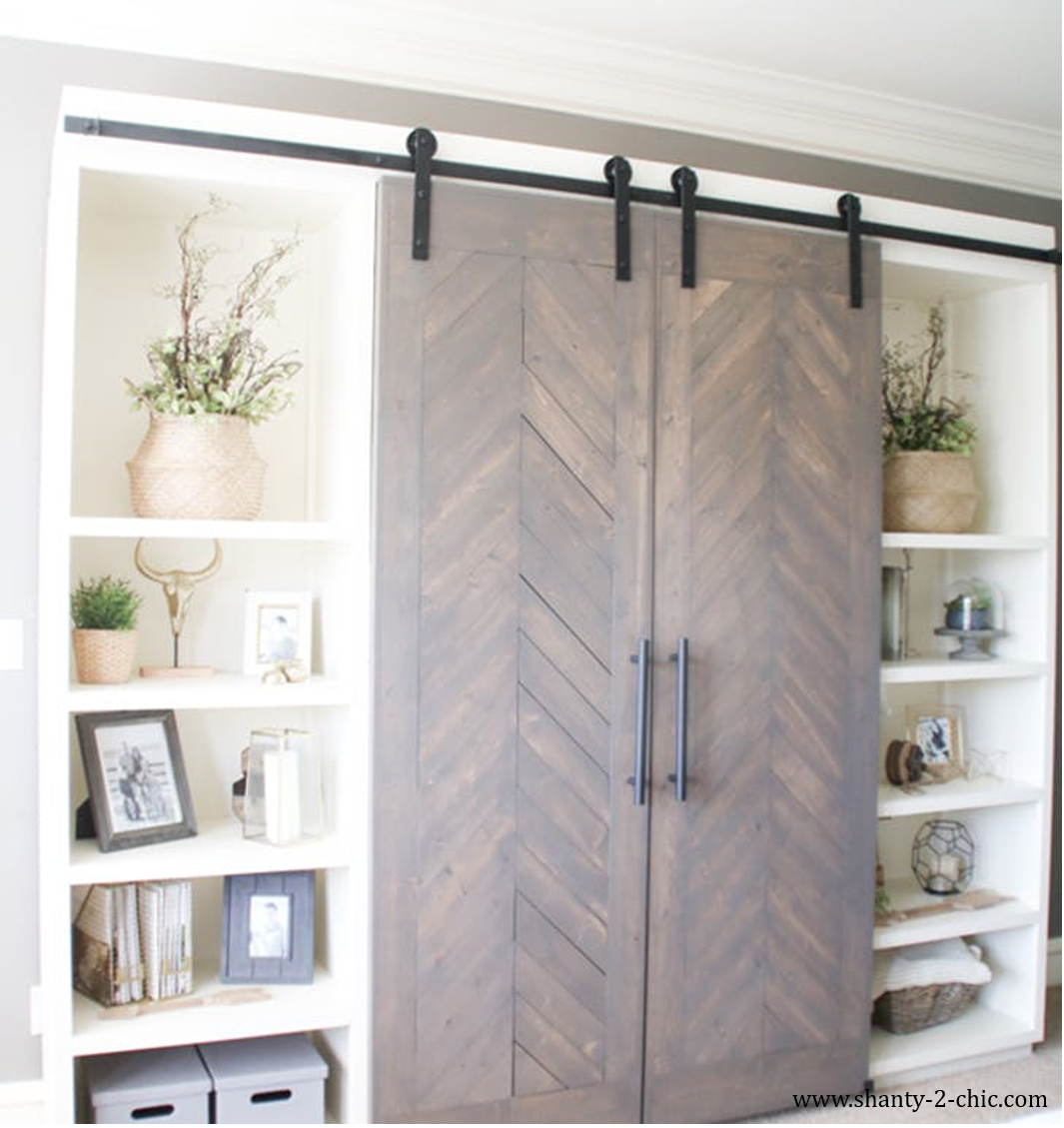 Now let's move on to the more involved and/or pricier options.

Custom Cabinet Doors
My first favorite option in this category is to have custom cabinet doors made to enclose your TV. What I love about this option is that you can choose a door style that will match whatever style you have in your home – from Contemporary to Farmhouse, and most styles in between. Here we see beautiful Pagoda style cabinet doors that blend seamlessly with this design.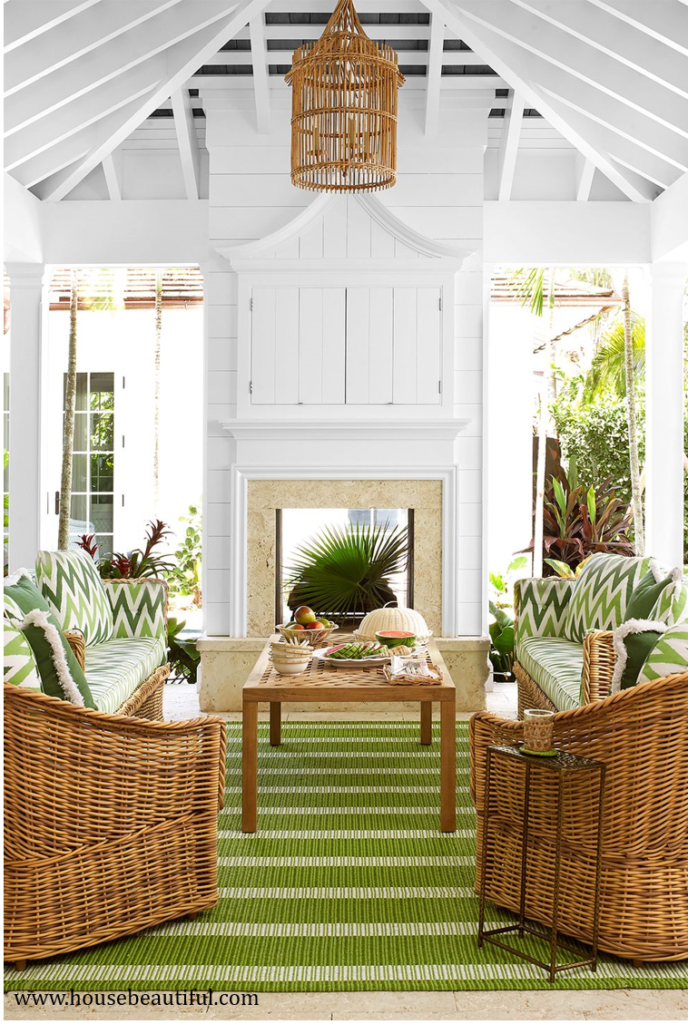 Folding or Sliding Artwork
When your TV is over a fireplace, using artwork to conceal it is one of my favorite approaches, as I love the look of beautiful artwork in this part of the home – and if you can install ceiling-mounted accent lights (e.g., recessed can lights with pin hole trim) to highlight that artwork, all the better! Folding doors can be created with a print and wood panels and sliding artwork requires the right track and hardware, but this is definitely a doable project for a carpenter, skilled handyman or savvy DIYer.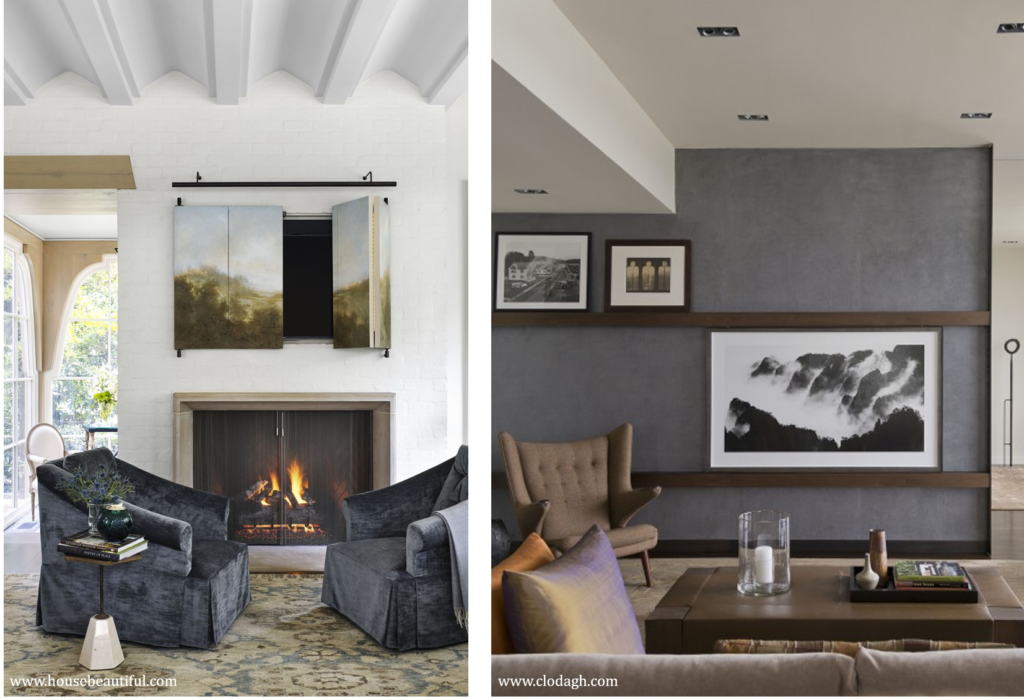 Rolling Artwork
Now if you love that idea, but want a solution that is more turn-key, then let me introduce you to www.framemyTV.com. This company (and there are other companies as well) that will create a custom frame for you which hides your TV behind custom artwork that rolls into the top of the frame with the push of a button – genius!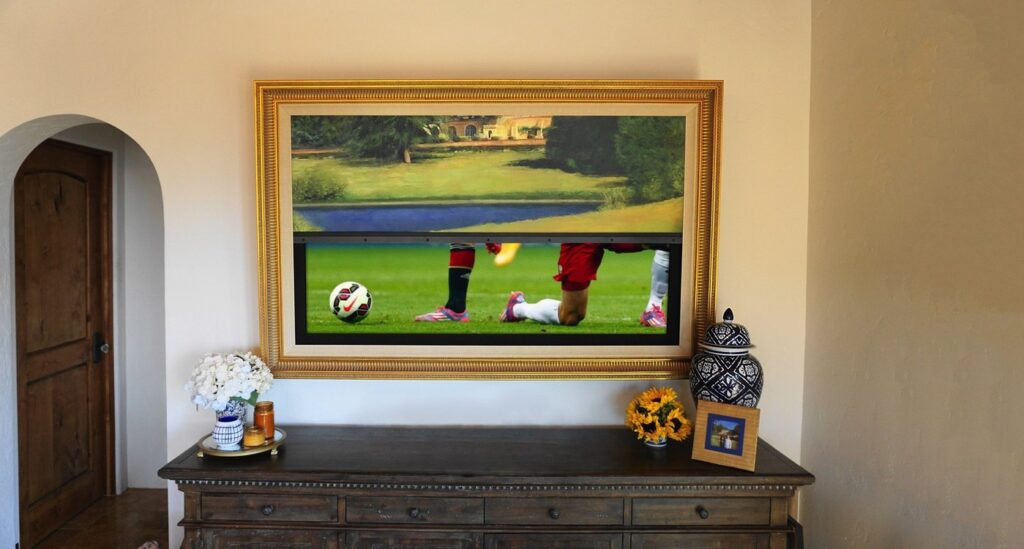 Mirror or TV?
Artwork isn't the only accessory having all of the fun! Mirrors can also effectively hide a TV in a few different ways. First, you can buy a TV that looks like a mirror when turned off; you can purchase a mirror with a small integrated TV (a great option for your bathroom!); or you can install a sliding mirror just like you did with the artwork example above. So many great choices!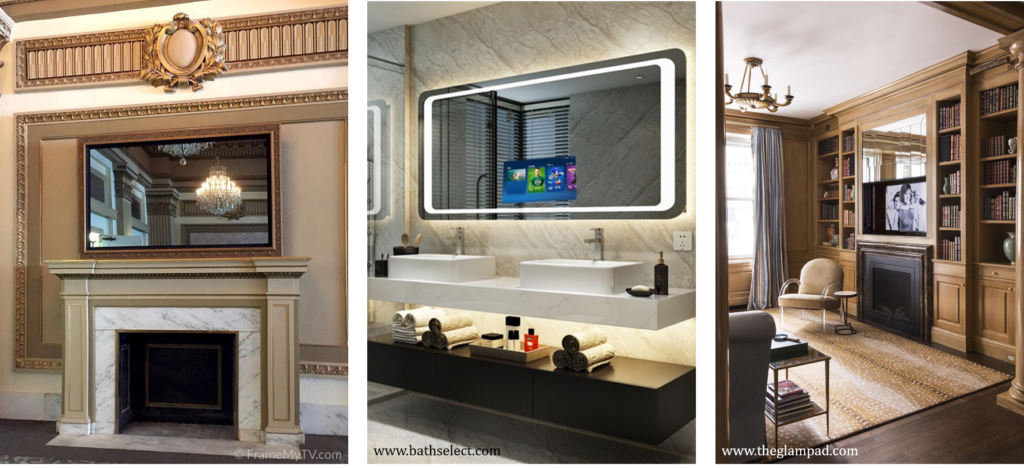 Swiveling Wall
This next option is seriously cool and if you are a spy, or dream or being one, then this is definitely the solution for you. Ladies and gentlemen – behold the built-in swiveling wall! This definitely requires pre-planning and solid engineering skills, but what an elegant and fun solution for the right space.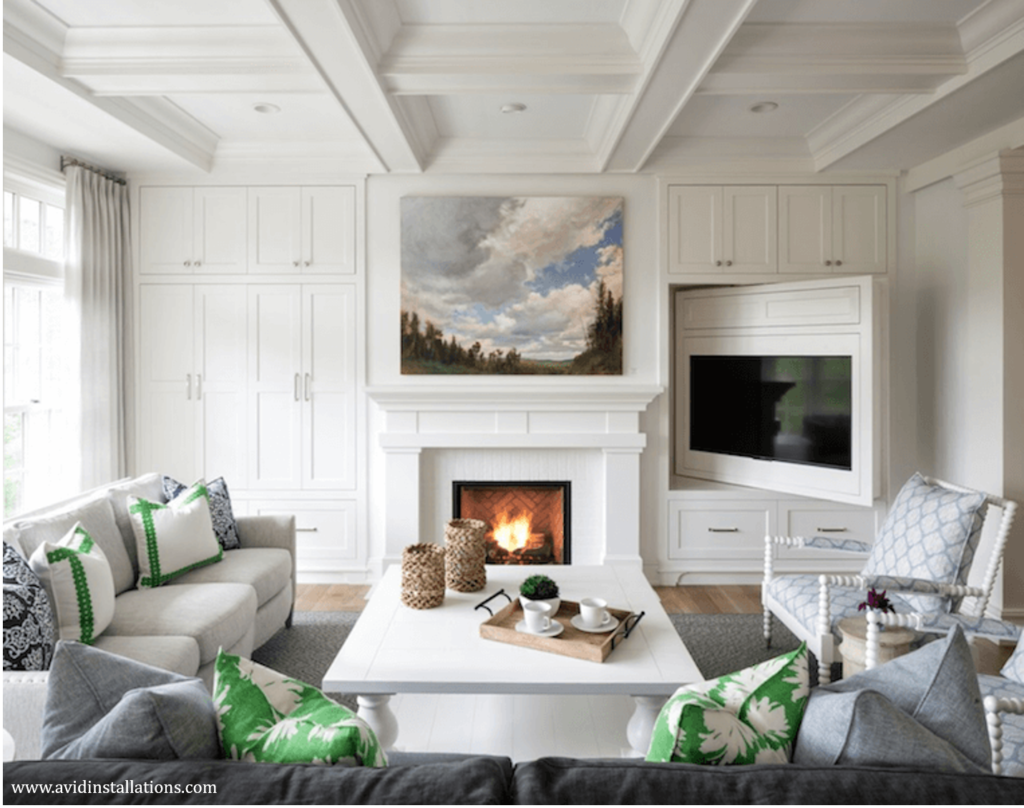 TV Lift Cabinets
I remember when I first saw this product several years ago in a trade-only showroom – so impressive! Now they are readily available to the public via retail and come in so many options that you should be able to find one that works with nearly any interior design style. TV lift cabinets allow you to lower your TV inside of a cabinet when not in use so that it's completely hidden – you are able to raise and lower it, all with just the push of a button. You can buy off the shelf TV lift cabinets or have them custom made. This is an especially great option for transition areas in open floor plans and in front of a window.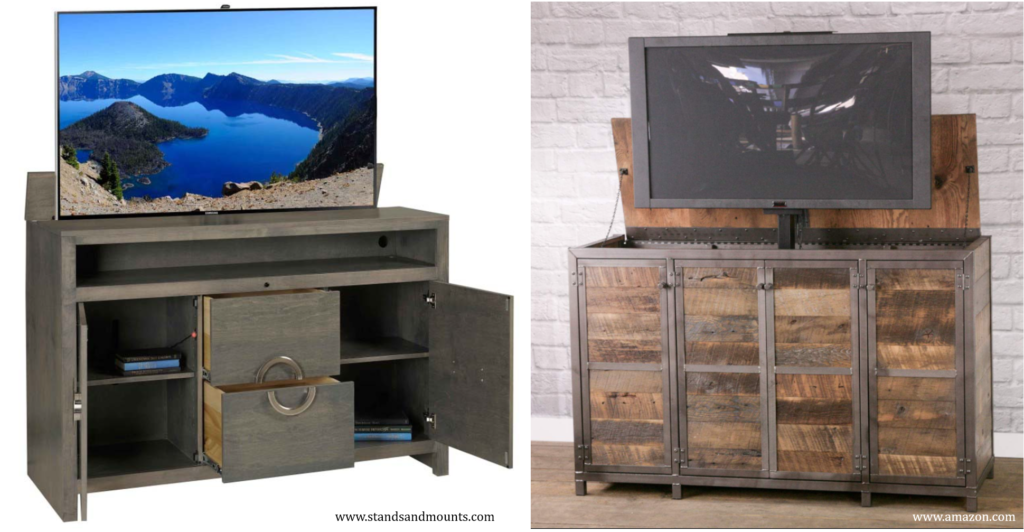 Bed with TV Lift
Now while you can also certain use one of the above cabinet products at the foot of your bed, if you don't have the space to do that or you'd rather use that space for seating, you can also purchase a bed that has a built-in hidden TV lift in the footboard. For those clients who like having a TV in their bedroom, this is by far, my favorite approach.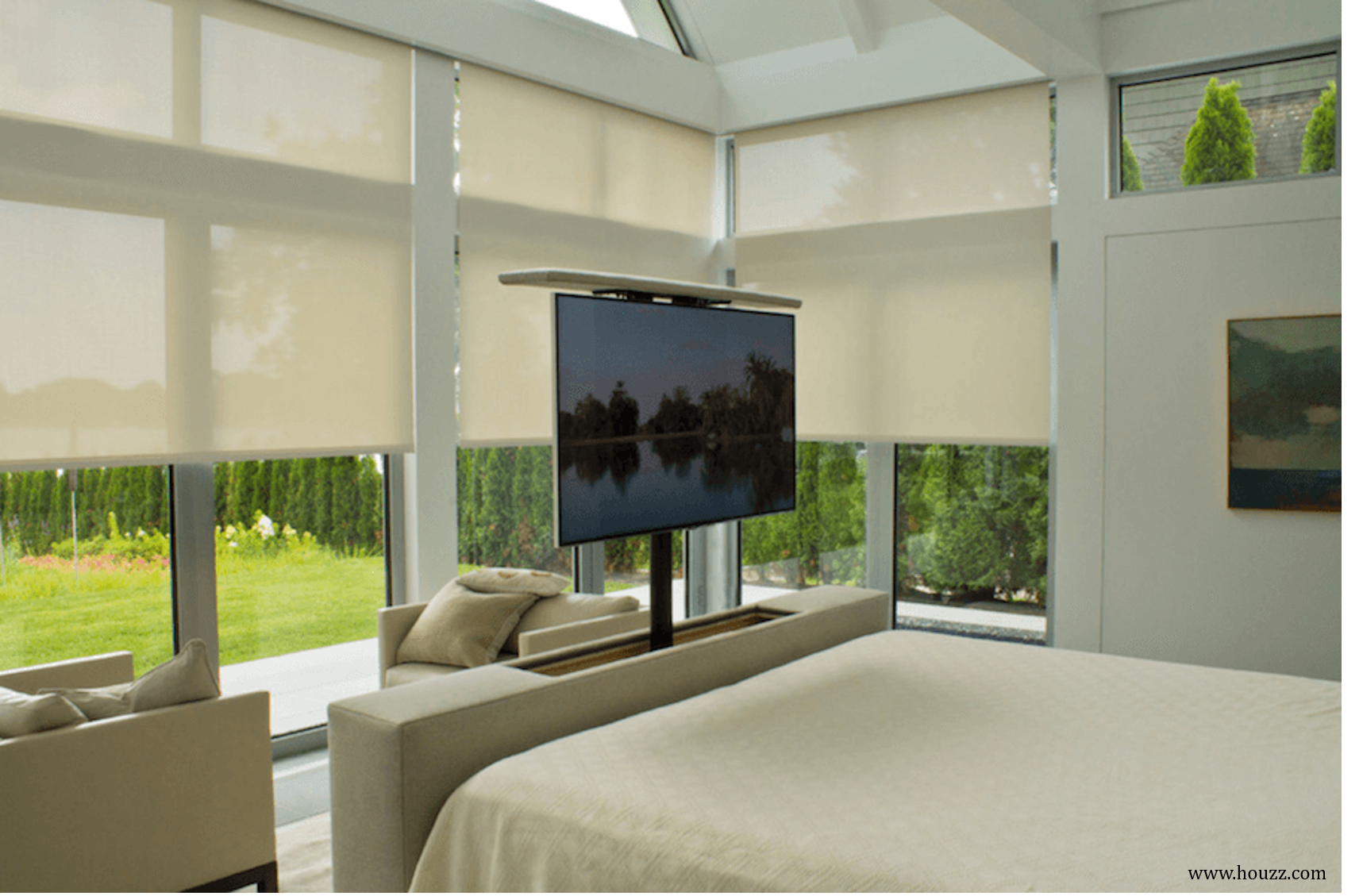 Samsung "The Frame"
This is definitely one of my favorite products that is available today. Samsung has really outdone themselves with this product that is a TV when it's on and realistic (changeable) artwork when it's off, including a matte and different frame color choices (black, brown, white, and beige). It hangs snug to the wall and seems to be very well reviewed for both picture and audio quality, as well as for its integration with other popular technologies. This is an especially great choice for over a fireplace, but really, will work well in nearly any application. This TV is available in a number of different sizes as well.

So there you have it! 13 really great ways to conceal or camouflage your TV. Which one is your favorite? Writing this blog article was exceedingly helpful for me to help me organize my thoughts and really think through what might work best in my situation. While there are a number of them that would work, for me the winner is….
Samsung's "The Frame"! While a bit pricey, our TV is on the older side and not only do I like all of the high tech features, I am also very excited to be able to incorporate additional beautiful artwork into my room that can be rotated as desired. I hope you found the solution that will work best for you as well.
Happy Decorating!